"Monsters" and the Question of Context in Criticism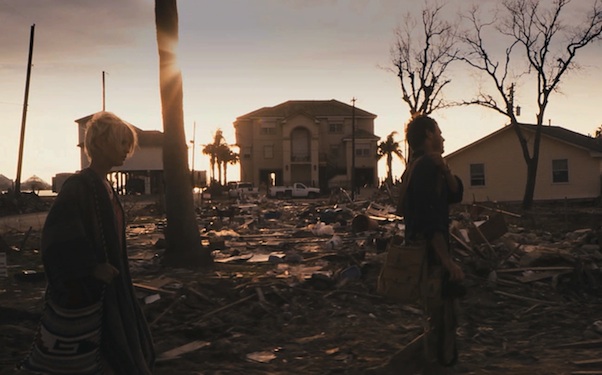 Posted by Matt Singer on
I was a guest on this week's /Filmcast, where I joined regular co-hosts David Chen, Devindra Hardawar, and Adam Quigley to discuss Gareth Edwards' indie monster movie "Monsters." I always have fun chatting with the /Filmcasters, but I thought this episode was especially thought-provoking. At least it was for me; half a week later, I'm still mulling over the issues we raised, in particular the question of context in criticism.
Context was already on my mind while I was watching "Monsters." From a technical perspective, the film is a marvel: expansive without being expensive, made for well under a million dollars by a tiny crew (Edwards himself did all of the film's numerous alien special effects on his own computer using off-the-shelf software). It presents a creative and convincing post-apocalyptic world where aliens have landed, taken control of the area around the US-Mexico border, and human life has, rather believably, picked up the pieces and moved on. The same way you glance at images of war atrocities on CNN then go out to Dunkin Donuts for a cup of coffee, the people in "Monsters" just carry on their lives ignoring the "creatures" as long as they possibly can.
All that stuff is great, but the movie, from my perspective, isn't perfect. In telling a really unorthodox monster movie, Edwards wound up making a fairly orthodox mismatched lovers road trip movie — "It Happened One Night" set in the world of "Cloverfield." The dialogue is trite and the relationship between the main characters is unconvincing. As remarkable as the world of "Monsters" is, the film set in that world isn't particularly compelling.
Thinking all of this as I was watching the film, I began to wonder: to what degree do the flaws "Monsters" deserve a pass simply because of the ingenuity of its creators? How much does how a movie was made affect what a movie is? If "Monsters" had cost $30 million dollars — and the movie looks so good, you could believe that it might — would we be less forgiving of its flaws?
The topic of the world outside the frame's influence on the world inside it came up on The /Filmcast before we even got to "Monsters." During the show's news segment, we discussed the trailer for Mel Gibson new film "The Beaver," which is about a man who has a mental breakdown and starts speaking to people through a beaver puppet he finds in the garbage. I thought it was interesting how the trailer seemed to hint at Gibson's real life problems, and to speak to a potential audience's desire to see him redeemed cinematically. Adam Quigley disagreed:
"I always find it kind of unfortunate when actors' outside lives start to factor in to how people perceive them onscreen. I really wish you could just separate those two things… I want to be able to watch [a] movie completely separate from that outside context and just be able to appreciate it as a story about this guy."
I understand what Adam is saying. Plenty of movies never get the fair shake they deserve because of infamous events that surround their production or scandals linked to their stars. Before it was ever released "Proof of Life" was notorious as the film that broke up Meg Ryan and Dennis Quaid's marriage, and the fact that Tom Cruise and Nicole Kidman, then a real life couple, were appearing together nude in "Eyes Wide Shut" dominated the early conversation about Stanley Kubrick's "Eyes Wide Shut," a movie that's worth watching for a lot more than the nudity.
But on the other hand, watching a movie "completely separate from that outside context" can also limit our understanding of it. It's hard to fully appreciate the impact and importance of "On the Waterfront" without knowing the culture that produced it, or the personal experiences director Elia Kazan confronted during the HUAC investigation. "The Man Who Shot Liberty Valance" stands alone as a marvelous Western, but it stands even taller when watched in concert with the earlier films from director John Ford whose philosophies it examines and critiques. Arguably, the later dissolution of Cruise and Kidman's marriage makes the marital difficulties they play out in "Eyes Wide Shut" even more fascinating to watch.
Mel Gibson won't be the first guy to play a role with eerie echoes of his own personal problems, either. Just next week Stephen Dorff plays a actor adrift in his own success in Sofia Coppola's "Somewhere." I don't know that Robert Siegel wrote "The Wrestler" for Mickey Rourke, but his own career travails only intensified the character's heartache. Part of what makes Robert Downey Jr. so perfect to play Tony Stark in the "Iron Man" films is the fact that Downey Jr. has lived Stark-ishly at times in own his life. And I don't think it's as simple as "these guys have led lives similar to their characters and that's kind of fun to point out." I think it's "these guys have led lives similar to their characters, which they draw on in order to give rich and personal performances."
In the case of "Monsters," I think our review of the film was fair. The film has strengths and weaknesses, and I don't think the extraneous matters surrounding the former compel you to simply ignore the latter. You don't need to see other Ford films to dig "The Man Who Shot Liberty Valance." You might need to know about its production history to really love "Monsters" (if you don't believe me, read the online comments from viewers who clearly didn't know much about the movie outside its trailer and were disappointed by the film).
I can also think of examples where you might need to not know a movie's context to really enjoy it; Tim Burton's "Ed Wood" is a charming movie about determination, pluck, and the love of moviemaking but it's got very little to do with the realities of Wood's real life. If you hear how Wood's career really ended — destitute, alcoholic, making porn — you might not enjoy Burton's movie quite as much. But that brings up the subject of whether a biopic has an obligation to the truth, and that's a whole other can of worms.
Context can be a sticky thing. Important in some cases, a nuisance in others. Its implications can be crucial. Or they can be monstrous.