The Onion News Network: Quality Is Job One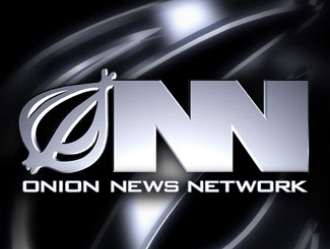 Posted by Melissa Locker on
The Onion News Network, the most popular 24-hour cable news network in America, is coming to IFC on Friday January 21, 2011 at 10pm. You have a lot of options when it comes to the news, but we are convinced that once you witness the polished professionalism, integrity-addled insight, and intelligent analysis of the Onion News Network, Wolf Blitzer will be but a distant memory.
The Onion News Network is the world's leader in news and information delivery. Staffed 24 hours, seven days a week by a dedicated staff in ONN's world headquarters and in bureaus worldwide, the Onion News Network presents journalistic content of the highest quality, value, and integrity. It is the basis for their spotless reputation and the means by which they fulfill the public trust.To have all the facts necessary to create consistently quality content, the Onion News Network relies heavily on ONN's vast global team of news professionals, reporters, and photojournalists. When you get the Onion News Network you get the best news team in the world galaxy.
Their Crack Team Has The Agility To Handle Breaking News With Polished Professionalism: Some Bullshit Happening Somewhere
They Cover Sports With The Same Hard Edge As Political News: Soccer Officially Announces It's Gay
They Aren't Afraid To Ask The Tough Questions: Are Violent Video Games Adequately Preparing Kids For The Post Apocalyptic Future?
They Are In The Know About Modern Culture: Are Reality Shows Setting Unrealistic Standards For Skanks?
And, Of Course, The Newsroom Has The International Situation Under Their Eagle Eye: Kim Jong Il Announces Plan To Bring Moon To North Korea
The Onion News Network premieres on IFC on Jan. 21, 2011 at 10 p.m. ET