The "Inglorious Basterds" of Video Games?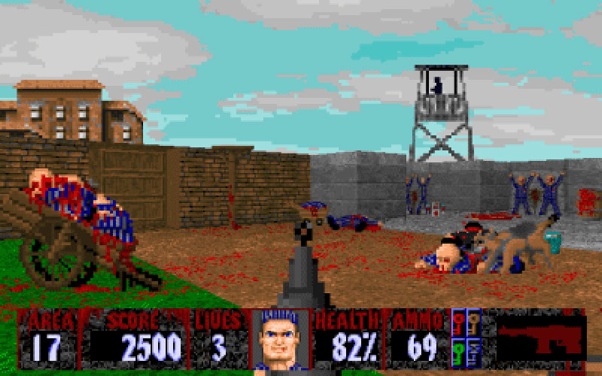 Posted by Evan Narcisse on
The year's not over yet. That means that there's still time for one more nominee in the 2010 Controversial Game Awards and Kotaku finds a game that fills that slot. Developed of the engine of 1992 classic "Wolfenstein 3D," "Sonderkommando Revolt" fictionalizes the actual Auschwitz insurrection of October 1944 into interactive form. Players can shoot the game's Nazis in levels based on the real-world geography of Auschwitz. Kotaku's Michael McWhertor broke the story and, in a follow-up, quotes the lead developer as saying the dev team's only goal was "blast the Nazis fun."
In another post on the game, Stephen Totilo writes:
Freed from the laws of reality, revenge fantasy like that of Sonderkommando Revolt can be hard to distinguish from exploitation. The revenge fantasy portrays glee amid suffering. It encourages the nodding of heads "yes" during its recreation of the ugliest events in human history — a nod that, yes, revenge is happening; a nod that, yes, vicious, vile good is being done to bad, bad people. This video game's creator, though he says he has no political message intended for this game has decided that it takes an image of a Jewish prisoner hanging bloody from a hook to properly decorate a scene where many Nazis will now be killed. He and his team must have concluded there was a necessary sequence of experience: we will be shown the most garish signs of Jewish death before we will create scenes of Nazi death.

Revenge fantasy does not encourage the headshake of the visitor to the Holocaust museum or the viewer of the Trail of Tears documentary who wishes this portion of the past did not exist. It assumes a more aggressive posture as we prepare to perform a punishment that did not happen in real life.
There's a cliché in superhero comics when the battles between hero and villain reach the point of life and death. Whether it's Batman, Spider-Man or some other persona standing over the form of their beaten arch-nemesis, they'll usually utter some line about letting them live because killing them would drag them down to the level of villainy. Totilo's remarks about "Sonderkommando Revolt" remind me of that. And, as wary as I am of declaring any subject matter as a no-fly zone for games (or any other medium), this "Wolfenstein 3D" mod will likely miss the mark of 'fun.'