The Ten Greatest Things Michael Jackson Ever Did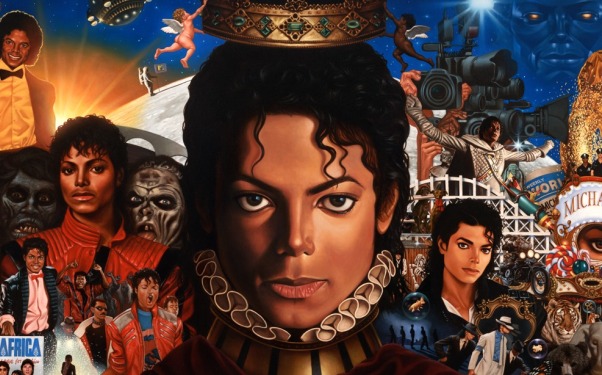 Posted by Brandon Kim on
A planned TV special on a UK Discovery channel that re-enacts Michael Jackson's autopsy has been criticized by his estate as being "in shockingly bad taste" and a "blind desire to exploit Michael's death." A print ad for the show depicted a corpse on a steel table covered by a sheet, with a hand sticking out revealing Michael's signature white glove. Whether it works as an ad or not I don't know, but I do know that it continues a long tradition of insensitive media exploitation — much of which Michael certainly brought on himself. But, so as not to dwell on the negative at year's end, and fresh off his first real posthumous release, here's a look at the best of what the King of Pop did while he was still alive. I'll leave out the obvious, moonwalk, which I encourage you to do immediately after reading this list.
---
10. "The Wiz"
Sidney Lumet's 1978 film adaptation of the popular Broadway musical of the same name was a total failure in theaters, but this strange re-imagining of "The Wonderful Wizard of Oz" through the filter of the African American experience starring Richard Pryor, Diana Ross, and Michael Jackson lived on, on TV and probably in some children's nightmares. His Scarecrow was one of the few characters that didn't freak me out, but Michael is almost totally unrecognizable. It wouldn't be the last time he'd be hard to identify.
---
9. Late 90's film forays
His cameo in "Men In Black II" is terrible, but the Michael Jackson vehicles, "Ghosts" and "Moonwalker," were the kinds of fantasy films he made for kids in that were super fun to watch, even if he wasn't that great of an actor. The video games they spun off were awesome looking too, if they didn't always play well. It's a shame he didn't get around to making more of these, you know, for kids.
---
8. "Captain EO"
The best of Michael's adventures in filmmaking was obviously the Francis Ford Coppola/George Lucas 3-D adventure, "Captain EO." Because in the 80's no one could get enough "Star Wars," some of us still can't. If you pocketed your "Tron: Legacy" glasses, now's the time to put them to good use:
---
7. "Black Or White"
After disappearing from the public eye for a little while, Michael brilliantly revealed himself as some kind of colorless/raceless creature and if even for a moment, started a conversation about race, culture, ethnic identity and what it means to be human that is rarely addressed. This video also marked a beginning for that cool morphing effect not seen in music videos before, nor much on TV at all before this aired. Together with the film, "Terminator 2" released just a few months prior, a new age of special effects began.
---
6. "Human Nature"
This ballad off of 1982's "Thriller," is one of the smoothest songs ever recorded. It should be noted that Michael didn't write it, but the way he delivered it and the honesty of his vocals make it absolute R&B/pop gold, that has never been surpassed.
5. "Thriller" / "Indian Thriller"
A song, and album that needs no introduction… and without it, we wouldn't have sensational stuff like this:
---
4. The Scandal
The bane of Michael Jackson was his genuine love for children. He was never proven guilty of the alleged crimes, and I side with the law. The truth is simple really — he sought to give others what he never had, what he tried to reclaim all his life; his childhood. Add a colossal amount of money, a penchant for loafers and wax Elvis' and shit, and you have a scandal in the making. What was so fascinating was what it exposed about everyone other than Michael, whom we already knew was a total freak. Anyone predisposed to hate outliers and eccentrics condemned him immediately — he's a freak, he's guilty, hang him! Others who thought he was a dangerous example to others were just waiting to pounce on a black man who was slowly redefining his blackness, and then morphing himself into something that transcended race/ethnicity entirely. What was he now? Some people can't cope without easy labels. And therein lay Michael Jackson's true genius, to be totally undefinable. When all of this came up and out at dinner tables it did as much to spark conversation and address people's prejudices, as any other event of the decade.
---
3. "Rock With You"
Do you like to dance? Even people who don't will get down to this most genius number off of 1979's brilliant album, "Off The Wall." It's the shit, and everyone owes this man a debt because of it. The video is out of this world too, just look at that tremendous outfit.
---
2. The White Glove.
Michael showed how you can roll out the house wearing one sparkly white glove, light your hair on fire, do a little dance, ride a choo choo around on your front lawn with a monkey and it's all good. Because in a generally conformist society where being yourself is often a detriment, and our role models tend to be sportos who all look alike — they even wear uniforms to make sure of it — we need all the one-gloved freaks we can get.
---
1. "We Are The World"
You can't even believe how many legends are packed into this supergroup. All thanks to Lional Richie and Michael Jackson, who temporarily saved the world, for you and me.