The Ghost of Miramax Will Go On In Unnecessary Sequels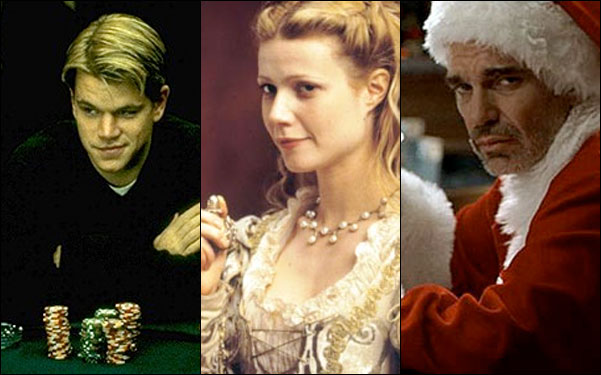 Posted by Alison Willmore on
Back in January, Miramax closed up shop, prompted many to muse over its marking the end of an era. And an announcement this morning of a deal made involving the company's library of films suggests we're moving on to a new era. A lamer era. The Weinstein Company has reached an agreement in which they'll be creating sequels for some of the better known titles belonging to the company the Weinstein brothers built.
From the press release:
The first films to be produced under the agreement will be sequels to Bad Santa, Rounders and Shakespeare in Love. The other potential sequels and TV projects are Bridget Jones's Diary, Copland, From Dusk Till Dawn, Swingers, Clerks, Shall We Dance, and The Amityville Horror. This partnership augments an existing relationship between the companies on such franchises as Scream 4 (to be released April 15, 2011), Spy Kids 4 (to be released August 19, 2011) and Scary Movie 5.
Yes, the company that was once instrumental in shaping the American indie film scene is now just a franchise farm. But let's look on the bright side — "Bad Santa 2" could be okay, and why limit things to "Clerks III" or "Bridget Jones's Baby"? Think of all the other Miramax properties ripe for sequelization:
"Reservoir Dogs": The sheer volume of character death in Quentin Tarantino's first film means a sequel would have to be very creative — like having Misters Orange, Pink, White and so on have to relive their disastrous day over and over again until they get things right, a la Phil Connors. A direct-to-DVD third film could be about the characters' realization they've been in hell the whole time.
"Heaven": Cate Blanchett and Giovanni Ribisi miraculously make it all the way to the U.S., where they are then pursued by a relentless Tommy Lee Jones.
"Happy, Texas": Hey, this famously expensive acquisition ought to be worth something. This time around, Steve Zahn and Jeremy Northam, on the lam again, could pretend to be special coaches for a show choir, capitalizing on "Glee" craze, though likely a few years too late.
"Dead Man": Johnny Depp returns as James Blake, William Blake's twin brother, whom a passing Native American (Graham Greene) suggests may be the reincarnation of Irish Nine Years War figure James "Spanish" Blake. James Blake is hell-bent on avenging his brother by killing company owner John Dickinson (a body double digitally given the late Robert Mitchum's face).