Five Retroactively Awkward Cameos in Would-Be Franchise Starters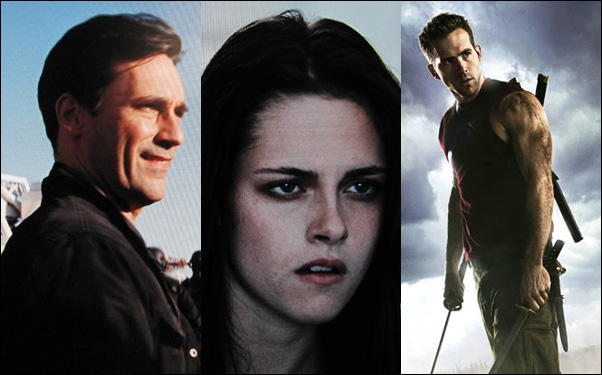 Posted by Stephen Saito on
Of the many questions I had following a screening of "Tron: Legacy," the foremost in my mind was not whether or not I believed Jeff Bridges' digital agelessness or wondered about the curious lack of action, but rather — was that really Cillian Murphy in the first ten minutes of the film? Murphy isn't credited for his work, but then again, he doesn't have much to do, except to act smug as a board member of Encom, who like the hero of "Tron: Legacy" is the son of one of the key characters from the original 1982 film, Dillinger (David Warner). Since the film is about Flynn's kid instead, we never see Murphy again, though one suspects Disney signed him to a contract that will guarantee his participation in the event there are sequels.
The problem is there may not be a sequel, or at least an opportunity to fulfill the character's full potential — just ask Dylan Baker what it was like to patiently wait out "Spider-Man 2" and "3" as the Lizard's alter ego Curt Connors, only to have a regime change for a reboot when it was likely he would've been the big bad of Sam Raimi's "Spider-Man 4". This is only a recent phenomenon since stars of a certain paygrade rarely are able to slip into smaller roles except in big-budgeted blockbusters and with the exception of James Bond, most franchises can't really function as a series of one-off films, so the guarantee of a larger role in the future has made it possible to compromise and besides, audiences appreciate the build.
Sometimes it works wonderfully — "The Avengers" is anticipated because of Marvel's (mostly) best laid plans of cross-pollinating all their films with big stars in small supporting roles. Sometimes, it doesn't and shows the arrogance of a studio that is too quick to count their chickens before they hatch. These are five other actors who may be waiting quite awhile for their character to get a second chance at a bigger part.
---
Kristen Stewart in "Jumper"
In retrospect, the biggest leap taken in "Jumper" was by the filmmakers who decided to cast Oscar nominees Diane Lane and Tom Hulce in tiny roles that likely would've matriculated if Doug Liman's follow-up to "Mr. and Mrs. Smith" had taken off at the box office. Instead, "Jumper" was a one-and-done proposition, leaving in its wake a whole bunch of unresolved story threads including the most glaring and frustrating one of introducing the half-sister of Hayden Christensen's teleporting teen, played in the final five minutes by Kristen Stewart. On the filmmaker's commentary, screenwriter Simon Kinberg teases that Stewart's character may become "a possible Paladin herself soon," referring to the hunters who track down and kill anyone with teleporting abilities. The track was probably recorded before "Jumper" underwhelmed with an $80 million gross domestically. It was just as well for Stewart since her next film proved to be a franchise starter itself with "Twilight," but audiences who were disappointed by "Jumper" can take comfort that the studio may have felt worse about what might've been.
---
Jon Hamm in "The A-Team"
In order to explain, I have to resort to spoilers for "The A-Team," but seeing as it made about $40 million under its reported budget back at the box office domestically, there is very little potential for a follow-up. Yet in the vaguest terms, when the baddie of the first film gets caught, a second man shows up at the end of the film to replace him. As director Joe Carnahan explains in the film's commentary, "I thought [the bad guy] is too sleazy to lose his life, you want to keep a guy like that around for potential sequels. And there you find the new [bad guy with the same name]. I thought that's a name they just give a guy to strip him of his own to make him anonymous. He's almost like the invisible man."
However, he can hardly be invisible when the role is played by Jon Hamm, who steps off a helicopter to speak a bunch of bureaucratic tough talk that's essentially code for "I'm going to come back to be the bad guy in the sequel if this film performs to expectations." Unfortunately, "The A-Team" didn't, so Hamm will have to stick to playing Don Draper on "Mad Men" for the time being and has an otherwise busy 2011 anyway with "Sucker Punch," Kristen Wiig's "Bridesmaids," and Jennifer Westfeldt's "Friends with Kids" while awaiting a feature starring vehicle worthy of him as a leading man.
Ryan Reynolds in "X-Men Origins: Wolverine"
It's nearly forgotten now, but Fox didn't have much success with their first spinoff from one of their successful Marvel films, "Elektra," so it's not nearly as surprising to look back at "X-Men Origins: Wolverine" and realize the die was cast when they not only expanded the five-minute origin that the first "X-Men" film covered cogently into a wheezy 107-minute extravaganza, but used the film as a petri dish for a host of supporting superheroes and villains that could star in their own films. Taylor Kitsch actually would go on to star in his own franchise, only not as Gambit, but instead 2012 potential blockbusters "Battleship" and "John Carter of Mars." But Fox was already on record for having much bigger plans for Ryan Reynolds' Deadpool, which admittedly was more than a cameo in "Wolverine," though he disappears for all but the first and last 15 minutes of the film. (And there's even an asterisk there, because of Reynolds' already busy schedule, the last 15 as "Weapon XI" were mostly performed by DTV action star Scott Adkins of "Undisputed III" fame as his stunt double.)
Even so, like The Rock's "Scorpion King" for the "Mummy" franchise, Deadpool was already being developed into the lead of a spinoff film when Reynolds picked up the swords for the first time. However, since then, Reynolds signed on for a superhero franchise that seems far more suited for his charms in "Green Lantern," which makes a Deadpool film, at least with him in it, seem quite unlikely, though he reaffirmed his commitment to the project as recently as September. And while Fox is still developing a script from "Zombieland" writers Rhett Reese and Paul Wernick, the studio appears to have given up on the whole "Origins" idea for individual characters in favor of having Darren Aronofsky shooting a one-off with Wolverine and Matthew Vaughn attempting his own reboot of the rest of the X-Men universe. We're not saying a Deadpool film won't happen, but if "Lantern"'s a success, it'd be hard to imagine DC and Warner Brothers not wanting to keep Reynolds busy, and away from their rivals Marvel and Fox.
---
Michael Madsen in "Sin City"
Leave it up to Michael Madsen to be the only star on this list to make his appearance in a franchise starter awkward after the film was a success. While most who have seen his recent work in the direct-to-DVD realm probably didn't bat an eyelid when he showed up in a small but pivotal part in Frank Miller and Robert Rodriguez's "Sin City" as Bruce Willis' partner Bob, Madsen was clearly expecting more, telling Premiere in 2007, "The only reason I did it was because Robert Rodriguez said that if I took that little part I would get a bigger role in the sequel." Of course, a sequel to "Sin City" has been in the works since the first film came out in 2005 and in fact, since it's rumored to be based on Miller's "A Dame to Kill For," Madsen would have a role to reprise. But ever since "Grindhouse" went belly up – a film that led to divorces from his wife/producer Elizabeth Avellan and "Sin City" distributor, the Weinstein brothers, at least until reuniting on his latest film, "Spy Kids 4" — Rodriguez has been one of the hardest directors to pin down in recent years, flirting with productions of "Red Sonja," an original called "Nervewracker" and the aforementioned "Deadpool" as he co-directed "Machete" and shepherded "Predators." Thanks to the "Meet the Fockers" junket, "Sin City" co-star Jessica Alba was forced to speculate on the current state of the project as Madsen has for the past several years and gamely said, "it's a matter of time." It looks like it certainly will be.
---
Michael Shannon in "Jonah Hex"
Before "Jonah Hex" became one of the year's most reviled would-be blockbusters, Michael Shannon speculated to MTV, "I think [my] character may come back if there's another iteration of 'Jonah Hex,' but for now it's just this couple of little scenes." At that point, not even he could know that he would ultimately appear for a split-second as Doc Cross Williams, who played a key role in the "Hex" comic book series as a mystic ringleader of a freak show with the power to resurrect a dead Wild Bill Hickok. However, you wouldn't know it from the film since the "Boardwalk Empire" star is reduced to referring a cage match for literally two seconds on screen. (A deleted scene on the film's DVD restores some of his performance in a bizarre exchange between Shannon and Megan Fox.) The year's most mixed-up disaster managed to make mincemeat of such accomplished actors as John Malkovich, Aidan Quinn, "The Wire"'s Lance Reddick, an uncredited Jeffrey Dean Morgan and Tony winner John Gallagher Jr. — all of whom are brought on for a film like this to lend it credibility towards a larger world than just one film — but Shannon's part was the biggest WTF moment in a movie full of them, though to his credit, it also surely was the most money he's ever earned per (nano)second of screen time.