The Five Best Christmas Movies According To Our Twitter Followers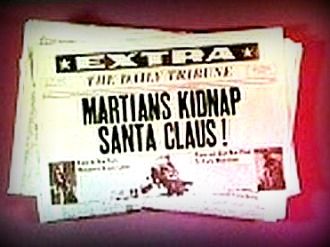 Posted by Melissa Locker on
Yesterday we listed some of the worst Christmas movies ever, you know, the ones we won't be showing you on Christmas day, so we can bring you an all day Freaks and Geeks marathon? As a companion piece, today we are looking at some of the best Christmas movies ever. Not that we will be showing them, because, hello: A Freaks and Geeks marathon trumps all.
For a category that is by definition family friendly and generally saccharine sweet, there were a lot of rock-solid contenders for our top five. For example, "Gremlins" is a Christmas movie. As are "Die Hard", "Scrooged", "Elf", "Miracle on 34th St", and "Home Alone", which is arguably one of the best slapstick movies made in the modern age. We didn't add Elia Kazan's classic "It's A Wonderful Life", mostly because we didn't want candy canes chucked at our heads, but as a Christmas movie that starts with a dude about to kill himself and ends with the moral that your greatest gift to the world is just showing up and trying, it is definitely Miss Congeniality in this contest. Second runner up? "Nightmare Before Christmas".
The five best movies are:
5. While some may consider "Santa Claus Conquers The Martians" one of the worst films ever made, if one thinks of it as more Ed Wood and less, say, Ingmar Bergman, it's quite briliant. Besides, it's the best movie ever for playing Mystery Science Theater 3000 at home. And what brings a family together more than that?
4. Speaking of Ingmar Bergman, his classic "Fanny and Alexander" is a Christmas tradition. The Yuletide festivities look good enough to brave a Swedish winter, even with the "magical way" they put out candles.
3. How can we explain our enduring adoration of "Bad Santa"? Three words: Billy Bob Thornton. This is undoubtedly the role he was born to play. He owns Santa.
2. How is that no matter how many times you see it, you never quite get tired of watching "A Christmas Story"? There is just something timelessly captivating about watching young Ralphie beat the crap out of the bully, the pink bunny costume, the leg lamp, Santa's elf kicking Ralphie down the slide as Santa laughs "You'll shoot your eye out!", and Schwartz freezing his tongue to the metal pole. Besides, the other movie Bob Clark made was "Porky's", which means that Bob Clark knows what's up when it comes to being young. Also, this gangster mix (NSFW language wise):
1. In "The Thin Man", Nick and Nora Charles show us mere mortals how to do Christmas right with many drinks, a couple of aspirin, lots of wit, and just the right dash of humor. Also, nice Christmas presents help: