The Eclipse of Seattle's Neptune and the Best Film Corner in America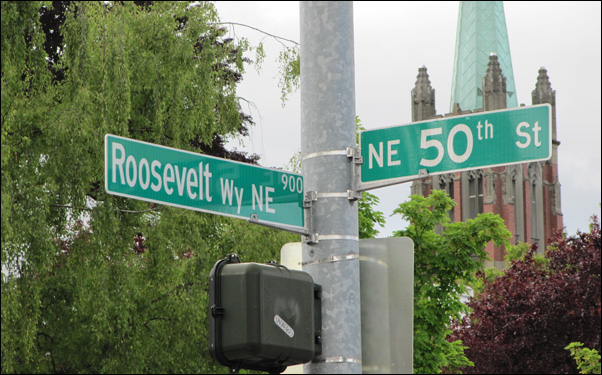 Posted by Stephen Saito on
There's been enough heartbreak over the past few days without learning that the Neptune Theatre in Seattle will be shut down as a first-run theater for films in February, which like the similarly historic (and single-screen) Clay in San Francisco has been abandoned by the Landmark Theater chain, which operated the theater since 1981. By then, it was already 60 years into its lease, with the high ceilings, stained glass and all the other movie palace opulence one would expect.
Unfortunately for me, I would only have the opportunity to go to the Neptune during this year's Seattle Film Festival, but I strongly concur with everything Film Essent's Kim Voynar says in her eulogy for the theater and what it might mean for the area's film scene as a whole; it's the rare city where many of the theaters offer a true experience beyond the film you're seeing. Over the course of the weekend I was in Seattle, I ran up the wave-shaped ramp that led to the film's balcony four times — true to its name, the theater has a maritime theme.
This is a particularly jarring development since I came away from the Northwest believing I had found America's closest thing to a mecca for movie lovers in Seattle's University District, an area that included the Neptune and the unassuming street corner of 50th Street and Roosevelt Way just a few blocks away.
Sure, there are grand old theaters and certain streets that are destinations for passionate filmgoers: Hollywood Boulevard is one such obvious place, where the street isn't just named after the dream factory, but still can claim hallowed halls like the Chinese, the El Capitan and the Egyptian as tenants, as well as the exhaustive Larry Edmunds Bookshop, with the Walk of Fame as its sidewalk; Houston Street in New York is home to arthouse landmarks, Film Forum and the Angelika, not to mention the still-relatively new kid on the block, the Sunshine; and of course in Austin, you will not only be able to snack on some queso while watching something at the Alamo Drafthouse, but they'll also be able to clothe you in proper film geek attire at their adjoining Mondo Tees. Yet within 500 feet of each other, Scarecrow Video, the Seven Gables Theater and Cinema Books exist in perfect harmony, balancing out each other as a place to rent movies, see them on the big screen and read about them.
If there was a heavy in this relationship, it would have to be Scarecrow, a legendary video store that houses over 100,000 tapes and DVDs under its roof and is the biggest such store I've ever seen in the U.S., if not the world. (In nearby Portland, the equally incredible Movie Madness Video has a mere 70,000-strong collection, but compensates with an indoor gallery of props and costumes from classic movies like Norman Bates' knife from "Psycho.")
Of course, these are troubled times for brick-and-mortar stores, but I suspect Seattle is a weaker spot for Netflix than other places in the country. Here, it's superfluous when the selection isn't only bigger than the online giant, but more specific — the foreign categories aren't limited to the usual superpowers such as Italy and China, but Kyrgyzstan, Nicaragua and Slovakia, and demarcations well beyond genre constraints. Want "Bullitt"? Head to the "Vroom! Section," comprised entirely of biker and car-chase-heavy flicks. And if a film was picked by Roger Ebert as one of the best films of the '90s, its box will bear that distinction and an excerpt from his review. (Mostly, the well-heeled staff will offer their own – example: "Goodfellas" – "Should have won for best picture…cause it's the best picture. OK?")
Across the intersection from Scarecrow, Cinema Books sits underneath the Seven Gables Theatre, along with an Italian restaurant (Mamma Melina's) that posts the theater's times in its windows, so people can ensure they won't miss their movie after the lasagna. Incidentally, the new book section at the front of Cinema Books resembled a pastrami sandwich stacked high. When I was there, Seattle native Vern's "Yippie Ki-Yay Moviegoer" shared space with a book of Atom Egoyan interviews and Shawn Levy's biography of Paul Newman, while a carousel of birthday cards featuring Cary Grant and a collection of film magazines from around the world stood off to the side. Unlike Scarecrow, all this was inside a store not much bigger than a shoebox, but it was nonetheless impressive.
Still, it might not have been as impressive as the Seven Gables upstairs, a place every bit as homey, literally, as the Neptune feels grand. Like the Harvard Exit on the other side of town, the Seven Gables was actually built in 1925 as a meeting hall that was converted into a theater, with the resulting theater feeling like you've walked into the private screening room of Hearst Castle. As one walks in from the street, it's not entirely obvious where the actual auditorium is since there's a huge living room off to the left filled with plush chairs and reading material, though the shaggy lobby belies a theater full of art deco touches, including boxy chandeliers that ascend into the ceiling when the curtain rises.
With the curtain falling on the Neptune – at least as a film venue since word is it'll become a live performance venue – it's an acknowledgment that even in places where there are enough passionate cinephiles to sustain gargantuan video stores and cinema bookstores, there's still been an erosion of the film experience as a whole, where fewer people appreciate their theaters having as much character as what they see onscreen. I don't live in Seattle, so I'm certainly not as qualified to talk as native Northwesterners, but this news should hit home for film fans the world over.