The Documentarian and the Lady in Her Lingerie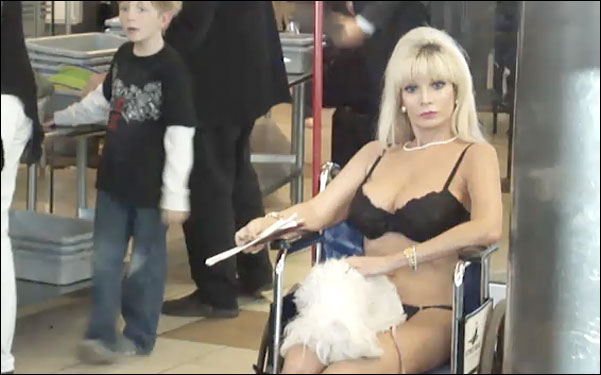 Posted by Alison Willmore on
Filmmaker John Maringouin, the man behind last year's epic swimming-of-the-Amazon doc "Big River Man," shot the surreal video below while in the security line of the Oklahoma City Airport on Tuesday, where a wheelchair-bound blond woman sat in her underwear petting a dog and waiting to be searched by the TSA. The woman, whose name is Tammy Banovac, provided an explanation to The Oklahoman:
Tuesday night Banovac said she chose to wear her underwear because of an unpleasant experience two weeks ago at airport security. She is typically hand-searched at airports because she uses a wheelchair, she said, and she felt violated by the more invasive searches employed at airports recently. "If it happened anywhere else, it would have been sexual assault."
The video's already gone viral, for obvious reasons — nearly naked lady — but the most telling aspect is how hard everyone else in line seems to be trying not to look, like this is just business as usual, like showing up in your skivvies might actually just be the latest requirement in order to get on a plane.
Incidentally, she missed her flight.
[Hat tip to All These Wonderful Things for the link]