The Best Double Features of 2010 (Updated With Reader Suggestions)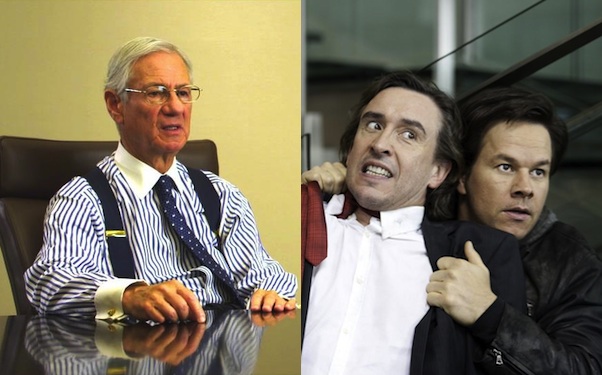 Posted by Matt Singer on
The double feature is the moviegoing ritual most deserving of a comeback. It's the stuff of movie palaces, drive-ins, and getting more bang for your entertainment buck. The double feature is that magic that happens when two totally separate movies get juxtaposed together and begin talking to one another in strange and exciting ways. As part of IFC.com's year-end hullabaloo, I decided to list the five most interesting hypothetical double features of 2010, along with five more runners-up. In no particular order, they are:
Money, Family, and Escape in Modern Boston
"The Town"
Directed by Ben Affleck
with "The Fighter"
Directed by David O. Russell
Though these films are from totally different genres — one a classic one-last-job heist movie, the other an inspirational boxing film — they share a common theme at their respective cores: a working-class man's obligation to his friends and family and his realization of his need to escape its stifling grip. Both feature exceptional use of real New England locations, both come fand both feature enormously talented ensembles. Plus if you're a stickler for bad Boston accents, you'll appreciate Affleck and "Fighter" star Mark Wahlberg's ah-ganic ah-thenticity.
The Monsters are US!
"The Crazies"
Directed by Breck Eisner
"Monsters"
Directed by Gareth Edwards
Pairing these two films together certainly makes thematic sense: both movies tell stories about Americas blighted by horrifying creatures and even more horrifying governments. But each film also exposes the strengths and weaknesses of the other: "The Crazies" could use more of "Monsters"' elegiac imagery and naturalistic cinematography while "Monsters" would benefit from performances as good as Timothy Olyphant and Radha Mitchell's and a bit more oomph in the scare department. Each movie is good but flawed. Together, they're a damn good night of spooky scares and military paranoia.
Banks Suck
"Inside Job"
Directed by Charles Ferguson
with "The Other Guys"
Directed by Adam McKay
We've all been affected by the financial crisis. We all want to understand how it happened and why, and what we can do to ensure history doesn't repeat itself. Charles Ferguson's documentary about corruption and greed inside the banking industry may provide the answers, but it might also leave you a tad enraged in the process. So what better way to vicariously relieve some of that anger than by pairing the film with "The Other Guys," the underrated Will Ferrell-Mark Wahlberg buddy cop comedy set against the backdrop of corruption and greed inside the banking industry. The two films mesh pretty well; Steve Coogan's oily CEO could have appeared as a talking head in Ferguson's doc saying "I don't believe I have to discuss that with you," and "The Other Guys"' chart-laden closing credits sequence that takes us right back inside the horrifying details of our economic collapse. But at least now the absurdity of it all has you smiling about it. (Note: weirdly, both films were released by divisions of Sony.)
Supernatural Fathers and Sons
"How to Train Your Dragon"
Directed by Chris Sanders and Dean DeBlois
with "The Wolfman"
Directed by Joe Johnston
It's a classic story: the father who can't bear the son who he sees as a disappointment; the son who forever tries to impress a father for whom nothing will ever be good enough. Two movies this year took that archetypal framework and added layers of supernatural surprise and suspense. "How to Train Your Dragon" went light while "The Wolfman" went dark, but both explored very similar narratives: a father and son bonding and feuding as they come to understand the monsters that threaten their isolated community, whether they're Vikings or Brits (were they Brits? With Benicio Del Toro's accent(s), it's hard to tell). The two films also offer a study of the highs and lows of the modern studio system. When CGI animated films like "How to Train Your Dragon" work, they represent the factory model of filmmaking at its best: creators and executives at the top commanding enormous brigades of artists and craftsman all working together to execute a single vision. When big budget remakes of old properties like "The Wolfman" don't work they represent the factory model of filmmaking its worst: shoddy goods cobbled together from shabby raw materials assembled by a workforce with a severe disconnect between management and labor.
(Kind Of) Playing Yourself Onscreen
"I'm Still Here"
Directed by Casey Affleck
with "Alamar"
Directed by Pedro González-Rubio
The line between fiction and documentary got awful blurry in 2010, never more so than during these two films. One got a lot of attention, one went almost unnoticed but both employed nearly identical stylistic techniques: real people playing fictionalized versions of themselves in the hope of reaching some Herzogian ecstatic truth about the worlds in which they are set: Hollywood and celebrity culture in the case of "I'm Not There," a simple fishing village on the Chinchorro Reef in the case of "Alamar." The most interesting contrast here is the outrage that greeted the former and the indifference that met the latter, even though all the charges leveled against one could just as easily be applied to the other. Apparently, famous people can never play pretend or experiment with their own lives, a fact that may have been Affleck's point all along.
Five Additional Possibilities:
Reality and The Documentary: "Exit Through the Gift Shop" and "Catfish"
Repression and Repulsion: "Black Swan" and "Dogtooth"
Celebrating And Ridiculing 80s Action Nostalgia: "The A-Team" and "MacGruber"
Craven Filmmaking: "A Nightmare on Elm Street" and "My Soul to Take"
Angelina Jolie Mistaken Identity Thrillers: "Salt" and "The Tourist"
Great Reader Suggestions
Lonely, Tech-Savvy Nerds: "The Social Network" and "Scott Pilgrim vs. the World" (from @EAKEN)
The World is a Video Game: "Inception" and "Scott Pilgrim vs. the World" (from @jeuneski)
Heroic Animated Villains: "Megamind" and "Despicable Me" (from @returnofsmith)
The Beginning, Middle, and End: "Babies" and "The Human Centipede: First Sequence" (from @neoprag)
"Send Help Please" Triple Feature: "Frozen," "Buried," and "127 Hours" (from @fisackerly)
Have your own favorite possible double feature from 2010? Share it with me on Twitter and I'll add it to this list.