Ten Greatest Music Videos Of 2010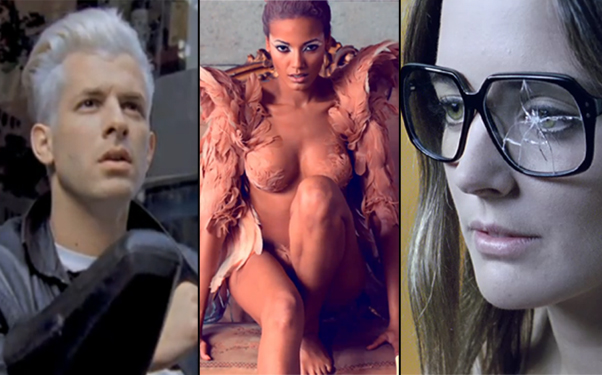 Posted by Brandon Kim on
We've premiered quite a few magnificent music videos this year, and some of the best to be seen anywhere just in the past few months, if I dare say. Since there are far too many shot for any one person to see them all, inevitably, all the issues of bias and subjectivity that apply to any list of creative works are compounded here by sheer volume. But, dear reader, the very fact that we've been intimately in the loop with many of the finest pairings of sound and vision in recent months gives us a slight edge in preparing such a list. Admittedly, some of the following videos premiered here on IFC, but all of them earned their place in this list because they rose above the rest with noteworthy execution and immense style.
---
10. Rachel Goodrich, "Light Bulb"
Rachel Goodrich's vaudeville indie pop tune "Light Bulb," featured in "Weeds," was the subject of a video contest held by Miami's Sweat Records. This entry directed by Lucas Leyva, didn't win (it came in 2nd), but it's awesome juxtaposition of Goodrich's whimsical song with Miami thug life easily makes it one of the best videos of the year in my book.
---
9. Röyksopp, "Senior Living"
At about ten minutes long and incorporating multiple tracks off of Röyksopp's album, "Senior," this counts as a short film as much as music video, and it won't be the last one on this list. Still, it falls decidedly into the music camp for our purposes, lacking any real deep narrative angle. I still can't believe this is actually the city of Detroit. Knowing that makes this dystopian vision of three babes wandering through a zombie and wolf-filled hellscape even more freaked out.
---
8. Die Antwoord, "Zef Side"
If this list were the Most Blown Out videos of the year, I'd have to put this one first. Everything about it is too severe, from Yo-Landi's hair, to Ninja's junk swinging. This video pretty much landed Die Antwoord a record deal with Interscope. They just brought "that next level shit," and brought it hard.
---
7. Arcade Fire, "Suburbs"
New roads and tidy lawns can't hide the menace lurking in Spike Jones' take on the suburbs. What begins as good times biking around the neighborhood turns to calamity, as these kids come of age in a police state.
---
6. Grinderman, "Heathen Child" (NSFW?)
Director John Hillcoat ("The Road," "The Proposition"), has Nick Cave, Warren Ellis and crew depicted as Classical Gods firing raw power out of their eyes and arses all while a girl of questionable age sucks her thumb in a bathtub waiting for the Wolfman to come. Rabid, filthy, awesome stuff.
5. Sharon Jones & The Dap-Kings, "Game Gets Old: the Trilogy"
Director Philip Di Fiore loves the look of old Blue Note record covers and photographs and wanted to create a world that brought that look to life with Sharon Jones & The Dap-Kings. The result was a three-part series, which combined was the authentically vintage, "Game Gets Old: the Trilogy." Shot on 35mm Panavision with an anamorphic lens from 1964, you'd be hard pressed to guess this was made in 2010 if you just stumbled upon it. Sharon Jones and the baddest horn section in Brooklyn more than look the part too, no one keeps it as real as they do.
---
4. Mark Ronson & The Business Intl, "The Bike Song"
Nice shades, hot chicks, sweet bikes. Mark Ronson has it all. I'm tempted to repeat what I wrote about this after it premiered in Fall just to remind myself how good life can be: "The ridiculous Japanese/Tron/R2D2/Knight Rider transforming bicycle routine comes out of nowhere, and then Ronson is just rolling, hooking up with his jobless friends, jacking fools, and kicking it with hot French girls. You know how it is." Most sartorially stylish viddy of the year declaration, still stands.
---
3. Baths, "Lovely Bloodflow"
Never has a video made perishing in the woods look so beautiful, even appealing, as this one for Baths' (AKA Will Wiesenfeld) "Lovely Bloodflow" during which he incongruously sings lines like "Kick up my shit, you wanna." This is a must see by directors by Alex Takacs and Joe Nankin who together go by the moniker Young Replicant.
---
2. El Guincho, "Bombay" (NSFW)
Whoever said "There's a shortage of perfect breasts in this world" (Westley did), didn't see El Guincho's trip into the human cosmos. You don't want to stop and think about that any more than you would want to stop and think about what the hell is going on in this totally out of control piece called "Bombay." Just feeling it is good enough. Perhaps all the random associations and wild fetish play will coalesce into a story in the larger film for which this is actually a trailer.
---
1. Kanye West, "Runaway"
"Think big, set your goals high. I mean, a 35 minute film — we did it. We so seventies right now. We rock stars, fuck y'all's opinion." That's what director and emotional basket case, Kanye West, said when his short film "Runaway" premiered in New York. Over the past few months, Kanye has proven decisively that he is one of the most fragile entertainers in the world, and without question, also one of the most fascinating. It may not be playing by the rules to put the 30+ minute "Runaway" in a list with the rest of these music videos, but then, Kanye doesn't play by any rules either. That, and because this gratuitously narcissistic musical fantasy is spectacular to behold, is why this is #1.
Honorable mentions must go to Seu Jorge & Almaz's "The Model" — part 1 and part 2 which veers more directly into narrative territory. It's the smoothest short I've watched this year. Also check out Revolver's "Leave Me Alone," Morning Benders', "Promises" and Broken Bells' "The Ghost Inside." Lastly, for going above and beyond using forgotten, antiquated, technology to create visual effects see Neon Indian's freshly premiered "Mind Drips."