Steve Martin Versus An Angry Audience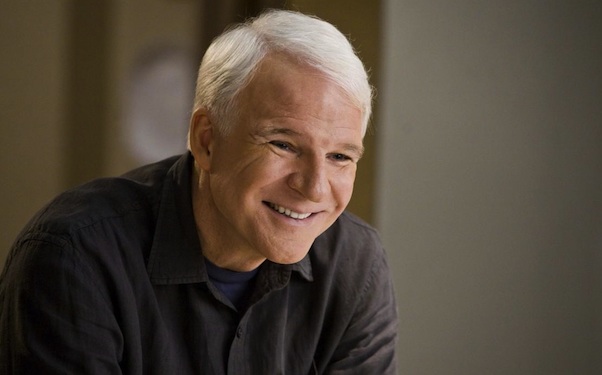 Posted by Matt Singer on
See, I thought I was the only guy who watches Steve Martin plucking away on his banjo on Letterman and thinks to himself, "What I wouldn't give to see that man get back to comedy." Apparently, a whole lot of people at the 92 Street Y in Manhattan agreed with me, and they let Martin know about it. In the middle of an interview!
On Monday night, Martin appeared at 92Y at a public interview conducted by The New York Times Magazine's Deborah Solomon. Martin has just published a new novel called "An Object of Beauty," and it — and its subject, the art world — dominated the conversation, much to the chagrin of the assembled audience, who apparently were expecting something more along the lines of an arrow through the head gag. According to the New York Times article about the event:
"Midway through the conversation, a Y representative handed Ms. Solomon a note asking her to talk more about Mr. Martin's career…according to Mr. Martin, viewers watching the interview by closed-circuit television from across the country sent e-mails to the Y complaining "that the evening was not going the way they wished, meaning we were discussing art." It was, he said, "a little like an actor responding in Act III to an audience's texts to 'shorten the soliloquies.' " The audience cheered when Ms. Solomon read aloud the note."
It wasn't just the customers who were displeased either. The Y emailed the 900 people who bought tickets offering $50 gift certificates (the price of a seat) along with a letter stating they "were disappointed with the evening." Jeez, how boring was this thing? Did someone die of acute understimulation?
My first reaction to all of this was to wonder how the event was billed by the 92nd Street Y. Was it "An Evening of Laughs With Steve Martin" or "Steve Martin Conquers the Art World?" The official listing at the Y's website calls it "Steve Martin with Deborah Solomon." It namechecks "An Object of Beauty," but it also mentions "Father of the Bride," "Bowfinger," and other movies. The description doesn't specify the exact nature of the event, and in the Times piece, Solomon claims the Y offered her no direction about the content of the conversation. So broadly this sounds like a case of miscommunication that led to a misunderstanding.
But regardless it brings up another subject, and forgive me because I'm about to talk about art and I know how that can bore some people. Who should control Steve Martin's — or any artist's — career: the artist or the audience? Should he walk out on stage and introduce himself by saying "I was born a poor black child" just because we like "The Jerk?" Obviously Steve Martin would have one answer; it seems many of the people in his audience might have another.
Basically, the artist can't win. If he makes something we like and then challenges himself to do something different — say he's Woody Allen and he makes "Interiors" after "Annie Hall" — we complain that he's gotten away from what we loved about him. If he makes something we like and then repeats it with more of the same — say he's Michael Cera and he follows up "Superbad" with "Nick and Norah's Infinite Playlist" — we call him a one trick pony. So we want range, but only so far. We say one thing and mean another. We expect the impossible: haute cuisine and comfort food all rolled into one.
I can understand the 92Y's frustration to a point. Who knows, maybe the problem was not the fact that it was a conversation about art but rather a boring conversation about art. Still, it's hard not to see the audience's reaction as a pretty horrifying example of our instant gratification culture's dark side. Instead of giving their customers $50 gift certificates, maybe the 92 Street Y could have stoked further discussion on the subject by giving everyone gift bags of relevant movies like Woody Allen's "Stardust Memories" and D.A. Pennebaker's "Don't Look Back." I'm sure Bob Dylan feels Steven Martin's pain.
Personally, I don't think an artist should spoon-feed. I don't want my movies to look like the cultural equivalent of baby food. Don't chew it for me; I'll chew it myself. In order for that to happen, artists have to be allowed to follow their curiosities. Even if that means playing the banjo once in a while.