Stephen Dorff Finds a Home "Somewhere"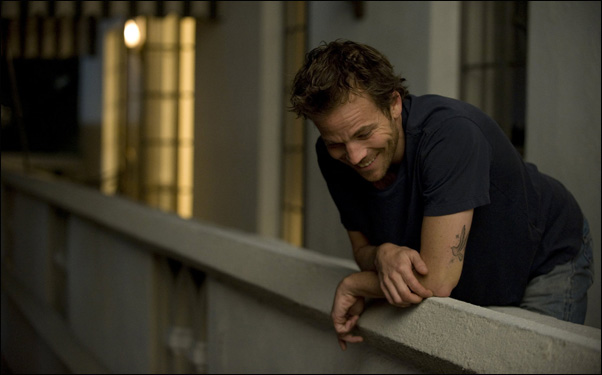 Posted by Stephen Saito on
When Stephen Dorff exits a black Ferrari in the middle of nowhere at the beginning of "Somewhere," one thing is clear as the dust settles from the dirt donuts he's made in the distance – he was meant to be a movie star. So it is with slight irony that the film in which Dorff plays one in the middle of an existential crisis is the role that may lead to his professional rediscovery in real life. Once a darling of indie cinema during the '90s to the point where he played Candy Darling in "I Shot Andy Warhol," Dorff has since endured life on a Uwe Boll set and seen his devilish grin that made him poised to become a leading man co-opted by filmmakers to pigeonhole him as a bad guy in films such as "Blade."
As Johnny Marco, the only demons Dorff battles in "Somewhere" are those of his character's own creation — the one-night stands that text him to ask "why are you such an asshole?" on his Blackberry, the hazy nights of partying in his otherwise empty suite at the Chateau Marmont, and worst of all, the estranged relationship with his ex Layla and their daughter Cleo (Elle Fanning), the latter of whom he clearly adores. Johnny's reconnection with Cleo serves as the path to his own salvation in "Somewhere," and though the film is hardly autobiographical, it's territory known well to both Dorff and director Sofia Coppola, who both were wild enough at one time to have 21st birthdays at the Chateau Marmont and nowadays have the artistic cred to fit in with the rest of the Hollywood hotel's famous guest list. I recently spoke to Dorff about working with his longtime friend Coppola, why he didn't need to do much background research on his role, and why it's okay to call this a comeback. [There are spoilers for "Somewhere" at the start of the second page.]
Since you've known Sofia Coppola for a while, when you saw the finished film, were there touches where you thought she really knows me well?
I just think [Sofia] gave me such a great opportunity to kind of create a new kind of movie star and there's a lot of differences between me and Johnny Marco, but at the same time, there were obviously things I could totally understand and relate to. But when I first saw the movie, I was just blown away by just the piece because it's such an intimate portrait of this guy's life. She just led me to great places as far as the challenge of working in this environment with not much dialogue. There's no tricks. It's all just pretty much a naked performance.
Was it an interesting way of working for you?
It was a lot harder. I love being challenged. Sofia gave me the ultimate challenge here because there's nothing driving the acting but human emotion. There's no explosions, there's no murder, there's no bank robbery. There's nothing that we normally see in these movies that usually trigger the emotion or trigger the next scene. This is all just inside this guy's head and then basically we see him grow and hopefully by the end, he becomes a man, which I think he does.
In past interviews, you've estimated that Johnny was two years into being really famous, which seems like such a precise observation. Does it help or limit you as an actor when you have such a precise idea of where this guy is headed, perhaps from personal experience?
I just wanted to set up where he was. I figured he started acting and got some parts obviously, but then his real fame came quite quick, so I thought it would be a little more daunting for a guy to have this crazy fame for a movie he wasn't even that proud of. Now when we open, he's probably had about a year-and-a-half into this kind of spinning, monotonous boredom, broken kind of thing of what's going on inside him and detachment from family, from his ex, from his daughter.
If you're broken inside and you've got some issues that you haven't dealt with, then you're really screwed. I think that's what happens to most of these talented people who lose everything is because they probably never fixed what was going on inside them. They just went from one movie premiere to the next and just kept rocking with it and you can keep going and keep making money, but if you don't have your insides figured out and you're hurting inside, then that's not going to go away no matter how much money you make or how many girls you've got throwing themselves at you, what kind of car you drive. It doesn't really mean anything. And that's what I loved. The movie, to me, was always about an adolescent father becoming a man.
Did you have a favorite movie star excess that was from the film or were you suggesting things to Sofia to include?
I would suggest certain things here and there and she'd let me go with certain things, like the press conference scenes and things like that. Basically, she made me feel like a partner on this movie just by bringing me in so early, giving me every kind of luxury that I could've ever asked for to play this part, like staying in the hotel, spending some time with Elle in the beginning, just me and her where we could develop our own kind of trust and rhythm, so that by the time we were on set, we were kind of a unit — it just became kind of effortless. [Sofia is] just is an amazing director because every choice she makes, whether it's an early prep choice in rehearsal or me picking up Elle from school and spending time with her, it just all led me to finding the character.