Something's Got a Hold on Me, And I Don't Know What: "Somewhere," Reviewed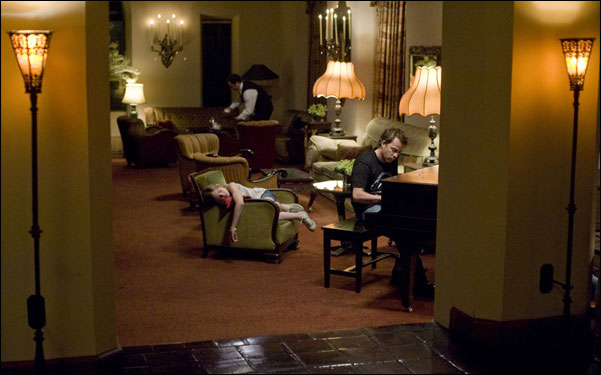 Posted by Alison Willmore on
As we left our screening of "Somewhere," a colleague observed that he'd never been to the Chateau Marmont, where much of the movie is set, but that he "couldn't believe how crappy it looked." I've never been there either, and while I'm not sure that that's the description I'd choose, as it's sketched out in the film the famous West Hollywood hotel doesn't conform to any of the expected trappings of luxury — the grounds look rambling and overgrown, the eclectic furniture comfortably broken in, the overall air studiedly unpretentious. It's a very high-end version of what George Clooney's character in "Up in the Air" deemed "fauxmey" — a shabby chic, sun-dappled aerie filled with beautiful, sometimes famous playmates, where everyone knows your name and room service is available 24 hours a day.
That sense of coddled coziness is important to Johnny Marco (Stephen Dorff), because the Marmont is the hotel he lives in when not off staying at other hotels, on shoots, press days and Italian award shows. Johnny is a movie star and, as far as we can divine, a very famous one, enjoying an easy, debauched break between features. So rudderless is his lifestyle that his days are shaped by the people who show up at his doorstep or call him on the phone — his agent rings to tell him a car will be out front in 15 minutes to take him to a junket; he comes home to find his best friend presiding over a party in his suite; he wakes up to find his daughter Cleo (Elle Fanning) signing the cast he has on the arm he broke taking a boozy accidental dive down some stairs. Cleo lives most of the time with her mom and Johnny's ex Layla (Lala Sloatman), but she comes to stay with her father twice — the first time as a regular instance of a partial custody agreement, the unscheduled second because her mother needs some space.
"Somewhere" has obviously echoes of Sofia Coppola's earlier melancholy movie star story "Lost in Translation," playing out like a minor B-side to that better film, though one with its own petite pleasures. While "Lost in Translation" focused on a relationship enabled by the impermanent jetlagged bubble of displacement of a Tokyo hotel, that bubble is where Johnny has chosen to spend his life, the only abiding aspect of which, the only permanent mark he's left on the world beyond a string of the more forgettable type of multiplex movie, is his 11-year-old child.
He's a charming, unreliable bastard, a noncommittal man so sedated by indulgence that he's arrived on the cusp of middle age without a moment of self-reflection. Women are always either throwing themselves at him or throwing a tantrum at him when he fails to return their calls or treat them with respect. Even Cleo is enchanted by him but wary — there's no doubt that he loves her, but also that he's made no larger place for her in his life. On a trip to Rome, for instance, they spend an evening watching TV and ordering in gelato, but after she's gone to sleep he summons a former lover he ran into in the lobby, the three taking an awkward breakfast together in the morning.
Johnny and Cleo's time together is everything of substance in this wisp of a movie, and Fanning is touchingly good as a little girl whose still takes delight in the giddy perks of A-list existence, but no longer really finds them enough to make up for her only semi-present dad. When her breakdown happens, it is, like most of the emotional moments in the film, all the more powerful for being underplayed — a child weeping with worry that her parents are too busy with their own needs to pay attention to hers. Johnny's own comeuppance, on the other hand, is artless and heavy-handed, a bald stating out loud of what had been delicately left understood before. Or maybe it's that Johnny's more an absence of a main character than any active force (something that is, admittedly, part of the point of the movie), and so whatever change happens in him over "Somewhere"'s course seems more like a new impulse to be indulged rather than any growth.
It's a seductive thought, that the most beloved and pampered of stars can find their lives empty and emptied of meaning, and "Somewhere" seems aware of and plays into our desire for celebrity schadenfreude a bit. Coppola's unmoving camera observes from a wry remove the pole-dancing pair of strippers Johnny orders to his room, or his race car circling a track, zipping in and out of the frame but never going anywhere. And yet, through the unaffected gaze of Cleo, these things seem magical again, for Johnny, of course, but also for us in the audience. Sure, it's a shallow existence, but it can also be pretty sweet — providing you have someone to remind you of the fact.
"Somewhere" opens in limited release today.