Sally Hawkins on the Year She Became a "Made" Woman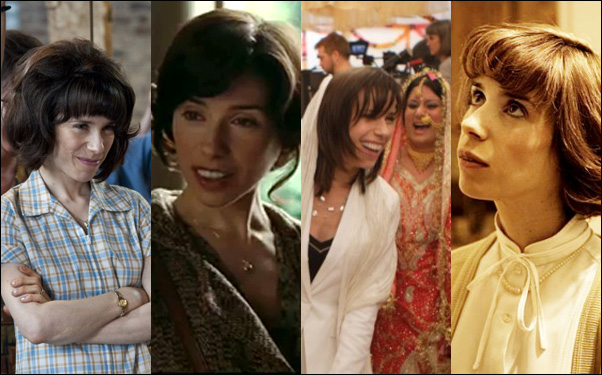 Posted by Stephen Saito on
A month after my first interview with Sally Hawkins was canceled after she lost her voice, there's still a raspiness in her throat that's at odds with her otherwise indefatigable spirit. Yet both are evidence of a 2010 in which Hawkins has appeared in three films to hit the States this fall — "Never Let Me Go," "It's a Wonderful Afterlife" and "Made in Dagenham" — and stood toe to toe with Cherry Jones on Broadway in a revival of George Bernard Shaw's "Mrs. Warren's Profession." (This isn't even to mention the three on the way in 2011: the dramas "Desert Flower" and "Jane Eyre" and the Sundance-bound comedy "Submarine," which I felt was one of the best at this year's Toronto Film Festival.) In the midst of this incredibly busy season for the actress, Hawkins took the time to talk about overcoming shyness, why there truly are no small parts and how Mike Leigh changed her approach to acting.
Actors are sometimes the last to know about when all these projects are going to come out, but has it been surprising how busy you've been this past year?
It's wonderful. Like you say, you never really know. You do your bit and then you hope for the best and you think, oh I hope there's an audience at the end of the day. But here, it's an incredible response. It's just been amazing. I didn't think I'd be in this situation again and talking to people about a film that I'm passionate about a few years after "Happy-Go-Lucky" …I feel so lucky. But it's all that you want for ["Made in Dagenham," in particular], something that's based on an important part of history and without these women, God knows where we would be, so it's wonderful to talk to so many people and people want to talk to you as well.
I've heard you say you were shy growing up and yet you're in a profession that requires you to be open. Did that actually help you play Rita, who is similarly thrust into the spotlight [as a factory worker who leads the charge for equal pay in "Made in Dagenham"]?
Absolutely. I'm getting better at it. In interviews, you have to realize it's not about you and that makes it easier. You're there, sort of working and promoting a film and getting it out there to a bigger audience, so that makes it easier to take it away from you. But I suppose I was quite shy growing up and I think acting is, like it is for a lot of actors I know, a way of expressing and for Rita, I think it's similar. She is quite quiet and shy and she's had no experience of talking publicly in this way. Her world's been quite small and she ends up at the end of the film where it's grown extensively and become global in a way.
I think the way she deals with it and the way I'm able to deal with it is that she's doing a service and the more she invests in that, the more passionate she becomes, and the easier and the stronger she becomes actually because she's speaking as the voice of the women and there's a responsibility to that. She's the one that's been pushed forward and she owes it to not only herself, but to all of them to keep calm, to keep that clarity of voice and their integrity to speak the truth and it's all she can do. So I think it was a nice dimension of Rita, but it's what I saw in all these women actually.
You've got "The Roaring Girl" [about Bernadette Devlin, the youngest woman ever elected to British Parliament] in development too. Are these historical parts where the good roles are or are you a bit of a history buff?
Hopefully that'll happen soon. When you've got roles like "Made in Dagenham" and then a figure like Bernadette Devlin, they're formidable women. Bernadette Devlin was a subject that came up with Aisling Walsh, the director who I worked with on "Fingersmith," a BBC project years ago and we've stayed in contact. These projects, they're around in the mix for awhile and sometimes they just bob up to the surface and it just so happens that it's a one that has a similar theme, but you can't help but be drawn to those kind of figures. You just hope that if you're called upon to do those roles, you do them justice and you do them well.
Talking about projects that bubble up, "Submarine" came as a bit of a surprise. [Hawkins plays the mother of Oliver Tate, an eccentric teen living in England.] Since it's such an original vision, did you have any idea how that film was going to turn out?
No. Richard [Ayoade, the director] is incredible and he's a master filmmaker in the making, if not already there. I've known him for a number of years; he's also a good friend and he has a creativity, so you can't really know. ["Submarine"] has such a lovely tone to it, a slightly stylized '80s tone, which just made it more interesting as you're walking into this dimension, you're not quite sure how or where to place it and I love films that sort of slip in between the gaps in time and space. You're not quite sure where they are, where they fit and that informs the awkwardness of how Oliver sees the world and the way he sees it in a heightened, slightly surreal, odd way you do as a teenager and all those hormones are rushing around.
When I spoke to Richard in Toronto, I was expecting him to cite a lot of coming-of-age stories as influences, but it took me aback when he mentioned "Taxi Driver."
Knowing Richard as a film geek and film buff – I mean, I think I know and love a lot of films, but then it's nothing compared to Richard. His library of films is ridiculous. Brilliant. You could be there for years. He's influenced by so many films and "Taxi Driver," I know, is one of the big ones. That'll probably be an influence on every film that Richard makes because I remember him talking about "Taxi Driver" and every single moment he knows the film so well. I can't wait to see his next film because yeah, it's brilliant.