Derek Cianfrance, Ryan Gosling and Michelle Williams Pen a "Blue Valentine"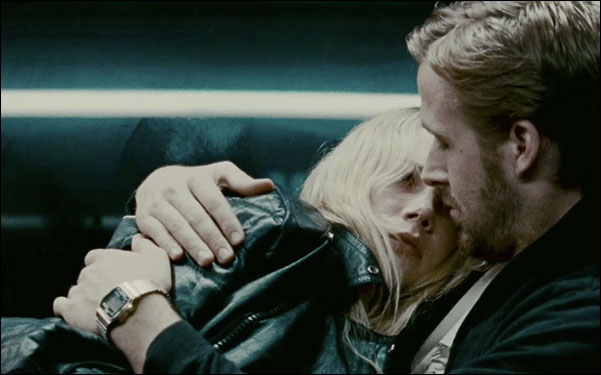 Posted by Alison Willmore on
"Blue Valentine" is the story of Cindy and Dean, an ordinary couple who meet, fall in love, get married, have a child and, eventually, split up. And in the hands of director Derek Cianfrance and his exceptional leads Ryan Gosling and Michelle Williams, that story is something both intimate and epic and, however you look at it, a genuine heartbreaker. The film juxtaposes the elation of falling in love with the unvarnished moment when that love slips away, worn down by time, disappointment and the weight of a thousand small concerns. I got a chance to talk to Cianfrance, Gosling and Williams at Sundance back in January, where the film premiered. Since then, it was acquired by the Weinstein Company and fought a high-profile battle against an NC-17 rating, eventually emerging triumphant. It's one of my favorite films of the year.
Why craft both ends of a love story like this? Movies tend to be more interested in the beginnings of them.
Derek Cianfrance: Well, there is a model for love tragedy, and that's "Romeo and Juliet" — the story of these two young lovers who at the peak of their romance die and their love is preserved for all time. As I was going through my life, I never met anyone who had that good romantic fortune to die at the peak of their life. They had to suffer through, and time became this betrayer. So the story we've been told is "Romeo and Juliet," but the story behind that story, you know?
Ryan, Michelle, what was the appeal of this love story with a gap in the middle?
Ryan Gosling: Working with Michelle was a big appeal, working with Derek. I also had been a part of one of those big romantic movies and — this is a long time ago — people would come up to me and tell me that they thought it was romantic, but one guy told me that he was engaged and [his fiancée] broke up with him after that movie because she said to him, "You wouldn't build a house for me, would you?" He was like, "Well, no, but I don't know how." She said, "But if you knew how?" He said, "No, I wouldn't. But it doesn't mean I don't love you." She said, "Yeah, it does." And she called it off.
If you see some of those movies, then you look at your own romance and it doesn't compare, you think, oh, what I have isn't love because that's love. And our hope, I think, in making this movie is that you will recognize your relationship in this, maybe not to this extreme, but on certain levels, and go home and realize that that's really what it is. We hold ourselves to unreasonable standards, it's probably why a lot of times we don't stick it out.
The film is definitely about romance and being romantic, but it also seems like it reverses roles in having the male character be the big romantic and the female character be more concerned with what the practical reality of the relationship and where it's going is.
DC: One of the things I used to try to tell Michelle and Ryan is that she was the man and he was the woman. That was pretty much the extent of my direction.
Do you agree with Dean when he says "I think men are more romantic than women"?
DC: I don't know. I was interested in the feminine man and the masculine woman. I don't think you see a lot of that. The majority of the time movies are from a man's point of view, and there's always some kind of adultery that's going on or whatever — I just never related to it.
RG: I thought it was exciting because was like new ground for a female character that I hadn't really seen. I mean, I love my character for all of his flaws and I know that guy, I meet him a lot, in myself sometimes too. But [Cindy's] a great female character and if I was an actress, I would watch and watch and watch this movie.
Michelle Williams: It scared the shit out of me. [laughs] Derek talked me down off the cliff more than once.
What was scary about it?
MW: Just that, inverting the dynamic and doing something there wasn't like such a model for in current cinema. That isn't necessarily where people's empathy extends to. But then I also, in my own mind, reconcile it. I realized somewhere in the middle of the movie, this is two days. It's two days in their marriage, just two really, really bad days. I thought of it sometimes as… it wasn't the end of the story, it's not just the divorce papers the next day. It's an ongoing fight and maybe it's the beginning of something real, like when you break new ground in a relationship. Weirdly, this is a lesson I'm learning, you can find more love there.
RG: I think there have been some oddly sexist reactions to the film from females at the festival that I was kind of shocked by.
Really? What kinds of things have you been hearing?
RG: It just seems like there's this idea that if a woman has a guy that loves her and loves their kid and is faithful, that she should be happy. And there's no mention of, like — does she love him? Does she love their life? She's just obligated to stay, she can't look around at her life and say, this is great, you're great, but I'm not happy and I don't know why. I need to figure that out and I can't do that if you're here. I got pregnant when I was a kid, I've been married now and I'm still figuring out that part of me…
MW: And that you move from your father's house to your husband's house and never have a space of your own. All your identity is wrapped up in the way that your father thinks of you, the way that your husband thinks of you — what do you think of you?
RG: And now you're raising a little girl and she's learning from your example. What kind of example are you setting?
MW: And we haven't been able to break the family habits and the cycles. These aren't people that have access to therapy, so it just feels like a tangle of wires like in her head. But also maybe you're a hard guy to leave. [laughs] I'm probably not going to get a lot of sympathy from women who are like what?!?