Randy Quaid and the Hollywood Star Whackers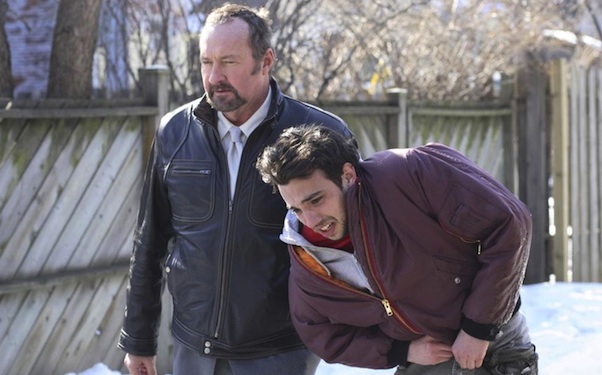 Posted by Matt Singer on
I interviewed Randy Quaid once. It was at the Sundance Film Festival in January of 2008. Quaid was the star of the opening night film at Slamdance, "Real Time." Quaid was on time and polite (if a little standoffish), and he seemed to have a lot of fun joking around with his co-star Jay Baruchel both before and during our interview. I've definitely met Hollywood people who seemed weirder and more clearly under the influence of unspecified substances.
That said, there was something about Quaid that struck me as a little… off. Most stars at Sundance look extremely uncomfortable in the freezing cold of Park City. They're fresh off the plane from Los Angeles where it's 70 degrees. The last time any of them even saw snow was watching a Christmas movie. Quaid, on the other hand, looked like a fashion designer who'd lost his mind and became a survivalist. He had this big, bushy beard and was wearing this enormous full-length fur coat and for some reason both the coat and the beard were the same exact shade of brown (here's a picture of Quaid in the ensemble at "Real Time"'s Slamdance premiere).
I always think about that day when I read about Quaid in the news. He and his wife Evi are in the news a lot, unfortunately. They're always missing court dates or being accused of felony vandalism or missing court dates on charges of felony vandalism. Their behavior is so extreme — running out on enormous hotel bills, squatting in homes that don't belong to them — it's almost hard to believe.
Not as hard to believe, though, as the Quaid's explanations for said behavior, which is detailed in a fascinating article in the new Vanity Fair. "The Quaid Conspiracy" by Nancy Jo Sales catches up with the Quaids on the lam in Canada, seemingly living out of their Prius ("Priuses are deceptively roomy," says Randy). The whole piece is a mesmerizing read, but the real highlight is Sales' rundown of the Quaids' case against the "Hollywood star whackers" who they believe have killed Heath Ledger and David Carradine and have now set their sights on them:
"The lawsuit alleges that a cabal of crafty Hollywood lawyers, estate planners, and accountants maneuvered to turn the house into a sort of at-the-ready cash machine full of endless equity, all in Randy and Evi's name…starting around 1983, Randy's lawsuit goes on, the corrupt clique set up a fake living trust in order to steal more of his money, including residuals he was still owed by Warner Bros., which released the 'Vacation' movies. They allegedly used a falsified probate file for a fictional, deceased Santa Barbara woman named Ronda L. Quaid ('Rond-ALL Quaid? Randall Quaid?,' Evi kept repeating meaningfully) to cash Randy's checks at City National Bank and deposit the money into the fake trust account.
But of course, Ronda L. Quaid was not a boogeywoman invented by some sort of fiendish conspiracy. She was a teacher and horse enthusiast; Vanity Fair even spoke to some of her friends (or did they?!?). Though Sales' piece certainly takes everything the Quaids' say with an enormous grain of salt, she also does an impressive job of avoiding the urge — and it was surely a hard one to resist — to just mock these crazy people. Instead, she paints a portrait of a screwed up couple whose love is as genuine as their insanity.