Portlandia Rock City: The Music Behind 'Portlandia'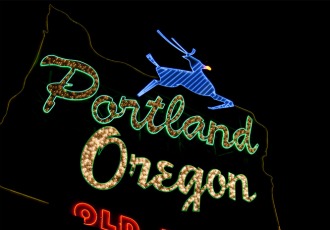 Posted by Melissa Locker on
The Portland, Ore., music scene has come a long way from the days of Nu Shooz playing Tuesday nights at the Copper Penny. (Trust me, native Portlanders understand that sentence.) Even on school nights Pine Street was packed for The Wipers show, the X-Ray Cafe was filled to capacity for Heatmiser gigs, and underage kids were sneaking into Satyricon to see Dead Moon play for the grownups. Then came Elliott Smith, the Dandy Warhols, Gossip, and Sleater Kinney, and now M. Ward, YACHT and The Decemberists. Bands as varied as Woody Guthrie, The Helio Sequence, The Replacements and Jack White and Loretta Lynn have penned odes to the rainy Rose City.
Portland and music go hand in hand, which is why music and musicians are heavily featured in IFC's new show Portlandia. The sketch comedy show stars Carrie Brownstein, from Sleater Kinney, and Saturday Night Live's Fred Armisen and produced by Lorne Michaels and lovingly skewers the city of Portland. The show starts January 21, 2011 at 10:30 p.m. ET/PT, but you can start banging your head to the fine tunes within in now.
Here are some of the musicians and bands featured in Portlandia:
Colin Meloy, lead singer of The Decemberists, can be spotted in an episode of Portlandia. Here is The Decemberists song "16 Military Wives":
While Sleater Kinney isn't getting back together any time soon, Portlandia star Carrie Brownstein does rock the mic and guitar with her new band Wild Flag, which also features former Sleater Kinney drummer Janet Weiss, Helium's Mary Timony and Rebecca Cole of The Minders. Here's a live performance of their song "Future Crimes" from a show last month in Portland.
Lead singer of The Shins, James Mercer, pops up to lend a helping hand during an episode. Here's The Shins video for their song New Slang. You probably recognize it from being wildly popular and being featured in the Zach Braff/Natalie Portman film Garden State.
And, while she's not a Portlander, singer songwriter Aimee Mann guest stars in an episode. Also, she's just great and you should be listening to her music anyway. Here's her song "Freeway":
Portlandia premieres January 21, 2011 at 10:30 p.m. ET