"Undeclared" Ep. 9 and 10, "Parents' Weekend" / "Eric Visits Again"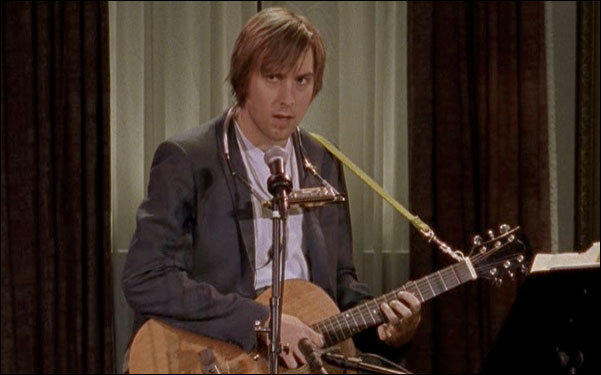 Posted by Alison Willmore on
"Undeclared" is now airing on IFC, and we thought we'd take this opportunity to revisit the show that further cemented broadcast television's inability to recognize the genius of Judd Apatow. Every week, Matt Singer and Alison Willmore will be offering their thoughts on two more episodes.
Episode 9
Parents Weekend
Written by Rodney Rothman
Directed by John Hamburg
Episode 10
Eric Visits Again
Written by Nicholas Stoller
Directed by Greg Mottola
"Bring the ruckus!" –Eric
Alison: In "Parents' Weekend," we at last get to meet Steven's errant mother (played by Amy Wright), along with Marshall's Midwestern family (Cathy Lind Hayes and Joel McKinnon Miller), Rachel's rehab-happy single mom and Lloyd's hot-to-trot sister Amanda (Kimberly Stewart). Having previously existed as a villainous unseen phantom busy frittering away Steven's college savings on a few months of self-exploration in Eastern Europe, Debra Karp turns out to be nothing so demonic in person. She's just a mom who's very happy to catch up with her son and not happy at all to have to also catch up with the husband from which she's trying to separate.
I actually wish Debra got a more screen time in this episode, which is a little overstuffed with three other plotlines running — Ron deciding whether or not to sleep with Amanda, Marshall working up to telling his parents that he's become a music major and Rachel's mother finding her contraband and being led to believe it belongs to Lizzie — because it's another, more nuanced example of the disconnect between the genders in this show. Debra is the one who left Hal, and here Hal tries to make it work, claiming his time spent watching "Oprah" (since he's working nights at the restaurant, he must be home during the day) has improved his skills as a listener.
And Debra's the one who makes the break final at the end of the episode, and though we're given inklings of how Hal might not have been the ideal husband, we don't get to her side of the story beyond that glimpse of how his presence instantly flattens her. Despite having to bear excruciating auditory witness to his parents first fighting and then hooking up in his dorm room, Steven doesn't get to see the two get back together to try again.
Also not getting back together? Lizzie and Eric (Jason Segel), who in "Eric Visits Again" break up for good after the latter finds out about the former's dalliance with Steven back in "Prototype." This episode, directed by "Superbad"'s Greg Mottola and written by "Forgetting Sarah Marshall"'s Nicholas Stoller (how's that for Team Apatow?), is probably my favorite of the series. It rises to a glorious point of absurdity in the middle that has Eric chasing Steven through campus to The Immortals' "Techno Syndrome," aka "that Mortal Kombat song," leaping over a drum circle and speeding along on swiped Razor scooters, Steven in his boxers and bathrobe the whole time. The joke of the episode is that for all his menace, Eric's really a big softie who is totally unsuited to fighting, and Lloyd actually gets more licks in when he's instructing Steven, "Fight Club"-style, in the fine art of fighting, playing Brad Pitt to Baruchel's Edward Norton. Much fun.
Matt, not to always steer these toward dissections of Apatow's treatment of female characters, but what's your take on the Amanda storyline in "Parents' Weekend," in which Ron gets an ideal no strings attached offer of sex from a pretty girl (and even gets Lloyd's blessing), but is too insecure to go through with it?
Matt: I think it's a classic Apatow and Rogen storyline: an inexperienced and socially awkward man's fear of a beautiful woman. It reminds me of the Sam and Cindy storyline from "Freaks and Geeks": Sam pines for ten episodes for the unobtainable dream girl but when she becomes obtainable he runs for the hills. "I'm scared!" he whines to his buddies when they ask him what's wrong (and remember that line, folks; Steven's going to use it on Lizzie in a few weeks).
Ron and Amanda play out exactly the same way: he talks a good game over the phone when she's a continent away and impossible to touch, but when she's available and interested suddenly he's literally hiding from her to avoid having sex. Though Apatow gets a lot of guff about his portrayal of women, including from us on occasion, here the negative slant leans towards the men, who are insecure to the point of self-sabotage. Plus if you're looking for further Apatogen connections (yes, I just combined their names into a new name, just go with it), don't forget that a virginity panic angle — Ron, once again the center of a juicy storyline, can't handle the pressure of deflowering Amanda, partly because he would also be deflowering himself — was all over Rogen's first (Apatow produced) screenplay, "Superbad."
I'm completely with you on "Eric Visits Again" as the comedic high point of the series. It's basically a perfect episode; the only knock you can make is that there's just too much good stuff for 22 minutes. I wish they'd made this a two or even three-parter, if only to get a few more minutes in Eric's copy shop, which is staffed by a Murderer's Row of sitcom guest stars: Segel, David Krumholtz, and Kyle Gass from Tenacious D.
We don't get a ton of interplay between them — the funniest stuff is actually their improvisations over the closing credits, where the cameras were clearly left running as the trio riffed on stuff to say on their ride over to kill Steven — but if ever an "Undeclared" episode could have served as a backdoor pilot for another series, this should have been it. With Eric and Lizzie finally broken up for good, he could ride off into the sunset and onto his own show. Even though he's just an occasional guest star, there's no doubt in my mind that Eric is "Undeclared"'s best character. He's the ultimate Apatow man: super-needy, kind of creepy, sort of a screw-up, a bit of a wuss, and casually and accidentally hilarious. He certainly gets the best lines; his withering breakup diss to Lizzie — "You're not my girlfriend! You're my girl enemy!" — maybe the single funniest moment in seventeen episodes.
We discussed the diffusion of conflict in this column last week, but it bears repeating since it keeps happening: every storyline on "Undeclared" ends with in a payoff that undercuts the expected outcome. On "Parents' Weekend," Marshall frets all episode about his parents discovering his passion for music (a recent discovery, I guess, since it hasn't come up on the show before) but at the end of the episode the issue isn't resolved, merely tabled. Ron's got his own worries — is Lloyd going to kill him if he finds out he de-virgined his sister — and his own understated payoff — Lloyd doesn't care and happily gives his blessing. And on "Eric Visits Again," despite a chipped tooth, the hotly anticipated Eric-Steven throwdown is far less violent than the Lloyd-Steven mock brawl a few scenes before.
Maybe this is just the nature of sitcoms, where you keep the stakes low to keep the laughs high. But maybe Apatow is willfully subverting our expectations. High school is all about drama; college tends to be more about hanging around and getting drunk with your buddies. I think the show's lackadaisical approach to resolutions reflects that. Or maybe, as you pointed out Alison, the show was just too overstuffed for grand dramatic endings. I loved Mary Kay Place as Rachel's intensely overbearing mother, but she doesn't get much of a send-off here either. Plus, her systematic sweep of the girls' room for contraband raises an interesting continuity question. After Rachel's mother finds the stash of assorted debauchery accessories, Lizzie falls on her sword and accepts responsibility for the whole kit and caboodle. But if, as Rachel claims as she's rattling off the items, the stash includes fake IDs, how the heck does Lizzie explain why she'd have a driver's license with Rachel's face on it?