Vanishing DVD Extras on Netflix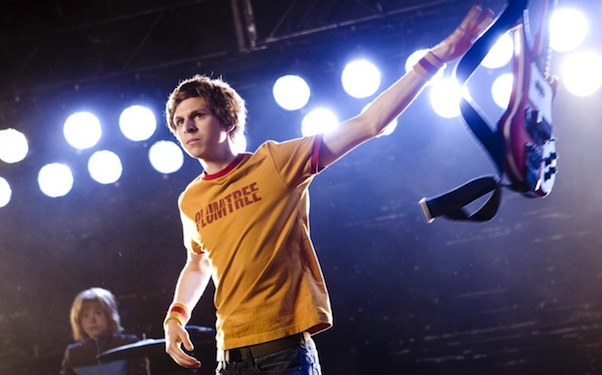 Posted by Matt Singer on
Hacking Netflix posted a mildly disturbing post earlier today. Entitled "Studios Crippling Netflix Rental Discs to Encourage DVD Sales" it cites two recent examples where distributors stripped out bonus features out of the rental discs they give to Netflix in order to encourage people to buy the films (and, I suppose, to discourage them from using Netflix). For example, if you get "Scott Pilgrim vs. the World" from Netflix, and go to the Special Features page, you don't get special features. You get a disclaimer:
"This disc is intended for rental purposes and only includes the feature film.

Own it on Blu-ray or DVD to view these bonus features and complete your movie watching experience."
They also cite the Netflix copy of "Up," which doesn't include the closed captions included on the retail copy of the film. Hacking Netflix "was able to confirm that captions have been removed from the Netflix rental DVD," which, if institutionalized, sounds an awful lot like a discriminatory practice to me. How can you force people who can't hear to spend more for something than people who can?
Putting that aside, the big question is whether removing DVD extras from rental copies encourages people to purchase or just discourages consumers. Speaking personally and anecdotally, extras do factor into my purchasing decisions. I love commentaries and making-of documentaries. But I have never, and will never, rush out to buy a Blu-ray just because the copy I've gotten from Netflix doesn't have an extra I'm curious about seeing. I love Edgar Wright, so I'd be interested in listening to his commentary for "Scott Pilgrim." But I didn't love the movie the first time I saw it, and can't imagine myself watching it enough to justify a purchase.
This is a case where Netflix is really hurt by its own biggest selling point, its lack of late fees. If you rent a DVD from your local store, you've got to return it in a day or two and you'd be hard-pressed to watch all of the extras on a well-stocked DVD in that time even if you wanted to. But with Netflix, where you can hold onto a film forever if you keep paying your membership dues, if you want to watch every single extra twice, you can.
Despite that fact, if I were in charge of the home entertainment division at a studio, I'd put every single extra on the Netflix discs. Because while I've never bought a film to get extras I couldn't just rent, I have bought discs whose extras were so impressive when I rented them, that I felt compelled to own them. For example, I was so blown away by a friend's copy of the Best Buy exclusive edition of "Anchorman" that I hunted down a copy of my own (and I mean hunted, it took three tries to find a store that wasn't sold out). If I was on the fence about "Scott Pilgrim" and loved, that could be enough to convince me to buy it after all.
Don't look at extras on a Netflix DVD as giving away product for free. Think of them as free samples encouraging you to buy.