National Board of Review Picks "Social Network"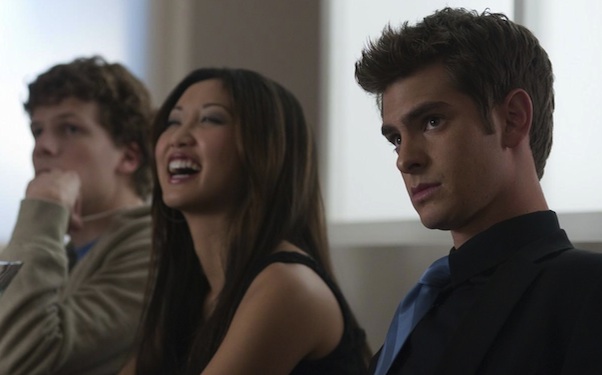 Posted by Matt Singer on
The National Board of Review of Motion Pictures announced its awards yesterday and David Fincher's "The Social Network" was the big winner, scoring awards for Best Picture, Best Director (Fincher), Best Actor (Jesse Eisenberg), and Best Adapted Screenplay (Aaron Sorkin). Here's the full list of winners:
Best Film
"The Social Network"
Ten Best Films
"Another Year," "The Fighter," "Hereafter," "Inception," "The King's Speech," "Shutter Island," "The Town," "Toy Story 3," "True Grit," "Winter's Bone"
Best Foreign Language Film
"Of Gods and Men"
Top Five Foreign Films
(in alphabetical order) "I Am Love," "Incendies," "Life," "Above All," "Soul Kitchen," "White Material"
Best Documentary
"Waiting for 'Superman'"
Top Five Documentaries
(in alphabetical order) "A Film Unfinished," "Inside Job," "Joan Rivers: A Piece of Work," "Restrepo," "The Tillman Story"
Top Independent Films
(in alphabetical order) "Animal Kingdom," "Buried," "Fish Tank," "The Ghost Writer," "Greenberg," "Let Me In," "Monsters," "Please Give," "Somewhere," "Youth in Revolt"
Best Actor
Jesse Eisenberg, "The Social Network"
Best Actress
Lesley Manville, "Another Year"
Best Supporting Actor
Christian Bale, "The Fighter"
Best Supporting Actress
Jacki Weaver, "Animal Kingdom"
Best Ensemble Cast
"The Town"
Breakthrough Performance
Jennifer Lawrence, "Winter's Bone"
Best Director
David Fincher, "The Social Network"
Debut Directors
Sebastian Junger and Tim Hetherington, "Restrepo"
Best Adapted Screenplay
Aaron Sorkin, "The Social Network"
Spotlight Award
Sylvain Chomet and Jacques Tati, "The Illusionist"
Best Original Screenplay
Chris Sparling, "Buried"
Best Animated Feature
"Toy Story 3"
Special Filmmaking Achievement
Sofia Coppola for writing, directing, and producing "Somewhere"
Production Design Award
Dante Ferretti, "Shutter Island"
William K. Everson Award For Film History
Leonard Maltin
Freedom of Expression
"Fair Game," "Conviction," "Howl"
If you're wondering what the National Board of Review is and how they choose these films, here's the official description of the process from NBR's press release:
"This year the National Board of Review, a select group of film enthusiasts, academics, film professionals, and students, screened over 250 films including studio, independent, foreign-language, animated and documentary selections. These screenings were frequently followed by in-depth discussions with filmmakers, directors, actors, producers, and screenwriters. The NBR was founded as a clearing house for new movies, over a hundred years ago on January 25, 1909, just 13 years after the birth of cinema. Its stated purpose was to endorse films of merit and champion the new "art of the people," which was transforming America's cultural life. Today, the organization is comprised of 110 members, many of whom are past recipients of the NBR student grant program which enables students and young filmmakers to finish their projects and exhibit their work."
To me, there one big shocker is the Best Original Screenplay award for "Buried," a film that's not considered much of an Oscar contender at all (the film isn't among the 27 titles considered in the running for the Academy Award by In Contention). I'm also not sure what makes Mike Leigh's "Another Year" a "Ten Best Films" film but not a "Best Foreign Film" film since it's a British movie made by British filmmakers, but groups like this have their own arcade rules and procedures that I don't understand.
The NBR will hand out their awards on January 11 at an event hosted by Meredith Viera.