Must-Own iPhone Games Go On Sale to Benefit Child's Play Charity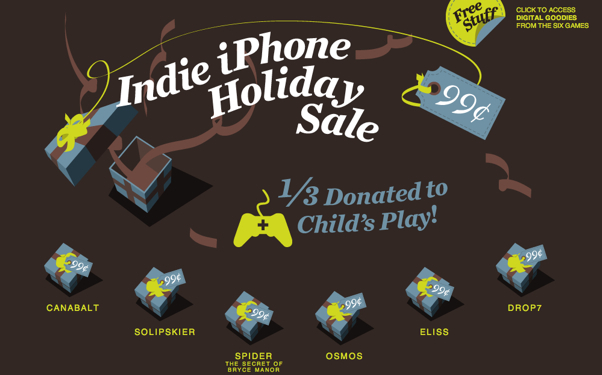 Posted by Evan Narcisse on
You might just be giving a loved one an iPhone, iPad or iPod Touch this Christmas or, if you're really lucky, you might be getting one. And while there's an absolute wealth of games content on the App Store–many of them good–it's hard to figure out where to start, especially if you want games that feel innovative in a way that's native to the platform.
Thankfully, some of the best experiences for iDevices have just gone on sale to benefit charity. IndieSale.com marks down acclaimed iOS games "Canabalt," "Osmos," "Solipskier" and more to the low, low price of 99 cents each. (I wrote about of some these titles when the iPad came put earlier this year.) The Child's Play charity where proceeds are going helps distribute toys, games and video game consoles to children's hospitals all over the world. Now in its seventh year, the organization was started by web-cartoonists extraordinaire Jerry Holkins and Mike Krahulik, who create the hit comic strip "Penny Arcade."
Gamers get a bad rap for exhibiting bad social behavior–which is the whole reason Holkins and Krahulik started Child's Play–so it's great that the gifting organization gives you a way to share the good times the medium has to offer with those who might arguably need them most. And, hey, you're picking up six great games for less than the price of a really bad sandwich. Head over to the site to see the full list of games.