Michelle Williams on Her Life as Marilyn Monroe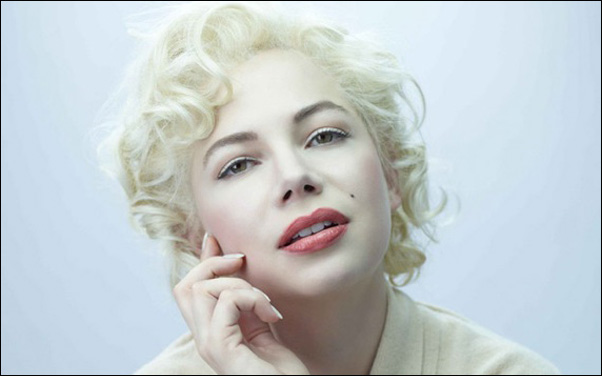 Posted by Stephen Saito on
One of the unexpected surprises at this weekend's tribute to Michelle Williams at the Aero Theatre in Los Angeles was the first glimpse of footage from "My Life With Marilyn," an adaptation of Colin Clark's memoir from the set of "The Prince and the Showgirl," on which he was an assistant to Laurence Olivier and witnessed the tensions on the production between his boss and Marilyn Monroe. The fleeting bit of footage was as much a tease as Monroe herself, a montage of dialogue-free clips with Williams striking iconic poses such as being surrounded by a phalanx of photographers and reporters as Arthur Miller (Dougray Scott) escorts Monroe off an airport tarmac or playfully drifting across the lawn of her Connecticut home before climaxing with a scene of the bombshell teasing Clark (Eddie Redmayne) with a song as she lounges in a bathtub.
"I grew up with this picture of [Monroe] in my bedroom," said Williams, in what were her first public comments about the role outside of a Daily Mail interview right after the shoot wrapped last week. "It's a picture of her at the house in Connecticut, Roxbury where she and Miller lived and this picture of her wearing this white dress and she's barefoot and she's spinning and her head's back and she's smiling, it very natural. So my primary association of her is of that, so she's kind of always felt less of an icon and a bit more of a friend. So that was a decent place to start."
Speaking to a room peppered with Screen Actors Guild members who were clearly won over when she said co-star Kenneth Branagh was "more Laurence Olivier than Laurence Olivier" in the film, Williams also acknowledged the difficulty in trying to portray such an iconic figure as Monroe, saying, "There has never been and maybe will never be someone as beautiful as Marilyn Monroe. Like I'm not a drag queen — I'm not going to get plastic surgery to look like her. I have limitations in terms of how much I can resemble her, so instead what I can master, what I can strive for is her essence."
Clearly, the Weinstein Company, who will distribute "My Life With Marilyn," already has an eye on next year's awards race, though their reason for sponsoring the tribute was Williams' performance in "Blue Valentine." Both "Blue" director Derek Cianfrance and Ang Lee offered video testimonials – Cianfrance praised Williams and said, "I feel like if you were a man in the silent era of movies, you'd be Buster Keaton because you're so intensely cinematic. When I see you on the screen, it seems like there's a thousand storms raging inside of you." Likewise, Williams' "Brokeback Mountain" director got one of the biggest laughs of the night after tacking on a note of fear to go with his admiration: "She's such a brilliant actress and a very serious one that can be really intimidating… a little scary."
As for Williams, the tribute was conveniently scheduled before a screening for "Blue Valentine," so she let her latest film speak for itself.
[Additional photo: "Blue Valentine," The Weinstein Company, 2010]