The Legacy of "Tron" and the Sound on Sight Podcast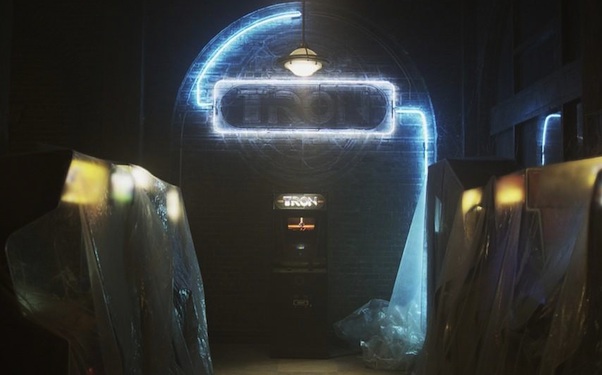 Posted by Matt Singer on
Last night, I was invited to join the Sound on Sight podcast for their review of "Tron: Legacy." I encourage you to click over to listen to the full half hour review; it was a good discussion and I got to express a lot of my thoughts about the movie: briefly, that it is a stunningly good-looking film with a nonsensical plot, bad dialogue and a severe shortage of charisma in the lead role (star Garrett Hedlund is essentially a poor man's Chris Pine). What I didn't get to talk about enough were my thoughts on "Tron: Legacy"'s place in contemporary film culture and film history; to examine the true legacy of "Tron," if you will.
The original "Tron," made in 1982 by Steven Lisberger, was a true technological breakthrough. It used computer generated effects in ways no one had ever seen before. It invented this kinda dumb, kinda clever intracomputer world and turned it into a massive visual spectacle. The film didn't really make much sense, but it looked really cool while it was not making much sense, and that was deemed enough to make it a cult film.
Though "Tron" was ultimately a box office disappointment, its model of filmmaking — special effects as a film's first, or really only concern — has increasingly become the prevailing mode of most Hollywood blockbusters. We still see the occasional "Inception," but the vast majority of tentpoles look like "Tron:" the latest special effects, the lamest story, character, and dialogue. More and more, they're also based on video games or heavily inspired by them, as the original "Tron" was.
Director Joseph Kosinski updates the thirty year old aesthetic of "Tron" in a way that feels fresh and exciting. "The Grid," the Oz-ish realm of anthropomorphic computer programs, looks better and more tangibly real than CGI in movies set in the real world, a perfect touch for a film about men who are so intoxicated by this alternate reality that they become consumed by it. And yet for all of Kosinski's admirable work rebuilding the world of "Tron" — he's no less the brilliant creator of this place than Jeff Bridges' Kevin Flynn is — and for his seemingly preternatural skill directed the effect- and stunt-heavy action sequences, he is utterly clueless when it comes to scenes of dialogue and exposition. After a series of appetite-whetting set pieces where Hedlund's Sam, son of Bridges' Kevin, participates in a series of propulsively staged gladiatorial games, the movie's momentum screeches to a halt like a light cycle slamming into an opponent's exhaust. Sam finally locates his long lost father in The Grid and proceeds to spend an arduous thirty minutes reconnecting with him, learning about what he's been up to, and bickering with him over how to escape from their digital trap. These scenes are flat, tensionless, and boring. Finally after what seems like forever, the pair and their vaguely explained hottie computer program partner (Olivia Wilde) make a break for reality and the film begins to thrum again to the beat of Daft Punk's bouncy score.
Last week on IFC.com, I wrote a piece on the diminishing returns in special effects movies. As part of it, I discussed the recent trend towards special effects artists becoming directors of their own films. Kosinski is another guy with a similar background: according to his own website, "his work reflects his background in design and architecture." It certainly does; "Tron: Legacy" revels in both — consider the way, for instance, the digital warriors' motorcycles and airplanes form out of thin air as 3D architectural models that grow instantaneous detail and substances. Kosinski's history making commercials for video games prepared him well for working in entirely digital worlds but not for working with actors. No wonder there are times where the CGI Bridges (a devious computer program named Clu) seems more invested in the narrative than the real one.
So while "Tron: Legacy" is far (and I mean far) from a perfect film, it is the perfect sequel to "Tron." That also makes it the perfect summation of modern mainstream filmmaking: a digital creation — not to mention a sequel — that's all spectacle and no heart. For additional thoughts on "Tron: Legacy," go listen to our review on the Sound on Sight podcast.