LeakyWorld Makes the WikiLeaks Saga Playable in the Abstract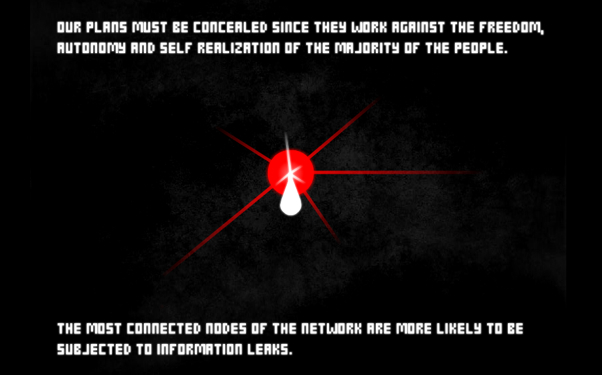 Posted by Evan Narcisse on
No matter what you think about the ongoing saga of Julian Assange and the disclosure of classified documents through his WikiLeaks website, the whole affair highlighted in broad strokes the way that the instant-access nature of the internet can upend traditional modes of political discourse. Happenings like WikiLeaks makes it harder for societies everywhere to tell themselves convenient Big Lies about class, conflict and what the sociopolitical elites do with the power granted them.
Amazingly, Paolo Pedercini boils the heady dialectic at the core of the controversy down into a playable game. LeakyWorld can be found here and was made in 10 days as part of the WikiLeaks Stories Project. The game mechanic is connect-the-dots with a dash of "Missile Command."
Two things struck me as I played "LeakyWorld":
1. The systems that connect the elites and the masses are connected. Indeed, the threads of information that you use to snip those pesky leaks in one spot just provide other pathways from node to node.
2. You're never going to stop all the leaks. This may seem obvious in the post-"information wants to free" world we're living in, but the very nature of a game compels you to think you're going to win. It's a nice metaphor for how the various attacks on Assange will only cripple but not destroy the mechanisms behind his work.
Take note that you're playing as the elites. Pedercini's comments that accompany the game are worth reading, too, particularly for the critique that they provide of Assange's philosophy. Overall, LeakyWorld's a great example of a game built in rapid response to real-world events that serves as a great playable allegory.