George Lucas and Bringing Dead Actors Back to Life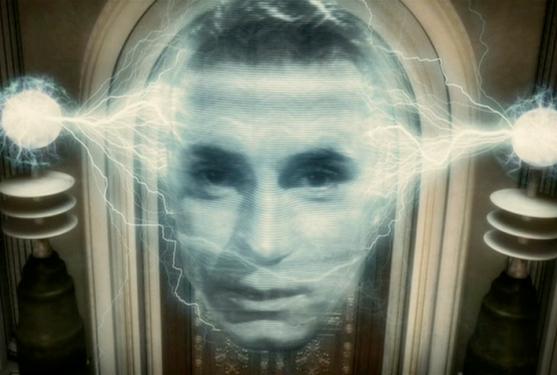 Posted by Matt Singer on
Next week's "TRON: Legacy" stars two Jeff Bridges: one of Bridges' approximate biological age and one that looks uncannily like the Bridges of thirty years ago (at least until he opens his mouth). The young Bridges represents yet another advancement in CGI special effects which means it's time to return to that fear that pops up every so often: that digital creations could some day replace actors altogether. I tend to think this sort of thing is hogwash, that even the most technologically advanced cinematic creations need some humanity at their core.
But you know who apparently doesn't think that's hogwash? George Lucas. The man who was responsible for the infamous CGI creation Jar Jar Binks (as well as the far more successful all CGI Yoda in "Attack of the Clones" and "Revenge of the Sith") is apparently looking to bring dead actors back to life in the form of zombie-like CGI creations for a future project. Aint It Cool first spotted the key info, in an interview with British comedian and director Mel Smith. According to Smith, who directed Lucas' 1994 film "Radioland Murders":
"He's been buying up the film rights to dead movie stars in the hope of using computer trickery to put them all together in a movie, so you'd have Orson Welles and Barbara Stanwyck appear alongside today's stars."
The article doesn't probe any deeper into the subject, which means we don't know how Smith got wind this information, but let's assume it's true for now. After all, AICN posted its story on Saturday and the post is still up on the site Monday afternoon with no qualifiers, disclaimers, or retractions, which suggests a certain amount of veracity to Smith's story. I thought Harry Knowles' comment in his post about this news was interesting as well:
"I've not been privy to any of Uncle George's plans, but I've seen some amazing things done with classic movie stars by a few talented filmmakers, in terms of tests that pretty much told me, this is definitely going to become a reality for us movie-goers."
Obviously I'm not privy to any plans or to any tests by talented filmmakers. But I was privy to "Sky Captain and the World of Tomorrow" the 2004 film that transformed old footage of Laurence Olivier into a new performance. At the time of this scene, Olivier had been dead for fifteen years:
There are two issues at stake with any sort of performance like this and they're two totally separate things: whether or not the character is believable and whether or not the character is the cinematic equivalent of grave robbing. I mean, talk about not letting the dead rest in peace! I'm not going to sit here and pretend that Orson Welles was some pristine artist or that I know he would have hated the idea — the man, after all, made his fair share of wine commercials in his own lifetime. But the idea leaves an icky taste in my mouth, one even ickier than the one left by things like Olivier's appearance in "Sky Captain" or Fred Astaire's posthumous vacuum cleaner commercial.
Plus, presuming any project Lucas was working on would involve new CGI creations of Welles, Stanwyck and the like, and not simply digitally-futzed-with versions of preexisting footage, you're now essentially making the actor's choices for them. Like I said, I'm not going to pretend to know what Welles' would have thought about all of this. But if you cast a CGI Orson Welles in your movie, and then have him move, act, and react according to your design, you're claiming some amount of authority over his process. How much hubris do you need to have to say "I know how Orson Welles would have played this scene?"
At least with the young Jeff Bridges, old Jeff Bridges is around to give his input. And if there is a certain robotic quality to BridCGes, it makes sense: the character is a sentient computer program anyway. But I don't know if I'll ever be able to swallow the idea of other people putting new words into the mouths of beloved dead actors. How can they know what they would say or how they would say it? They can't. Because the answers to those questions are buried in the place that computers can't understand and never recreate: the human soul.
UPDATE: Movieline received word from Lucasfilm that this is a "false rumor." You mean Mel Smith lied? How is that possible?