Interview: Lisanne Pajot & James Swirsky on "Indie Game the Movie"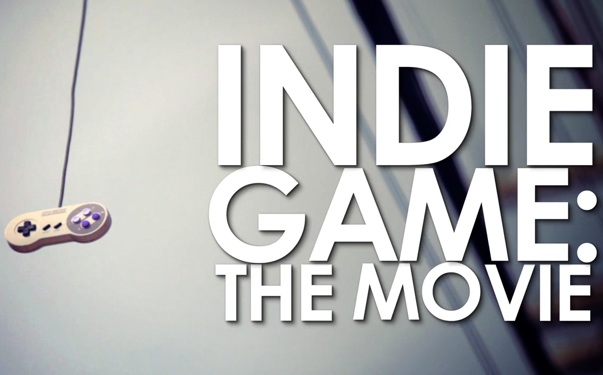 Posted by Evan Narcisse on
For all the talk of how much money the modern video game business makes or how creative the games themselves are, there's still not a lot of visibility for the folks who actually craft the experiences. Lisanne Pajot and James Swirsky of BlinkWorks Media want to change that with "Indie Game the Movie." They've been rolling out digital shorts spun out from the work-in-progress on the film's website and are currently looking for distribution partners. Swirsky and Pajot took took some time between shoots to answer a few questions about the production.
The official website says that your attendance at GDC 2009 inspired the project? What brought BlinkWorks to GDC and what did you know previously about video game creation and development?
JAMES: We were at GDC09, covering the event for an industry association (New Media Manitoba) that we do a lot of work with back home. We were mainly gathering interviews and cover talks for the association's use, but we kept on being drawn to the Indie Game Summit.
LISANNE: Prior to this, we had a cursory knowledge of indie games – we knew they existed, but very little beyond that. What really surprised us about the experience was not only the astounding success indie games were having, but also how personal the games were, in terms of expression, and in terms of the journey made towards their creation. In these talks, it became quite clear, quite quickly that many of these people weren't just talking about their games – they were talking about their lives.
JAMES: But going into GDC09, I grew up with games, and was a gamer for a good portion of my life. I had even worked at Electronic Arts as a lowly games tester for two years (a job that looks great on paper, but is soul-crushing in practice). I was also involved in setting up a video game government/industry initiative out of Winnipeg. So the industry is not completely foreign to us.
You've been previewing a lot of the footage on the web before the theatrical release. What's the thinking behind that?
JAMES: We have been putting out a lot of material, however we should definitely point out that none of the footage that we've put out so far is part of the film. It is all complimentary, promotional material that is not going into the final film at all. I think what is surprising people, and why many think these are sneak peaks of the film, is the amount of production we're putting into the teasers.
Our primary thinking behind this is promotional in nature. Most (non-star driven) documentaries seem to succeed through strong word of mouth and long-tail mechanics. Our basic thinking with the clips and relatively open film-making process we've adopted is 'Why not start our word of mouth campaign earlier? Why wait until the film is released?'.
As of this writing, we have released 88 minutes of fully produced supplementary content. To put that in perspective, the target length for the film is 80 minutes, so in a way, we've already put out one movie in promotion of another. We figure that by the time the film is ready for release, we will have a fan base that has already spent hours watching our content. And presuming they are liking what they're seeing, they'll certainly be joining us for the theatrical and/or DVD release.
LISANNE: But this method is also hugely beneficial in other ways. Putting out high quality pieces as we go has gone a long way towards communicating the tone, quality and treatment of the film's subject to not only potential audience members, but also (possibly) skeptical interview subjects and promotional partners. In general, video games have gotten pretty lousy treatment from film & television. Most projects that attempt to seriously discuss games are either well-intentioned ventures with poor production values, or they are high-gloss projects that don't go deeper than 'back-of-the-box' gameplay features. So, to tell people you want give legitimate treatment to developer stories and the craft of game design, people can be somewhat hesitant. The preview pieces definitely help in that regard.
A third reason is that producing these pieces while filming (most work is done from hotel rooms), keeps us engaged creatively with the project. In many ways its like work-shopping various treatments and ideas. Not only do we get to put our ideas into practice, but our fan base provides a great feedback loop that ensures that the final film will indeed be something they're interested in.
Filming people playing video games doesn't capture really capture the medium. Ultimately, the best way to experience what a game designer's creativity is to play their games. How did you get around this conceptual, experiential hurdle?
JAMES: There is certainly a fundamental experience disconnect between playing a game and watching someone play that same game. In this film what we (think?) we're going to do is take one step back in the process, and concentrate not so much on the gameplay experience (although we will definitely discuss that), but rather on the decisions and journey that led to the game. So, while we can't honestly expect to replicate the gameplay experience, we can definitely look to augment it or convey the feeling/goal that the designer was going for. We think that once people see this film, they will be looking to either go out and get the games featured or revisit them if they already have them on the shelf.
What do you feel are the biggest misconceptions the public has about big-budget video games and about indie video games?
LISANNE: I think the biggest misconception people have about indie games is that they think its a hobby for most, or that the designers aren't serious about the industry/craft – that its an industry of flaky basement dwellers that one day will get a real job. While I'm sure that's the case for some people, the real success stories in the industry are deadly serious about their games and their artistic career.
JAMES: Making a game is a hard, long process, and the argument for being a full-time indie developer isn't a very convincing one (limited audience, zero guarantee of sales, long dev times, etc.). So, to be a serious indie developer you must be passionate and driven.
HEADCRABBED from IndieGame: The Movie on Vimeo.
Did you get a sense of the supposed tension between people who work on big-budget AAA video games and on indie video games?
JAMES: I think a tension does exist between indie developers and AAA corporations (not AAA people, but corporations) to a point. But, in most cases, indie developers are big fans of many AAA titles. Which I suppose isn't that surprising (though it kind of was), all of these people grew up on AAA games. A large part of their inspiration and formative experiences came from 90's consoles.
LISANNE: I think most indie developers are independent because they are independent. Full stop. They don't work well in traditional structured organization – I think mostly because they're insanely intelligent people, intelligent to a point that isn't compatible with most bureaucratic situations. Combined that with a pronounced drive to express, or articulate a certain creative vision, and you'll likely have an independent game designer. Because they couldn't have it any other way.
You're profiling five indie developers for the film. Why did you pick these particular ones?
JAMES: We're actually talking to a lot more people than that (like 20 or so), but there will likely be 2-4 main profiles/story arcs that the film will follow. The decision process behind who we chose, basically went through a filter of: The personal/story – how captivating is it? The developer's game – how noteworthy and how relevant is it? And timing – does their development process line up with our production window?
Indie Game: The Movie – Growing Up Edmund from IndieGame: The Movie on Vimeo.
Did any of the developers surprise you with their process or with emotional revelations?
LISANNE: Yes. Very much so. I think people will be legitimately surprised when they see how deep, personal and emotional a discussion about making a videogame can get. I do think people will view games in a slightly different, slightly warmer perspective after seeing this movie.
Were there any common threads between either the games or the creators?
JAMES: Everybody we've talked to that has experienced significant success, and has done so at a price. Developing games is a long, arduous process that consumes you. Everyone talks about not being able to have conversations without thinking about the game, not being able to close their eyes at night without seeing level design structures projected on their eyelids. More often than not, this all consuming process occurs at great costs – to personal relationships, physical health, mental well-being – making games is not pretty, not easy and definitely not fun. But these developers have a compulsion to create. It's something that they have to do.
What were your game-playing habits before the project? Has working on the movie changed them at all?
JAMES: Long before this film, I was a hard core gamer. I have since turned into a casual player with a strong appreciation for the field. In preparation for the film, we've been playing a ton of games. But since starting production, its grinded down to short little bursts of gameplay in cars & airplanes… except for the iPhone title "Game Dev Story" that friggin' game had my number for about 6 days straight!
LISANNE: I was not a gamer before the film. I played games when I was young (spent evenings fighting over the Game Boy with my brother). But, when I got older, I sort of lost games in my life, but through this project, I found them again. I think, the first games that I've ever played to completion have been indie games.
What have been your favorite indie games this year?
JAMES: Aside from evil time-suck that is "Game Dev Story", I loved "Super Meat Boy," but I may be a little biased because of all the time we've spent with those guys (though with a Metacritic of 90+, I don't think I'm clouded by bias). But, I've really been intrigued by "Minecraft" and "Monaco." I've dipped my toe into those games, but I haven't been able to play them as long as I would like to.
LISANNE: Since we've been on the road, I've enjoyed iPhone games – "Osmos," "Canabalt," "Eliss," and "Spider – The Secret of Bryce Manor." I'm also intrigued by "SpyParty" from Chris Hecker. Secrets missions, espionage, cocktail parties, lying!
Which indie games do you feel that everyone should play to get a sense of the work happening in this field?
JAMES: Oh, this is a tough one that is bound to get us into trouble. But here goes:
"Braid" is a great example of taking the language and conventions of a well-worn genre (2D platformer) and giving you something you've never experienced – despite 30 years worth of platformer history.
"Passage" is a beautiful exercise in simplicity and emotion.
"World of Goo" has a lot of layers beneath its gorgeous style and physics gameplay. And its an independent title that you can hand to anyone, and they would never suspect that it came from two guys working from coffeeshops.
And anything by Cactus and/or Messof …anything.
…This list is woefully incomplete, but it's a start.
If you guys were to make a game, what would it be about?
JAMES: A movie adaptation that doesn't suck – "Indie Game: The Movie: The Game"…but with space marines.
LISANNE: And tap-dancing.
JAMES: Tap-dancing space marines.