Let Nothing You Dismay Except These Five Christmas Horror Movies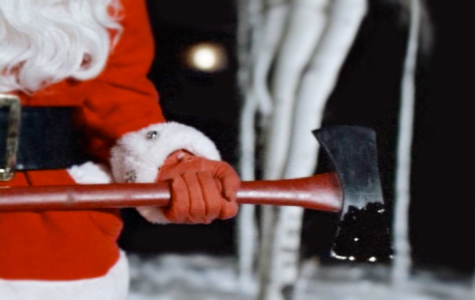 Posted by Melissa Locker on
Christmas time is here with it all the requisite dancing sugar plums, gingerbread men in little icing suits, and cars wrapped in oversized bows. But after all that goodness don't you want something to wash all that treacle and sweetness out of your mouth? How about some delectable Christmas horror to slap that giddy grin off your face? I mean, would it be Christmas without a "Santa Claws" marathon? Yes, the Santa slasher flick penned and directed by James Russo, co-writer of the classic Night of the Living Dead. But James Russo is not alone in his love of Bad Santa (no, not that one), lots of actors got their start as Santa's victims and some of the most Christmasy directors around started with evil ideas dancing in their heads instead of sugar plums. So in no particular order, here are some of the scariest, wackiest, worst, and best of the Christmas horror genre.
While it was tempting to put Michael Keaton's "Jack Frost" on this list because a snowman zombie hybrid is pretty terrifying, that film already has a slot on our worst Christmas movies list. Besides, there's the other "Jack Frost". The one with the murderous Frosty that kickstarted Shannon Elizabeth's, shall we say, career.
While by today's standards "Silent Night Deadly Night", released in 1984, is pretty tame, the idea of a killer dressed as good old Santy Claus raised the ire of everyone from the PTA to the church. According to trusted news source Wikipedia, the premise even caused Siskel and Ebert to read the film's production credits on air, saying "shame, shame" after each one. Can you imagine being the key grip and getting called out by Gene Siskel?
While the title was either "Silent Night, Evil Night" or "Black Christmas" depending on where you live, the plot did not change. Basically a deranged killer is running wild in a sorority house and not in the fun "Porky's" sort of way. And he could of, because "Black Christmas" and "Porky's" were both directed by Bob Clark. Know what else Bob Clark made? The perennial holiday favorite "A Christmas Story". I guess we're lucky Ralphie didn't get slashed.
Pro Tip: Parents when you are buying last minute gifts for your kids, please make sure the toy has not been magically imbued with malificent spirit of a dying murderer. Seriously, "Child's Play" is nothing if not a cautionary tale for Christmas.
Don't feed them after midnight, don't get them wet, and don't watch "Gremlins" with your young children:
Bonus Round: When you see the trailer for "Gingerdead Men" ask yourself, was there really no other movie that could have been made? Nothing? Okay then.
IFC is airing an all day Freaks and Geeks marathon on Christmas day. It starts at 6 a.m. ET