Five Movies We Will Not Be Showing On Christmas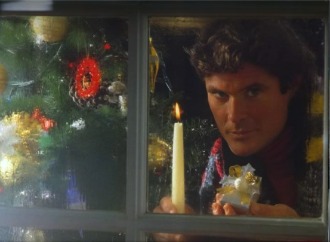 Posted by Melissa Locker on
You've been warned that Santa knows when you are sleeping and knows when you're awake. But based on the above image, you may need to include David Hasselhoff on that list, too. Sadly, I can't find a point of origin for the David Hasselhoff image above (do you know? do tell in the comments), but to be clear: We are not showing that on Christmas. Or playing that if it's an album cover. Or opening whatever that present is in his hand. Or really going anywhere near that man peering through our windows. No, no. Come Christmas morning, pretend you're a kid again and wake up at the crack of dawn, heck maybe even bang a drum to wake your parents, because beginning at 6 a.m. ET we are showing Freaks and Geeks all day and all night. We start with the pilot episode and run the rest of the day and into the night. Merry Christmas indeed.
The holidays have inspired a lot of entertainment options. For example, we were inspired to kick off the 12 Days of Judd Apatow, while others thought that "Christmas with the Kranks" was a great idea. Here are some of the movies we will not be showing on Christmas day so we can bring you a Freaks and Geeks marathon. You're welcome.
"Jack Frost" featured Michael Keaton as a dead father who is reincarnated as a snowman. On the plus side it may be the sweetest zombie movie ever:
The unnecessary remake of "Miracle on 34th Street" is just plain wrong, despite the presence of Richard Attenborough. Since when does Santa whack the other Santas? And why is Dylan McDermott? And why the courtroom scene re-write to ruin the entire thing?
While we love Abel Ferrara's work in "Bad Lieutenant", we don't think of him as a Christmas movie director. Yet, "R Xmas". It stars Drea Di Matteo, Lillo Brancato (currently in real prison), and Ice T as not elves. Sorry about the Portuguese subtitles on the trailer, I guess the film just wasn't that popular:
"Santa with Muscles" should fall into the category of so-bad-it's-good, but it falls far far short of that distinction. Hulk Hogan stars as "Santa with an Attitude", "Santa with a Mission", and, naturally, "Santa with Muscles":
While I personally will watch Rob Lowe in anything (what? don't you judge me!) the most notable exception to that rule is "The Christmas Shoes". If Mama meets Jesus tonight at least she won't have to watch this travesty. Just saying.
The IFC Freaks and Geeks Christmas marathon starts at 6 a.m. ET