Five Great Cameos On The Larry Sanders Show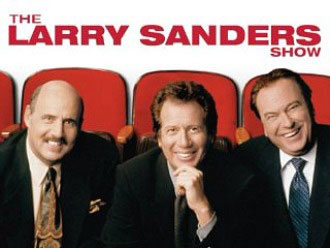 Posted by Melissa Locker on
As you may have heard, the Larry Sanders Show (and a lot of other great comedy) is heading to IFC in January and we couldn't be more excited. The series was one of the funniest comedy shows ever. No, really. The comedy originally aired from August 1992 to May 1998 on HBO and garnered much critical acclaim and a lot of awards. Like, a lot of awards: Out of 86 nominations, it won 24 awards, including three Emmys, five CableACE Awards, four American Comedy Awards, two British Comedy Awards, a BAFTA Award and a Satellite Award. So if you don't trust our entirely unbiased opinion on the matter, perhaps that wall of awards will help convince you of how incredible this show is.
The show revolves around Larry Sanders (Garry Shandling) who is the host of an eponymous talk show. The cast and crew of the fictional show was made up some of the who's who of comedy: Jeffrey Tambor, Bob Odenkirk, Janeane Garofolo, Wallace Langham, Rip Torn, Jeremy Piven, and Sarah Silverman. As the show was based around a talk show, there was also a steady stream of famous guests who stopped by the show-in-a-show for a turn on the Larry Sanders set. Guests appearances included Jerry Seinfeld, Danny DeVito, Billy Crystal, Sharon Stone, Burt Reynolds, Elvis Costello, David Duchovny, Roseanne Barr, John Ritter, and so many more. Here are a few of our favorite guest stars:
Here's Jon Stewart, well before he was hosting The Daily Show or named the most influential man in America:
Jim Carrey got the audience all riled up during his time on the Larry Sanders stage:
Michael Bolton almost became part of the Larry Sanders family:
At the height of her Friends popularity (meaning, before she was on Cougartown or even in Scream, but after she was in Bruce Springsteen's Dancing in the Dark video), Courteney Cox stopped by The Larry Sanders Show:
Alec Baldwin looking young, spry, and very Jack Donaghy-like used his mind vice on Larry Sanders' stage, too:
The much-missed Chris Farley paid a very motivational visit:
The Larry Sanders Show premieres on IFC Monday, January 3 at 11 pm E.T.