Exclusive Premiere: NewVillager "Rich Doors"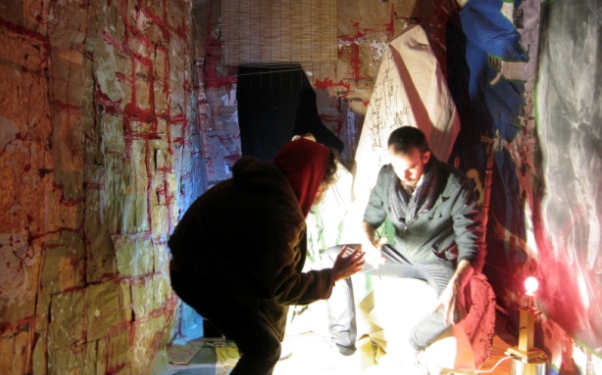 Posted by Brandon Kim on
The San Francisco/New York multi-media duo, NewVillager, have dreamed up a new mythology of their own, with which they create their art. Actually, it's unclear which came first, the art or the mythology, but now they're evolving together over a series of bi-coastal installations, performances and videos. Ben Bromley and Ross Simonini put so much cryptic thought into their symbology, and this heavy process, that you'll be forgiven if they leave you feeling like you've been seized upon by Joseph Campbell, wielding a pop song like a scalpel to the dance center of your brain.
At it's heart, the NewVillager mythology is a system of thought that uses a series of symbols assembled in a way to better understand transformation — say the transformation of an idea into a song, or a song into a video shot by Kevin Phillips and directed by Ben Dickinson (LCD Soundsystem, Q-Tip, The Rapture) like this one for "Rich Doors" — which is a kind of visualization of this whole process.
Red is the pull of past, green is the present, blue, the push towards future. "Black and white characters represent the catabolic and anabolic forces underlying the action," Bromley explained. "We set this little system of people in motion and ran the camera through it as observer-participant to see if a new, higher-ordered equilibrium would emerge among us." Did you spot an emergence?
NewVillager currently resides in New York plotting some large scale interactive installation that will depict their mythology in detail. Their debut will release on IAMSOUND records, date TBD.