Exclusive Premiere: Neon Indian's "Mind Drips"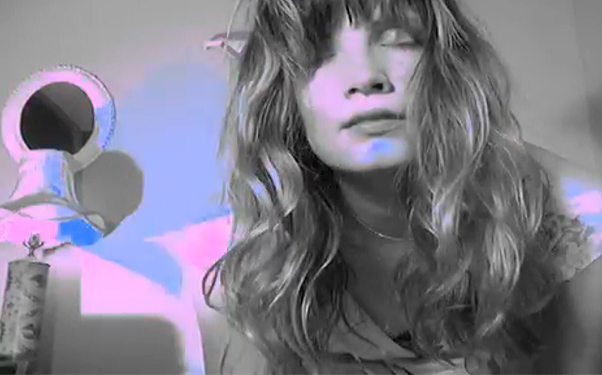 Posted by Brandon Kim on
For his latest trip, Neon Indian's Alan Palomo, sought out a forgotten pre-computer age analog technology with the help of electronics wizards Lars Larsen and Edward Leckie. Together, they created this video for "Mind Drips," in which a girl slips into a hole in her bed with her big psychedelic teddy bear. After falling through some ether of oscillating waves and colors, she plummets back through her ceiling, presumably caught in some melty euphoria for eternity.
That's not the crazy wizard part though. These effects were achieved using a device invented by Larsen and Leckie called the LZX Visionary — an analog video synthesizer that manipulates images in the same way an audio synthesizer does for sound. "Mind Drips" is the first music video to utilize this unique machine in which all of the visual effects are recorded in real-time using "abstract pattern synthesis, video feedback, and analog compositing." If you just geeked out over any of that you will lose your mind at LZX Industries.
"Mind Drips"
Directed by Lars Larsen
Videography by Thomas Humphreys
Physical Effects & Construction by Jonah Lange
Starring Kaylan Drake Burnette
Special thanks to Scott Gelber, Malcolm Welbourne, Ben Aqua, Christine Aprile, Juan Cisneros, Katie Graham, Chad Allen, Tommy Blackburn, Michael Stein and many others.
Neon Indian tour dates
Australia:
Wednesday, December 29 Revolver Upstairs
Prahran/Melbourne
Thursday, December 30 Pyramid Rock Festival
Phillip Island
Friday, December 31 No Years
Brisbane Powerhouse
Brisbane
Saturday, January 1 Field Day
The Domain
Sydney
Monday, January 3 Happy Mondays
Level 7 Curtin House
Melbourne
US:
Thursday, February 3rd W/ Flaming Lips
Palladium Ballroom
Dallas, TX