Rita Hayworth Wants You to Have a Merry Christmas and More New DVDs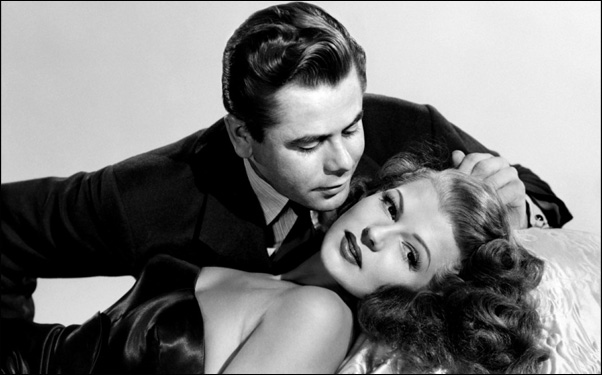 Posted by Stephen Saito on
A look at what's new on DVD today:
"The Films of Rita Hayworth"
Released by Sony Pictures Home Entertainment
A collection of five of the brunette bombshell's films — the 1944 Gene Kelly musical "Cover Girl" and her most famous film "Gilda," as well as the 1945 musical "Tonight and Every Night," "Miss Sadie Thompson" and "Salome," which are making their first appearance on DVD — with introductions by Martin Scorsese on "Tonight and Every Night," Baz Luhrmann on "Cover Girl" and Patricia Clarkson on "Miss Sadie Thompson," the original trailers for each of the films and a featurette with Scorsese and Luhrmann comparing notes on "Gilda."
"Angel"
Directed by François Ozon
Released by MPI Home Video
It's been a long journey for French filmmaker Ozon's first fully-English film – he's already made three others since "Angel" premiered at Berlinale in 2007, but it boasts a bunch of big names including Michael Fassbender, Sam Neill and Charlotte Rampling in the story of a woman (Romola Garai) who finds a way to rise up the ranks of British society in the early 1900s by writing romance novels.
"Beautiful Kate"
Directed by Rachel Ward
Released by E1 Entertainment
Real-life husband and wife Bryan Brown and Rachel Ward team up for Ward's latest directorial effort, which broke box office records in its native Australia, even though it will only receive a DVD release here. Adapted from Newton Thornburg's novel, Ben Mendelsohn stars as a writer who returns to his childhood home in rural Australia to pay his dying father (Brown) his final respects, which in turn leads to a series of revelations involving his twin sister (Sophie Lowe) that threaten to upend the family. Rachel Griffiths and Maeve Dermody co-star in this drama.
"Big Shot Caller"
Directed by Marlene Rhein
Released by Vanguard Cinema
Marlene Rhein hired her brother David to star as an accountant on the verge of a quarterlife crisis who takes up salsa dancing after he's canned from his job and he moves too slow to keep up with promising relationship and getting a new lease on life when his older sister joins him as a dance partner.
"The Bounty"
Directed by Jared Isham
Released by Barnholtz Entertainment
After over a year's delay, "Last Action Hero" child star Austin O'Brien resurfaces in this Western from first-time writer/director Jared Isham that revolves around a debtor who teams with a female outlaw to escape a town where everyone wants them dead.
"Devil"
Directed by John Erick Dowdle
Released by Universal Home Video
After overcoming the unpopularity of its executive producer M. Night Shyamalan, this thriller about a group of strangers trapped in an elevator who believe Beelzebub is in their midst may find a more receptive audience with time. Chris Messina and Caroline Dhavernas star as those working to get the unfortunate office workers out.
"Dismal"
Directed by Gary King
Released by Cinema Epoch
There's more than a sinking feeling for a group of students on a research project who head into a swamp populated by cannibals in this '70s style horror flick.
"Easy A"
Directed by Will Gluck
Released by Sony Pictures Home Entertainment
A take-off on "The Scarlet Letter," Emma Stone stars as an unpopular high schooler who pretends to be a harlot to boost her popularity in this comedy from "Fired Up" director Will Gluck. (My interview with Gluck is here.)
"The Heavy"
Directed by Marcus Warren
Released by Lionsgate
Vinnie Jones leads an all-star cast (well, by DTV standards) in this thriller about a dirty cop (Jones) whose been hired to take out an ex-con (Gary Stretch), who himself has been hired for one last hit by a local businessman (Stephen Rea). Shannyn Sossamon and Christopher Lee co-star in Marcus Warren's directorial debut.
"The Horde"
Directed by Yannick Dahan
Released by MPI Home Video
Zombies go up against cops and gangsters when four officers' plot to take revenge on the men who murdered one of their own backfires in this French horror flick starring Claude Perron, Jean-Pierre Martins and Eriq Ebouaney.
"Injury Slight"
Directed by Josh Baxter
Released by Vanguard Cinema
Arkansas-based filmmaker Josh Baxter tells the story of a fighter pilot who crashed his plane in the New Guinea jungle during World War II and goes on a dangerous mission to recover its pieces half a century later.
"Left/Right"
Directed by Matthew and Todd Wolfe
Released by Vanguard Cinema
Matthew and Todd Wolfe concoct the rags to riches to rags story of a man who rises to high society from nothing, only to be brought down to earth after a human resources check invalidates his resume and he goes back home to figure out how to improve his lot in life.
"Let It Rain"
Directed by Agnes Jaoui
Released by MPI Home Video
Following French comic successes "Look at Me" and "The Taste of Others," real-life companions Agnes Jaoui and Jean-Pierre Bacri once again pull double duty as writers and actors in this light-hearted dramedy about a best-selling feminist author (Jaoui) who returns to her late mother's rural home to help preside over the dispensation of her estate and announce her candidacy for political office. The latter intrigues her sister's documentarian lover (Bacri) who intends to make a film about the budding politician with the help of the family housekeeper's son (Jamel Debbouze).
"Map of the Sounds of Tokyo"
Directed by Isabel Coixet
Released by MPI Home Video
After a poor reception in Cannes 2009, the latest from "Elegy" director Isabel Coixet was relegated to a VOD release here via IFC, but now it can become potentially rediscovered on DVD. Rinko Kikuchi stars as a fishmonger by day and hitwoman by night and co-stars Sergi Lopez.
"Megashark Vs. Crocosaurus"
Directed by Christopher Ray
Released by Asylum Home Entertainment
When you toss in Jaleel White in the cast, do you really need to know much more?
"Orlando"
Directed by Sally Potter
Released by Sony Pictures Home Entertainment
As Tilda Swinton told us in May, "It looks like it was made yesterday!" of her first collaboration with Sally Potter, which received a theatrical rerelease earlier this year and now will make its debut on Blu-ray in a new restoration. Swinton stars as a nobleman who goes on a quest spanning centuries to find inner peace as he attempts to remain eternally youthful at the behest of Queen Elizabeth I.
"Pinprick"
Directed by Daniel Young
Released by Vanguard Cinema
Daniel Young's Hungarian suspense flick involves a teenage girl who invites a man to live in her closet, but when he tires of her youthful naivete, he begins to spy on her mother in the next room over.
"Rivers Wash Over Me"
Directed by John G. Young
Released by Strand Releasing
A hit on the gay festival circuit, John G. Young's gentle drama centers on a teen who moves from Brooklyn to Alabama after his mother's death and strikes up a friendship with a fellow outsider.
"Salt"
Directed by Philip Noyce
Released by Sony Pictures Home Entertainment
There are three different cuts included on the Blu-ray and DVD of this Angelina Jolie action extravaganza from the summer, which could help bridge the gap for some critics who wrote off the film for its wild plot twists and general craziness. Jolie stars as a CIA operative who must go underground after being accused of being a Russian spy and attempts to clear her name while on the run. (My interview with Noyce is here.)
"Screaming Men"
Directed by Mika Ronkainen
Released by Pathfinder Home Entertainment
You may want to keep the volume low for this documentary about a choir from Finland that specializes in, yes, screaming. Naturally, they're big in Tokyo, which is where they travel to perform the national anthem.
"Skirt Day"
Directed by Jean-Paul Lilienfeld
Released by Cinema Epoch
Isabelle Adjani took home a César in her native France recently for her turn as a teacher at a school for unruly and rebellious teens. A bit of a rebel herself, she finds herself at a personal and professional crossroads when her husband leaves her and upon seizing a gun from one of her students, she accidentally discharges it into another student's leg, plunging her into an emotional crisis that manifests itself into a hostage situation.
"Soul Kitchen"
Directed by Fatih Akin
Released by MPI Home Video
Having made heavy dramas like "Head-On" and "The Edge of Heaven," Fatih Akin takes a left turn towards comedy with his latest film about a slacker (Adam Bousdoukos) trying to keep his restaurant in Hamburg afloat while putting up with an irritable chef, a girlfriend bound for Shanghai, and his brother (Moritz Bleibtreu) who just was released from prison. (Alison Willmore's review of the film is here.)
"Step Up 3"
Directed by Jon M. Chu
Released by Disney Home Entertainment
Sadly, for the majority of America, the D has been dropped from the end of "Step Up 3," leaving behind a dance film that much like the previous films involves rival crews competing for a krumping championship. However, there is a 3D Blu-ray available for the early adopters to make sure every flip and dip is right in your face. (My interview with director Jon M. Chu is here.)
"The Strange"
Directed by Quentin Lee and Justin Lin
Released by Pathfinder Home Entertainment
Retitled from its original name "Shopping for Fangs," this dark comedy features two stories for the price of one with the intersecting tales of a neglected young housewife who isn't immune to the advances of a female caller and her husband's growing suspicion his co-worker is a werewolf. The film marked the feature debut of co-director Justin Lin, who would go on to spearhead the "Fast and Furious" franchise after "Better Luck Tomorrow," and shows off an early turn from "Star Trek"'s John Cho.
"Turning Green"
Directed by Michael Aimette and John G. Hofmann
Released by Image Entertainment
The film's original tagline — "The story of a boy, a country, and a box of porn" — might not compute for those looking at this film's DVD box cover, which features a desperate looking Timothy Hutton and a concerned Alessandro Nivola and Colm Meaney, but for a tender coming-of-age story, you'll find both comedy and drama in this story about a 16-year-old American ex-pat who seeks to finance his escape from Ireland by selling adult mags, though the local hoods (Hutton and Nivola) take notice and want in on the action.
"Wall Street: Money Never Sleeps"
Directed by Oliver Stone
Released by Fox Home Entertainment
Twenty-plus years and one of the worst financial crises in U.S. history later, Oliver Stone returned to the financial sector for this follow-up to one of his most famous films, bringing back Michael Douglas as Gordon Gekko, who is released from prison just in time to become a mentor to a young stockbroker (Shia LaBeouf) who is about to marry his daughter (Carey Mulligan). Surprisingly, Stone wasn't as damning as you'd might think of the financial institutions. (Anthony Kaufman's review from Cannes is here.)
[Additional photos: "Devil," Universal Pictures, 2010; "The Horde," MPI Home Video, 2010; "Orlando," Sony Pictures Classics, 1993; "Soul Kitchen," IFC Films, 2010]