Documentaries to "Exit" 2010 With and More New DVDs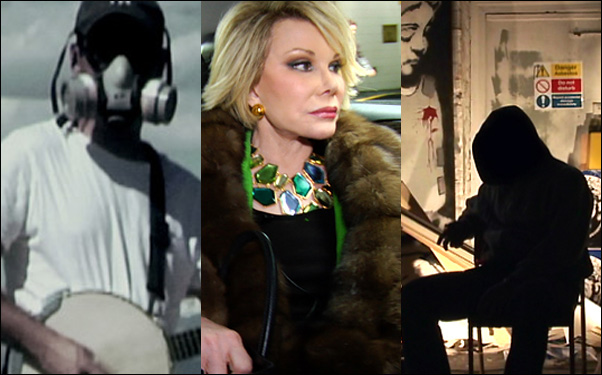 Posted by Stephen Saito on
A look at what's new on DVD today:
"Gasland" (2010)
Directed by Josh Fox
Released by New Video Group
"Joan Rivers: A Piece of Work"
Directed by Ricki Stern and Annie Sundberg
Released by MPI Home Video
"Exit Through the Gift Shop" (2010)
Directed by Banksy
Released by Oscilloscope Laboratories
If you haven't caught up on the year's best documentaries in time to fill out your top 10 list, three of them will be hitting DVD shelves this week, beginning with Josh Fox's Sundance award-winning "Gasland," an exploration of the "hydraulic fracturing" going on in own backyard, a type of drilling that has spread to 34 states in the U.S. and has left a host of reservoirs of toxic waste and frequent gas explosions along the way. For something less serious, but equally compelling, there is also Ricki Stern and Annie Sundberg's "Joan Rivers: A Piece of Work," which follows the comedienne through one of the busiest years of her life as she works on her ever-evolving act, deals with her unique brand of fame and breaks through her legendarily retouched exterior to reveal the trials and tribulations of surviving over a half-century in show business. And last but certainly not least, art provocateur Banksy's "Exit Through the Gift Shop," which has been available on demand and on iTunes for a few weeks, is getting a deluxe DVD set courtesy of Oscilloscope Laboratories, though don't expect any new revelations on Banksy's identity in the special features for this film where a paparazzo named Thierry Guetta reverses roles with the elusive graffiti artist and becomes a cause célèbre named Mr. Brainwash. (Alison Willmore's review of "Exit Through the Gift Shop" is here.)
"The A-Team" (2010)
Directed by Joe Carnahan
Released by Fox Home Entertainment
It took awhile for "Narc" director Joe Carnahan to find his niche, but bloated action blockbusters may be just his speed. That's no backhanded compliment as "The A-Team" is far more fun than it has any right to be, reviving the '80s TV series about a group of dishonorably discharged army specialists whose latest mission is to clear their names after being framed by their rivals, with a warped sense of humor and flying tanks. Liam Neeson, Bradley Cooper, "District 9″'s Sharlto Copley and Quinton "Rampage" Jackson star as the quartet.
"The Back Nine" (2010)
Directed by Ron Vignone
Released by Magnolia Home Entertainment
This documentary features Jon Fitzgerald as an average golfer who aims to make the professional tour while barely keeping above par in balancing his day job and family.
"The Black Pirate" (1926)
Directed by Albert Parker
Released by Kino
Douglas Fairbanks' silent swashbuckler, famous for being one of the first films to experiment with Technicolor, is getting a pristine new Blu-ray courtesy of Kino.
"A Complete History of My Sexual Failures" (2008)
Directed by Chris Waitt
Released by MPI Home Video
Chris Waitt turns the camera on himself for this 2008 Sundance fave in which he looks back at all his past relationships and figures out where they went wrong.
Cyrus (2010)
Directed by Jay and Mark Duplass
Released by Fox Home Entertainment
The Duplass brothers long avoided the overtures of Hollywood in favor of having total control of their projects, but early word is that they were able to bring their loose, improvisational style to their first film for Fox Searchlight, a comedy starring John C. Reilly as a middle-aged divorcé who finds love with a new girlfriend (Marisa Tomei), but must vie for her attention with her grown son (Jonah Hill) who lives with her. Consider the film a bit of a dream project for Hill, who places "The Puffy Chair" among his favorite films – and it didn't disappoint, as Hill told Matt Singer at SXSW.
"Dear Mr. Gacy" (2010)
Directed by Svetozar Ristovski
Released by Anchor Bay Entertainment
Arguably the only thing creepier than a film with William Forsythe is a film where Forsythe plays John Wayne Gacy. Svetozar Ristovski directs this film based on conversations between the serial killer and a college student (Jesse Moss) who reaches out to him for a school project, developing an unusual relationship as they test each other's limits.
"Despicable Me" (2010)
Directed by Pierre Coffin and Chris Renaud
Released by Universal Home Entertainment
Before "Megamind," "Despicable Me" was the year's first computer-animated film to feature a supervillain who begins to change his ways. Steve Carell voices Gru, a dapper evil mastermind who takes in three orphaned girls for his latest plot to rule the world and winds up caring for them. The Neptunes provide the score.
"Disengagement" (2007)
Directed by Amos Gitai
Released by MPI Home Video
This politically-charged drama starring Juliette Binoche has taken its time to make it across U.S. shores, telling the story of a woman who travels to Israel with her estranged stepbrother after the death of her father to look for the daughter she abandoned two decades prior and get caught in the country's military pullout of the Gaza Strip in 2005. Jeanne Moreau, Liron Levo and Hiam Abbass co-star.
"Double Take" (2010)
Directed by Johan Grimonprez
Released by Kino
Multimedia artist Johan Grimonprez's latest continues to indulge his fascination with cinematic suspense that he examined with his surreal 2005 Hitchcock-inspired short "Looking for Alfred" by rejiggering film and television clips to create a parallel narrative to the 1960s that positions Hitchcock as a history professor caught up in the Cold War frenzy. British novelist Tom McCarthy co-wrote the script that sees Hitchcock battling his mirror image (Burrage) as television battles for supremacy over cinema. (Bruce Bennett's review of the film is here.)
"Fishmen and Their Queen" (1995)
Directed by Sergio Martino
Released by Mya Communication
A sequel to "Island of the Fishmen," schlocky Italian director Sergio Martino's follow-up centers on two teens who navigate a radioactive wasteland to find an island where they're enslaved by a sea queen and must fight for their survival.
"Frenemy" (2009)
Directed by Gregory Dark
Released by Lionsgate
Back when Zach Galifianakis was doing porn…actually, that's not quite true, but it's a testament to the "Due Date" star's increasing level of fame that Lionsgate has dusted off this 2009 comedy, originally titled "Little Fish, Strange Pond," from softcore-turned-legitimate director Gregory Dark. A veteran of the Hollywood, Austin and Cinequest Film Festivals, this comedy actually stars Matthew Modine as a killer whose conscience manifests itself into a companion named Mr. Jack (Callum Blue), sharing a deep conversation about existential matters until they're rudely interrupted by a robbery at an adult bookstore owned by Galifianakis's shady Bucky. Adam Baldwin, Paul Adelstein and Liza Weil co-star.
"Guy Maddin: Quintessential 5 Films from the Heart"
Directed by Guy Maddin
Released by Zeitgeist Video
Maddin's 1990's "Archangel," 1992's "Careful," 1997's "Twilight of the Ice Nymphs," "Dracula: Pages from a Virgin's Diary," and 2004's "Cowards Bend the Knee" fill out this four-disc set, but it's the extras of this limited edition box that make the collection of the Canadian filmmaker's recent works that make it really special with an hour-long doc narrated by Tom Waits, audio commentaries on each film by Maddin and assorted cast and crew, six of Maddin's shorts, radio interviews, "imagined audition reels," production design collages and more.
"The Immaculate Conception of Little Dizzle" (2009)
Directed by David Russo
Released by Tribeca Film
Seattle-based filmmaker David Russo's first feature was reportedly inspired by his own experience as a janitor, serving up sci-fi/comedy hybrid that stars Marshall Altman as a recently laid off computer programmer who turns to mopping up floors and cleaning toilets for a new job, which becomes considerably more interesting when the cookies he eats at the corporation he works for result in his giving birth to a blue fish. Tania Raymonde, Vince Vieluf and Natasha Lyonne co-star.
"The IT Crowd: The Complete Fourth Season"
Released by MPI Home Video
We don't feature many TV shows as part of this column, but we'll make a shameless exception for "The IT Crowd" – if you can't get enough on IFC, repair to the basement of Reynholm Industries where Roy, Moss and Jen toil away in this office comedy.
"Killjoy 3" (2010)
Directed by John Lechago
Released by Full Moon Entertainment
If you were aware there was a "Killjoy" 1 or 2, you might be interested to know there's a third, continuing the rampage of Trent Haaga's killer clown, who pulls in a group of college students through a magic mirror in order to torture them.
"The Last International Playboy" (2008)
Directed by Steve Clark
Released by MTI Home Video
A veteran of the Slamdance and Oxford Film Festivals in 2008, Jason Behr steps into the titular role of a man whose luck with the ladies doesn't extend to his true sweetheart from childhood (Monet Mazur) who's getting married to another, which when combined with the suicide of his mother, leads him to befriend an 11-year-old neighbor (India Ennenga) to confide his troubles. Krysten Ritter co-stars.
"Legend of the Guardians: The Owls of Ga'Hoole" (2010)
Directed by Zack Snyder
Released by Warner Home Video
After popularizing the use of CG environments with live actors, "300" and "Watchmen" director Zack Snyder went the whole way with computer animation in this adaptation of Kathryn Lasky's series of novels about an army of owls who are tasked with protecting the owl kingdom against an uprising. Jim Sturgess, Helen Mirren, Ryan Kwanten, Joel Edgerton, Hugo Weaving and David Wenham lend their voices to the birds.
"Micmacs" (2010)
Directed by Jean-Pierre Jeunet
Released by Sony Pictures Home Entertainment
"Amelie" director Jean-Pierre Jeunet's latest elaborate mouse trap of a movie stars French comedian Dany Boon as Bazil, a man who lives one day at a time, thanks to a bullet lodged in his brain from a freak gun accident. He then makes it his mission to initiate a war between the local arms factories and recruits a collection of oddballs including a human cannonball (Dominique Pinon) and a contortionist (Julie Ferrier) to put his plan into place. (Nick Schager's interview with Jeunet and Matt Singer's review of the film are here.)
"Mother and Child" (2010)
Directed by Rodrigo Garcia
Released by Sony Pictures Home Entertainment
"Nine Lives" director Rodrigo Garcia that takes a few notes from its executive producer Alejandro González Iñárritu in weaving together the stories of a nurse (Annette Bening) who gave up a baby as a teen, her grown-up biological daughter (Naomi Watts) and a woman (Kerry Washington) who is looking to adopt since she can't conceive. Jimmy Smits, David Morse and Samuel L. Jackson play the men in their lives. (Matt Singer's review is here.)
"Nanny McPhee Returns" (2010)
Directed by Susanna White
Released by Universal Home Video
Thanks to the mindboggling international success of Emma Thompson's toothy caretaker, there was demand for a second installment which sees Nanny McPhee head to the farm of a mother of three (Maggie Gyllenhaal) while her husband's away at war. Ewan McGregor, Ralph Fiennes, Maggie Smith and Rhys Ifans are among the heavyweights who offer support.
"The Nature of Existence" (2010)
Directed by Roger Nygard
Released by Walking Shadows
"Trekkies" director Roger Nygard goes to an even more final frontier than space in this doc that surveys such minds as Orson Scott Card, Sri Sri Ravi Shankar, Richard Dawkins, Leonard Susskind, the late Irvin Kershner and more in an effort to get the answer to one of most fundamental of questions.
"The Other Guys" (2010)
Directed by Adam McKay
Released by Sony Pictures Home Entertainment
Will Ferrell and Mark Wahlberg play low-level cops who stumble into the case of their careers after a parking violation leads to the exposure of a massive Ponzi scheme in the latest from "Step Brothers" director Adam McKay. Michael Keaton, Eva Mendes, Steve Coogan, Samuel L. Jackson, and Dwayne "The Rock" Johnson co-star. (Matt Singer's review is here.)
"Resonnances" (2006)
Directed by Philippe Robert
Released by Synapse Films
The good folks at Synapse usually know their stuff, so this low-budget French thriller about a guy and his three female pals whose trip into the mountains for a getaway that turns into a nightmare involving an escaped convict and an underground beast is probably worthwhile for horror fans.
"Seeing Heaven" (2010)
Directed by Ian Powell
Released by Breaking Glass Pictures
One man's search for his twin brother in the underground world of gay hustling and porn shoots leads him to have unusual visions in this horror film from Brit director Ian Powell.
"Slave" (2010)
Directed by Darryn Welch
Released by Phase 4 Films
Natassia Malthe stars as a woman who thinks she's going to meet the father of her fiancé in Spain when she's abducted and sold into sex slavery as her fiancé tries to figure out where she's disappeared to in this horror film from Darryn Welch.
"Taxi Zum Klo" (1980)
Directed by Frank Ripploh
Released by Breaking Glass Pictures
Frank Ripploh's semi-autobiographical film about a gay school teacher in West Berlin torn between his public and private identity is getting a remastered director's cut in honor of its 30th anniversary.
"The Town" (2010)
Directed by Ben Affleck
Released by Warner Home Video
Ben Affleck directs and stars in this adaptation of Chuck Hogan's novel "Prince of Thieves" about bank robbers whose allegiance to each other is tested when a witness (Rebecca Hall) to their latest heist threatens their operation and the FBI, led by Jon Hamm's dogged investigator, begins to close in. (My review of the film is here.)
"The Trotsky" (2009)
Directed by Jacob Tierney
Released by Tribeca Film
Canadian actor/director Jacob Tierney has already finished his second collaboration with the very busy Jay Baruchel called "Good Neighbours," but in the mean time, you can catch his first, this comedy that stars the "Undeclared" star as a high school student in Montreal who believes he's the second coming of Leon Trotsky and aims to bring Marxism to the public schools after getting transferred there by his father.
"Trouble in Mind: 25th Anniversary Special Edition" (1985)
Directed by Alan Rudolph
Released by Shout! Factory
Shout! Factory is giving another spin to Alan Rudolph's neo-noir starring Kris Kristofferson, Keith Carradine, Lori Singer and Genevieve Bujold as denizens of the shadowy Rain City.
"True Grit" (1969)
Directed by Henry Hathaway
Released by Paramount Home Video
For a point of comparison with the Coen brothers' adaptation of Charles Portis' novel about a grizzled U.S. Marshal and a Texas Ranger come to the aid of a young woman to find her father's killer, Paramount is releasing the Blu-ray of John Wayne's Oscar-winning version of the film.
[Additional Photos: "Cyrus," Fox Searchlight, 2010; "Double Take," Kino, 2010; "The Last International Playboy," MTI Home Video, 2010; "The Other Guys," Columbia Pictures, 2010; "The Trotsky," Tribeca Film, 2010]