Dermot Mulroney Takes Time to Exhale After "Inhale"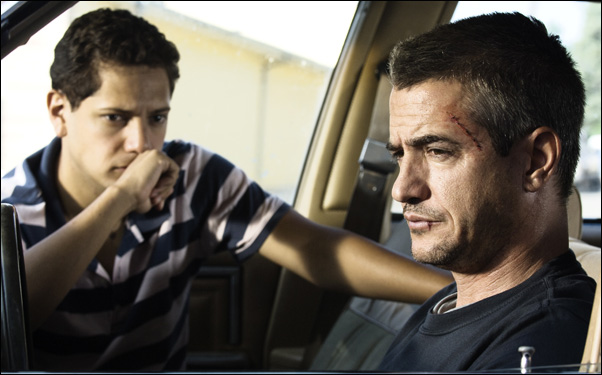 Posted by Stephen Saito on
Nearly halfway through talking to Dermot Mulroney I asked about an indie film he made last year, though I struggled to remember the name. "'The Family Tree'?" he said, while watching me squirm. Yeah, that's the one. "I don't know whether that hit the theater, maybe for a week here or there. I know it was at the Seattle Film Festival."
"Really?" I wondered, thinking that I would've at least heard if the film co-starring Hope Davis and Christina Hendricks had been in theaters already. (It's only played the festival circuit so far.)
"If that sees the light of day, I'd bet you enjoy it," Mulroney assures me. "It's definitely got some laughs in it."
Uncertainty is not a feeling usually associated with the work of Mulroney, whose ability to exude a cool confidence has made him a go-to guy for Hollywood romantic comedies and auteurs such as the late Robert Altman, David Fincher and Alexander Payne. But in recent years, it has crept into how his work is presented. That's why audiences may only be slightly more familiar with his latest film "Inhale," which came and went from theaters last month.
Mulroney's clearly proud of the thriller, in which he stars as an assistant district attorney who must question his principles when the only way he can save his daughter's life is through an illegal lung transplant across the border. However, he's also well aware that even with a cast of recognizable actors such as himself, Sam Shepard, Diane Kruger and Rosanna Arquette in a solid race-against-the-clock potboiler, "Inhale" is exactly the type of film that could easily slip into the void created by a shrinking industry and a wider array of film options where indies have trouble getting attention and distributors are less willing to take risks.
So there's both notes of excitement and incredulity in Mulroney's voice when he exclaims, "It's doing really well on VOD," which is where it can currently be seen through IFC Films On Demand [a corporate sibling of IFC.com]. As he acknowledges below, the realization that theatrical is just one of many different platforms is something that's taken some time to adjust to and as a result, our conversation is as much about the state of the mid-level indie film as it is about his performance in "Inhale."
With this new world of how movies go out into the world, does it change your attitude towards the work?
That's a great question. I think it just now did. I learned from the way IFC Films released "Inhale," because the movie had sat for a while because it's very grim and hard to promote. What I learned is that IFC Films wants as much to release it in the theater as it wants to use the theater release to platform where it's actually going to make some of its money back, which is on the video on demand at home. So that went off like a light bulb for me. They didn't intend necessarily to have this film grow in theaters and then open it in Chicago, then Dallas, and then Pittsburgh, which is what the old scenario used to be. I don't think that's ever going to happen again. If it does, it'll be because people revert to it purposefully.
Consequently, the stigma — that's a strong term — of doing a movie that doesn't go into the theater is gone because everybody's equal. I've done 55, 60 movies maybe, and until now, one of those didn't get released in a theater. And that was back at a time when that was like ouch, someone's going to find out that movie wasn't good enough to earn a release in a theater. Now, half of the movies made don't go out and if they do, they go out like "Inhale" did — two theaters, one in each city, New York and Los Angeles, and they close after a week. So it's a whole new world. And I can make decisions differently now. In other words, I can take movies without having to worry about whether they're going to be successful in the box office because there's so many other outlets.
You were also in "Jolene," which sat on the shelf awhile before it got a release this summer, but it seems like more people will find it at Blockbuster.
I hate to say it, but I think what happened is, especially independent financiers, not smaller film production companies that had their own money, but the guys that come in with cash out of their pocket to try and make a movie, I think that they all got used up. I think that they all finally learned that making a mid-range to low-budget movie is the wrong way to invest your money. [laughs] The secret got out. We've been doing it for 20 years and these guys just kept coming back with more money. But I think now it's clear that's why people aren't willing to risk their money as much and the ones that had been risking their money learned that it's a very, very tough risk.
Specific to this film, the American cut was different that the international cut. Does that affect how you feel about your performance?
This is what happened with that precisely. It was written and shot to happen in chronological order and they had a delivery date for one of their European releases. I think it was Germany that in order to get the pre-sale money on the German release, they gave them that, presuming that it would remain that cut. If anything, they'd tweak it while they're still looking for a U.S. distributor. Nobody took it. It's already shown in Germany because they had a delivery date. So it's really the first cut. So they went back in and recut it to see if that made it more appealing to domestic distributors. And it's a better movie because it's cooler – all the same content. They just shuffled the deck.
That would probably be the first time anyone's ever said an American cut was cooler than the European version. Have you been in other films that had multiple versions?
No, I don't recall that ever really happening. I've seen both cuts of this and I think the non-chronological version, the U.S. version, is marginally more interesting, but I don't think they changed performance takes. It's the same movie.