Darren Aronofsky's Elegant, Dangerous "Swan" Dive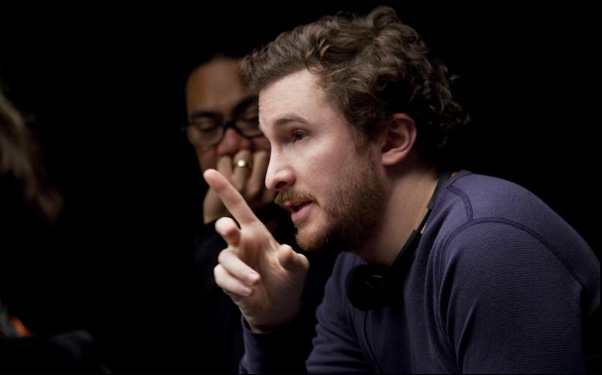 Posted by Stephen Saito on
As a director who has long found the beauty in some of the ugliest places imaginable, it's not surprising that Darren Aronofsky gravitated towards a film involving a production of "Swan Lake." Inspired at first by his sister's years in ballet and then intrigued with Dostoevsky's "The Double," the director has once again found a tale where he can get in your head after reaching your heart, predicated on the plight of Nina Sayers (Natalie Portman), a fragile ballerina who is driven to madness by the pursuit of perfection, the competition of a rival dancer (Mila Kunis) and the dare of her ferocious director (Vincent Cassel) to embrace the wild abandon of the Black Swan when she's already so perfect in the role of the untouched White Swan, both onstage and off.
It's a duality that in many ways extends to the production of "Black Swan" itself, the gleaming gem of a psychological thriller that resulted from a decade-long development period, a grueling 42-day shoot and a limited budget where there were strains well beyond those of Tchaikovsky. However, Aronofsky rose to the challenge with a transformation nearly as dramatic as his central character in what feels like an accumulation of everything he's learned from previous films, whether it's sly use of special effects he picked up from "The Fountain," the naturalism of "The Wrestler," and the narrative precision he perfected in "Requiem for a Dream" and "Pi" as everything appears to spiral out of control. (If he separates himself from Nina Sayers, it's how he makes it all look effortless.)
True to his own techniques, Aronofsky pulls off something of a reversal when you speak to him, exuding a warm, relaxed persona that's decidedly at odds with the emotionally tormented protagonists in his films – apparently, the only nightmares he's had lately were on his shooting schedule, as he'll explain below, along with why cinema should have an orgasm and the lack of transformation in his next film, "The Wolverine."
Since you've had the idea for a film set in the ballet world for a while, did the themes that you initially want to explore in that setting change or have additional resonance after the years spent trying to get it made?
I'm sure they have. [laughs] I think that's what the whole development is. You develop things and they become what you're thinking about at the time and where your mindset is. Then slowly but surely, they kind of become something. The connection between "The Wrestler" and "Black Swan," which a few people have been talking about is probably because over ten years we were pushing both of these films together, thinking about them and probably that's why there are certain themes that overlap.
Given that they share similar themes, has the criticism in some circles that "Black Swan" is misogynistic struck you as some sort of double standard? Was that something you thought might become an issue going in?
I don't know. I think it's just if you portray anything not fully positive, you can run into trouble. It's funny. Natalie's a really good person to ask about this because she sees it as a feminist film, so I think people will always try and find their own take on things. But it wasn't really a consideration. We were just trying to create a very, very human character with big struggles and just to have fun and make something that's really very different.
That extends to how you filmed ballet. How much did the actual artform affect how you wanted to film this?
We definitely wanted to try and shoot ballet in a way that had never been shot before. Most of the time when you see ballet on film, it's shot from the back of the auditorium and from the wings and very early on, I knew I wanted to go onto the stage and capture the energy and the swirling and the glory and the challenge and the breath and the sweat of the craft. So that type of camera move informed what we were going to go for, which was going to be this camera that had a lot of dexterity and a lot of ability to move.
After filming something relatively straightforward like "The Wrestler," this is a return to a more fragmented form of storytelling. Was there something in particular that informed the structure of this film?
Really just "Swan Lake," the ballet. We basically looked at the ballet and translated the ballet into a movie and all the characters come out of characters in the ballet, all the music comes out of the ballet, the colors come out of the ballet. Everything was built as if we were telling a live-action version of the ballet and dramatizing it.
I remember a great quote of yours where you said, "Cinema should have an orgasm" – are third acts particularly important to you?
I think it's just the structure of film. I don't think it's me in particular. They always talk about the climax – that's the word people talk about as emotionally the highest part of the film, so we just try and have all the departments try to get to a peak point together.
This may be a product of screenwriting credits, but as the second film that you haven't been credited as a screenwriter on, has it changed the job of directing?
It doesn't change that much. I really work with these writers as if I am a writer. I don't actually do any of the writing, but I really am on my hands and knees going through everything line by line and scene by scene and message by message. And when I come up with ideas, I'll tell it to them and let them do the writing on it. So that's why I think both "The Wrestler" and "Black Swan" are not written by me, but definitely connected to my psyche in a deep way.
Has your attitude toward directing changed?
I don't know if I've changed my opinion of what I do that much. I feel like what I did on "Black Swan" is very similar to what I did on "Pi." It takes a lot of passion, a lot of focus and a lot of attention to detail to get to a place where it all starts coming together and coming alive.
You've said you don't know when you're done editing a film until you've cut your favorite shot out of it. Was there a favorite that hit the cutting room floor here?
We had such limited resources on this film, seriously limited resources, and we were trying to make a lot with a little and I don't know if there's much on the editing room floor. It's funny because Fox was saying "Can you put together for the DVD missing scenes?" There really aren't missing scenes. [laughs] So that won't be one of the features on the DVD.
Was this a really tough shoot?
It was a really challenging shoot. Normally, you get the call sheet and you have four or five days on your schedule that are really tough days. Every day on the call sheet was a nightmare and it was basically like there was no break. Every day was like "Man, everything's got to go perfectly right if we're going to get this done." And of course, things never go perfectly right and you end up losing things, so it was a really big, challenging production and by the time we got to post, whatever money we had snuck out of post for production ended up costing us down the road, so it was a pretty tough road the whole way through.
This may be a total reach, but based on what you've been doing lately with "Black Swan," "Wolverine," and "Machine Man" [an adaptation of Max Barry's novel about a man who begins to reinforce his weaker body parts with titanium], is it coincidence or is transformation something you're particularly interested in these days?
That's interesting. No, I don't know. It's not conscious. It's definitely very coincidental. "Machine Man" was just a cool idea that came to us and Mark [Heyman], who wrote "Black Swan," was interested in it, so we got involved. It wasn't something we pursued and put up. And "Wolverine," I don't know how much that's about transformation. It just looked like something fun to do.
You've spoken about your sister, who once was a ballet dancer, as a reason to make "Black Swan." Did she enjoy it?
She really liked it. She left ballet a long time ago, so she's not coming from the dance world as directly, but more coming at it as a sibling, and she was very proud of it and really liked it.
"Black Swan" opens in limited release on December 3rd.