Coming Soon To IFC: Comedy! Comedy! And More Comedy!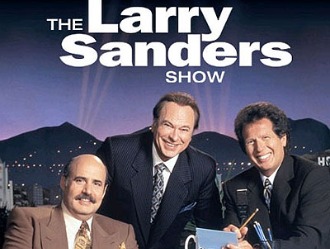 Posted by Melissa Locker on
You are going to spend 2011 in front of the television set, so plan accordingly. Today IFC announced an amazing line up of new shows hitting our air in 2011. To accompany our original series, including Onion News Network, the television series based on the iconic fake news organization, and Portlandia, from Carrie Brownstein and Saturday Night Live's Fred Armisen, IFC has acquired some incredible programming. How incredible? Prepare your mind to be blown: The Larry Sanders Show, The Ben Stiller Show, Mr. Show with Bob and David and Action. Breathe into a paper bag.
Between these new shows, the Onion News Network, Portlandia, plus Monty Python's Flying Circus, Arrested Development, Freaks and Geeks and Undeclared, you guys, 2011 is going to be awesome. You may want to quit your day job. Or at least buy a second DVR.
The Larry Sanders Show premieres Monday, January 3 at 11 pm E.T. It stars Garry Shandling as the vain and neurotic talk show host Larry Sanders as he runs his satirical sitcom. Keep an eye out for celebrity guests playing self-parodying versions of themselves, including Jeffrey Tambor, Jeremy Piven, Janeane Garofalo and Rip Torn, among many others. The show aired from 1992-1998 on HBO® and won three Emmy® awards and received 56 Emmy® nominations. It was included in Time magazine's list of the "100 Best TV Shows of All Time."
The Ben Stiller Show premieres Wednesday, January 5 at 10:30 pm.
The acclaimed series stars Ben Stiller, Janeane Garofalo, Andy Dick and Bob Odenkirk in comedy sketches parodying television shows, movies, commercials, rock musicians, and
celebrity culture. Created by Ben Stiller and Judd Apatow (of Undeclared and Freaks and Geeks fame), the series won an Emmy® Award for Outstanding Individual Achievement in Writing in a Variety or Music Program. Writers on the series included Stiller, Apatow, Odenkirk and David Cross, among others. It aired on FOX from September 1992 to January 1993.
Mr. Show with Bob and David premieres Friday, January 7 at 11 p.m.
The hit series seamlessly blends one sketch into another, specializing in absurdist comedy that targets everything from politics to religion to Generation X. Executive produced and starring David Cross and Bob Odenkirk, the series features comics including Sarah Silverman, Jay Johnston, Brian Posehn, Jerry Minor, Jack Black, Paul F. Tompkins and Tom Kenny. The series aired on HBO from 1995-98.
Action will premiere late 2011. It's a comedy series about Hollywood producer Peter Dragon (Jay Mohr), who is under pressure to bounce back from his last film, a box office failure. The series, which was critically acclaimed for its irreverent look at Hollywood culture, also stars Ileana Douglas as VP of Production at Dragon's production company, and Buddy Hackett as Peter's uncle and chief of security. The series aired on FOX during the 1999-2000 season.