Five Weird Broadway Musical Adaptations to Rival "Spider-Man"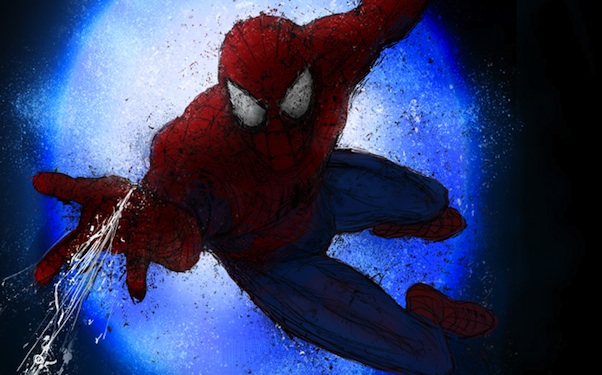 Posted by Matt Singer on
Spider-Man, as the song goes, does whatever a spider can. Apparently spiders can make the most expensive show in Broadway history. After months of delays and a few flirtations with outright cancellation, "Spider-Man: Turn Off the Dark," a $65 million production directed by Julie Taymor ("Frida") and featuring songs by U2's Bono and The Edge, had its public debut on Sunday. The evening was not without its share of technical hiccups. But the show is off and swinging now.
Even its creators would acknowledge that Spider-Man is an unusual choice of source material. During a 60 Minutes report on the show, Taymor said the is-this-a-good-idea? factor was the primary reason she wanted to make it. She's certainly not the first person to see Broadway potential in an property that seems, at least on paper, better suited to other mediums. To wit, these five other notable examples whose theatrical destinies were — sorry, Spidey — short-lived. This is by no means a comprehensive list, just the ones with the best clips on YouTube. So you're off the hook, legendarily awful "Breakfast at Tiffany's musical, at least for now.
"Big Deal" (1986)
from the film "Big Deal on Madonna Street" (1958) directed by Mario Monicelli
Total Performances: 69
I don't know that I ever want to see criminals sing and dance in the midst of a heist — shouldn't they be keeping their voices down so nobody notices they're stealing something? Maybe audiences agreed with me, since "Big Deal," the musical adaptation of the classic Italian crime comedy "Big Deal on Madonna Street" lasted less than 70 performances on Broadway despite the fact that it was written, directed, and choreographed by stage and screen legend Bob Fosse, who directed the original Broadway production of "Chicago" and won an Academy Award for "Cabaret." Here's the cast of "Big Deal" performing "Beat Me Daddy Eight to the Bar" at the 40th Annual Tony Awards, where Fosse won for Best Choreography. No wonder why, the dancing is incredible. But I'm still having a hard time deciphering what this has to do with, y'know, people stealing things.
"Carrie: The Musical" (1988)
from the novel "Carrie" (1974) by Stephen King
Total Performances: 5
A horror tragedy about a social outcast doesn't sound like the place to start a poppy musical but, hey, it worked for "Phantom of the Opera." A few years after writing the screenplay for the "Carrie" film, screenwriter Lawrence D. Gordon began to envision a "Carrie" musical. Why? In his words, from the show's official program, "we all thought… that this was a fascinating piece of material. That this little book that sold over forty million copies and has gone through over fifty printings has done so for good reason: that Stephen King has the uncanny gift of touching our deepest fears and fantasies. That the appeal of this story might be made even more powerful put to music — and performed as theatre." It might have, but it wasn't. "Carrie," was plagued throughout production by endless rewrites and its own share of "Spider-Man"-esque snafus. Though "Carrie" has begun to accrue a bit of a cult following online, the show lasted just five official performances before closing, though not before receiving reviews, like this one, from "Broadway Magazine," which includes clips from many different numbers, including my favorite, the uplifting ballad "Unsuspecting Hearts." I'll tell you what those hearts never suspected: getting burned alive by telekinetic fire.
"High Fidelity" (2006)
Based on the novel "High Fidelity" (1995) by Nick Hornby
Total performances: 13
Jukebox musicals are all the rage on Broadway, so why not make a musical out of a novel (and a beloved film) that had about a jukebox worth of music in it? Because when you make the musical you can't use songs by Elvis Costello and Stevie Wonder and The Beta Band, like Nick Hornby or Stephen Frears did, you have to make your own. That can be a difficult task. Take, for example, "Desert Island Top 5 Break-Ups," performed as part of a concert in Times Square. If your musical looks like something the protagonists of the movie it's based on would have mercilessly made fun of, you have failed. Plain and simple.
"It's a Bird… It's a Plane… It's Superman" (1966)
From the Superman comics created by Jerry Siegel and Joe Shuster
Total Performances: 129
Spider-Man's not the first comic book super-hero to make it to Broadway, of course. Superman beat him to the punch by more than forty years. Or, maybe it's more correctly stated that Superman's musical was such a disaster that it took forty years for someone to try it again. By all accounts "It's a Bird… It's a Plane… It's Superman" wasn't nearly as ambitious as "Turn Off the Dark" but it did have a dude singing in tights which, really, is still a dealbreaker for a lot of people. This clip is from a 1975 television special of the musical and features a far more introspective Superman (played by David Wilson) than I'm accustomed to reading in the comic books. "Why can't the strongest man in the world / Be the happiest man in the world?" he asks in song while caressing a lamp and ignoring the pleas for help from the building that's on fire across town. The most hopefully titled song in the show? ""You've Got Possibilities." The most honestly titled song in the show? "We Don't Matter at All."
"Sweet Smell of Success" (2002)
from the film "Sweet Smell of Success" (1957) directed by Alexander Mackendrick
Total Performances: 109
You can sort of see the thinking here: Alexander Mackendrick's classic New York noir about an egomaniacal gossip columnist (Burt Lancaster in the film, John Lithgow in the show) had a showbiz setting and a plot that revolved around music (the columnist's sister falls for a jazz musician who the columnist despises). But watch the Broadway cast sing "Dirt" in the clip below. The song is about the public's insatiable need for sleaze. And I think it's supposed to be kind of sleazy. But on stage it all looks so quaint, almost a parody of a prude's vision of tawdriness. Wry, knowing jokes from Lithgow don't exactly match the bleakness of Lancaster's stone-faced machinations, either. As the cast circles around Lithgow one last time, they sing "it don't have to be true." But it is.
Further jaw-dropping YouTube clips: "Dance of the Vampires" (based on Polanski's "Fearless Vampire Killers"), "Big: The Musical" (based on Penny Marshall's "Big"), "Urban Cowboy: The Musical" (based on James Bridges' "Urban Cowboy"), "Cry-Baby: The Musical" (based on John Waters' "Cry-Baby"), and a German musical production of "Barbarella" (based on Roger Vadim's "Barbarella")