Can You Bribe Your Way to a Golden Globe?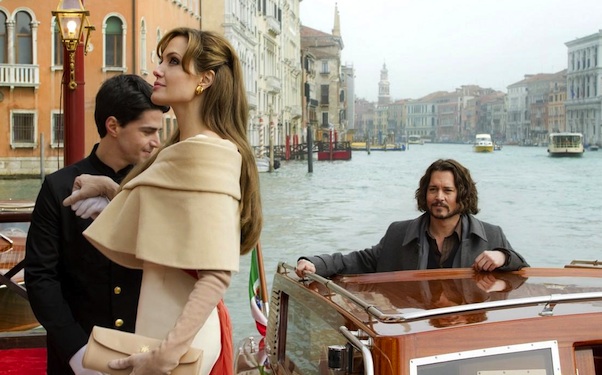 Posted by Matt Singer on
Many thoughts ran through my head as I watched "The Tourist." Things like "Boy, Rufus Sewell is wasted in this movie," and "I wonder how much longer this is?" One thought that never entered my mind once in 103 minutes? "This movie deserves a Golden Globe nomination for Best Picture." But whether I thought it deserved it or not, it got one, joining "Alice in Wonderland," "Burlesque," "The Kids Are All Right," and "Red," as Golden Globe nominees for the best musical or comedy film of 2010.
If you were shocked when you heard that list, you're not alone. This year's Globe nominees have sparked a slew of articles about the Hollywood Foreign Press Association, the body of 81 journalists and critics who vote on the awards. One published yesterday in The Independent entitled "'Bribed' Golden Globe judges nominate flops after Vegas junket" outlines how Sony, the company that distributed "Burlesque" (and "The Tourist"), treated members of the HFPA before they voted for the awards:
"'Burlesque,' which, according to the aggregation website Rotten Tomatoes, got positive write-ups from only 38 per cent of critics, opened fourth in the box office charts and made back just $34m (£22m) of its $55m budget…Disbelief later turned to mild outrage, however, after it emerged that Sony, the studio behind the clunker 'Burlesque,' recently flew Golden Globes judges to Las Vegas for an all-expenses-paid trip which included luxury hotel accommodation, free meals and a private concert performed by the film's star, Cher."
The Independent runs down a few other famous examples of past HFPA shenanigans. For instance:
"In 1981, most famously of all, the unknown Pia Zadora won a Best Newcomer award for her role in 'Butterfly,' a film which had been universally derided. It later emerged that the movie's producer, who was also her husband, had flown the entire HFPA to Las Vegas for a weekend holiday immediately before they voted."
The problem here isn't really that the HFPA is easily swayed by lavish trips, or that they consider a private concert by Cher a privilege and not a punishment. The problem is that we, the moviegoing public, actually put stock in the Golden Globe Awards, which are determined by the whims of less than a hundred people who either believe "The Tourist" is legitimately one of the finest films of the year or are willing to claim that they believe it if the price is right.
So can you bribe your way to a Golden Globe? It's hard to see that evidence and not think you can at least help your chances of a nomination. But let's not kid ourselves, either. Studios and filmmakers do all sorts of stuff to get awards, and not just the Golden Globes. In Hollywood, there are people who specialize in running PR for Oscar nominees (the late publicist Ronni Chasen was one). If these folks didn't get results, they wouldn't have an entire cottage industry of Academy Award campaigning built around them.
In other words, let's keep awards in perspective. They're important. But they're not as important as the movies themselves. Instead of waiting for a shady organization to validate a film, go see it and judge for yourself.