Save Ezio's Ego! IGN Promises "Full Synchronization" for AC Brotherhood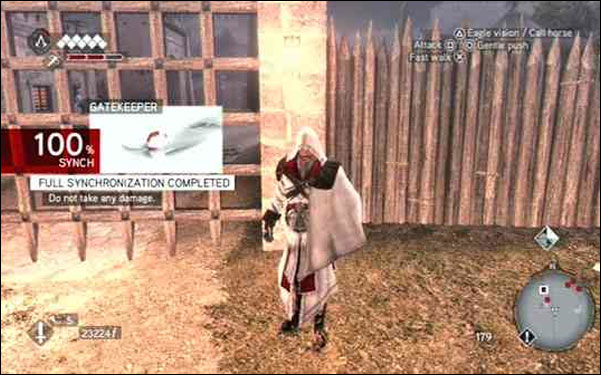 Posted by Neil Drumming on
Two days ago, over a month after the game's much-heralded release, IGN.com posted a walkthrough of "Assassin's Creed Brotherhood." The step-by-step guide promises not only to take the player through the game from beginning to end, but also to show one how to achieve 100% synchronicity on every single mission!
I am relieved. But, not because I'm planning to use this guide to go back and cross all the t's, dot all the i's, and properly stealth-murder all the corrupt clergymen I missed the first time around. (Perfect games are for pitchers, not casual gamers like me.) No, I'm relieved to know that I may not be the only devoted AC fan struggling with extreme feelings of inadequacy due to the phrase 50% SYNCH – FULL SYNCHRONIZATION FAILED.
For those not familiar with the game, it works like this: You (Ezio) are given a mission — which usually entails assassinating the hell out of someone, hence the franchise's name. In the previous iterations, you were told who to kill, but hardly ever how. In "Brotherhood," however, you are also given a method of termination, such as "Use the gun to kill the Overseer." Successfully icing the target but failing to do so in the proscribed manner results in the requisite dead guy, but also the dreaded synch fail message — a hollow victory at best.
I get it. The new metric creates additional, more precise goals, encourages players not to simply stumble blindly through missions, and ultimately adds replay value to the game. So, what's your beef, dude? You're thinking, Just do it right. Well, call me old fashioned, but when I'm playing a game, I still like to at least pretend that I'm making decisions on the fly and according to my own temperament, not just fulfilling a preordained sequence of events. So, yeah, when I'm crouched atop a Roman villa tasked with ending some sinister Borgia captain's reign of terror, I reserve the right to decide for myself the best way to spill the bastard's blood, the hidden blade or the crossbow.
But maybe that's just me.