Amber Heard Takes a Double Dip, George Clooney Runs and Guns and More New DVDs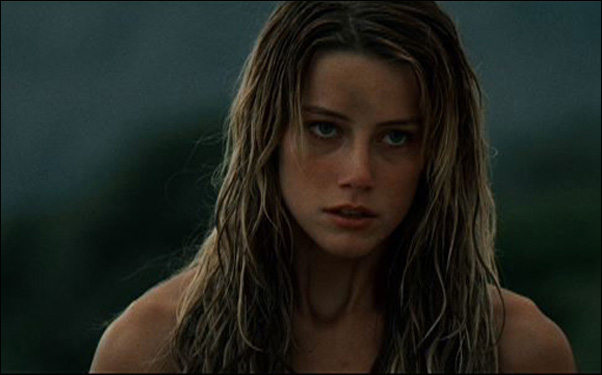 Posted by Stephen Saito on
A look at what's new on DVD today:
"And Soon the Darkness"
Directed by Marcus Efron
Released by Anchor Bay Entertainment
A remake of the 1970 British thriller of the same name, director Marcos Efron transplants the story from France to Argentina where two friends' bike ride across the mountains takes a turn for the disastrous when one mysteriously disappears. "All the Boys Love Mandy Lane" star Amber Heard and "The Unborn"'s Odette Yustman bring their collected screaming ability to this horror film. Karl Urban and "Babel"'s Adrianna Barraza co-star.
"The American"
Directed by Anton Corbijn
Released by Universal Home Video
Ahh, Focus might've suckered unsuspecting moviegoers at the multiplex with an amped-up action ad campaign for this elegaic account of the last assignment of a hit man (George Clooney) – "The American" scored an impressive D- from Cinemascore as it became the number one film at the box office for a week – yet it's bound to find a greater appreciation by true cinephiles as the years wear on for "Control" director Anton Corbijn's relatively quiet little film. (Alison Willmore's review of the film is here.)
"Boiler Maker"
Directed by Paul T. Murray
Released by Hannover House
John Savage stars in this thriller where an Alcoholics Anonymous meeting is invaded by two bank robbers who take the group hostage.
"The Boy Next Door"
Directed by Neill Fearnley
Released by Millenium Entertainment
"Glee" star Cory Monteith stars as the shadowy neighbor who inspires a novel for a mystery writer (Dina Meyer), but when he dies unexpectedly, she must use her insight into the mind of a killer to defend herself from charges she was responsible for his murder.
"Cyborg Conquest"
Directed by Leigh Scott
Released by Millenium Media Services
Stacey Dash accidentally leads a group of bank-robbing biker girls into an android bar where the robots disguised as humans kidnap them and plot a takeover of earth in this sci-fi flick costarring Paul LeMat.
"Dying God"
Directed by Jean Depelley
Released by Green Apple
How do you chase a serial killer that may or may not be human? "Flags of Our Fathers" star James Horan finds out in this sci-fi tinged thriller about a cop who must conquer his own problems before solving a series of murders, though he has the help of a local pimp (Lance Henriksen).
"The Films of Helma Sanders-Brahms"
Released by Facets Multimedia
Facets is releasing this six-pack of films from the German multihyphenate spanning 1974 to 1997, including the dramas "Earthquake in Chile," "Germany, Pale Mother," "The Future of Emily," "My Heart is Mine Alone," "No Mercy, No Future," and "Under the Pavement Lies the Strand."
"Germany in Autumn"
Directed by Alexander Kluge
Released by Facets Multimedia
Rainer Werner Fassbinder is just one of the 11 filmmakers who were involved in this film from Alexander Kluge that is a mix of fact and fiction surrounding the death of businessman and public official Hanns Martin Schleyer who was kidnapped and killed at the hands of the Baader-Meinhof group.
"Handsome Harry"
Directed by Bette Gordon
Released by Screen Media Films
"Variety" director Gordon returns from an 11-year hiatus to helm this drama starring Sheridan as a Vietnam vet who is called upon by one of his war buddies (Steve Buscemi) from his deathbed to help absolve him of the betrayal of their brother-in-arms (Campbell Scott) by reaching out to the fellow members of their crew.
"The Haunting of Amelia"
Directed by A.D. Calvo
Released by MTI Home Video
Originally called "The Other Side of the Tracks," A.D. Calvo's drama follows "Roswell" star Brendan Fehr as a man who has trouble letting go of the death of his girlfriend after she was killed by a train a decade earlier. Sam Robards and Tania Raymonde co-star.
"Legacy"
Directed by Thomas Ikimi
Released by Code Black Entertainment
In this 2010 Tribeca Film Fest selection, "The Wire"'s Idris Elba stars as a former member of an elite Black Ops team whose last job leaves him haunted as he sets up in a Brooklyn apartment where he seeks to unravel a government conspiracy.
"Legendary"
Directed by Mel Damski
Released by Vivendi Entertainment
WWE superstar John Cena gets a more prestigious supporting cast than usual with Patricia Clarkson and Danny Glover starring alongside him in this story of a teen struggling through high school and the death of his father when he hopes to reconnect with his older brother (Cena) by training to join the wrestling team.
"Legendary Assassin"
Directed by Chung Chi Li
Released by Lionsgate
Courtesy of Lionsgate, this 2008 Hong Kong action flick is finally getting a U.S. release, starring Wu Jing as the titular assassin who is marooned on a desert island with a police officer (Celina Jade) where the two strike up an unusual friendship that serves them well when the murder of a mob boss unleashes a bevy of trouble for them both.
"Made in Romania"
Directed by Guy J. Louthan
Released by Echo Bridge Home Entertainment
Jennifer Tilly, Elizabeth Hurley and Jason Flemyng play versions of themselves in this mockumnetary that documents the making of Tilly's "dream project," a Victorian drama called "The Tides of Reason" that is quickly beset by a bipolar director, disastrous auditions and all sorts of other on-set shenanigans.
"Menschenfrauen"
Directed by Valie Export
Released by Facets Multimedia
German helmer Valie Export's drama follows a journalist and his relationships to the four women in his life.
"Merantau"
Directed by Gareth Evans
Released by Magnolia Home Entertainment
A Fantastic Fest favorite back in 2009, Gareth Evans helms this Indonesian martial arts flick starring Iko Uwais as a man from a small town who moves to the big city and finds himself defending a woman from the danger of a sex trafficking ring.
"Resident Evil: Afterlife"
Directed by Paul W.S. Anderson
Released by Sony Pictures Home Entertainment
Paul W.S. Anderson returned to the zombie franchise he helped to create in order to play around with the same 3D cameras used for "Avatar" for the fourth installment of "Resident Evil." Milla Jovovich reprises her role as Alice, the security operative who presses forward in her fight against the Umbrella Corporation and leads a group of fellow survivors Ali Larter and Boris Kodjoe to safety.
"Spin"
Directed by Henry Pincus
Released by Blowtorch Entertainment
Bijou Phillips, Katie Cassidy, Lauren German, Amber Heard and Michael Biehn try to remember what happened the night before at the clubs in Henry Pincus' ensemble drama originally called "You Are Here" from 2007.
"Twelve"
Directed by Joel Schumacher
Released by Hannover House
Despite one of the worst receptions in recent memory at Sundance — James Rocchi, writing for IFC.com, called it "unquestionably the funniest film at the 2010 Sundance Film Festival; if only it had been made with that intention" — the latest from "Batman and Robin" director Schumacher got one of the festival's richest deals from startup Hannover House for this adaptation of Nick McDonell's novel about a 17-year-old drug dealer named White Mike (Chace Crawford), whose spring break of selling pot to privileged prep schoolers is interrupted by the murder of his cousin, allegedly at the hands of his best friend. Emma Roberts, Emily Meade, Rory Culkin and Zoe Kravitz play the rich kids in White Mike's orbit as a new drug called "Twelve" hits the streets.
[Additional photos: "Dying God," Green Apple Entertainment, 2010; "Legacy," Code Black Entertainment, 2010; "Merantau," Magnolia Home Entertainment, 2010]