A Venetian on Venice in "The Tourist"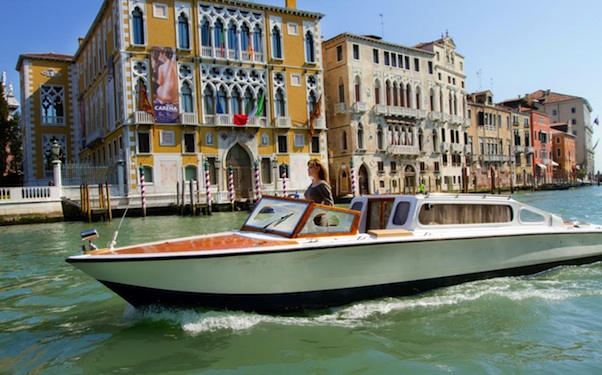 Posted by Matt Singer on
Alberto Zambenedetti is a film scholar and a critic originally from Venice, Italy. He has published many articles and book chapters on Italian cinema and writes regularly on spietati.it. Alberto and I went to see the new spy thriller "The Tourist" starring Angelina Jolie and Johnny Depp, which is set in Venice, and afterwards we had a conversation about the film's depiction of his hometown.
Matt Singer: Putting aside your feelings about the movie as a whole, how did you feel about the portrayal of Venice?
Alberto Zambenedetti: It was a missed opportunity. The way the movie used the geography of the city on the whole was very jumbled. This film could have been set anywhere. It doesn't have to be Venice. It could be Amsterdam. It could be any city, other than the fact that they're always on boats. But they could have just been in cars.
There is that big boat-and-foot chase in the middle. Jolie is in a boat, pulling Depp who's tied up in another boat, and meanwhile these goons with guns are running from bridge to bridge trying to shoot at them. Is that possible in Venice?
Yeah, it's possible.
The boat seemed to be going very slowly. Is that a rule in Venice that boats can only go so fast or did she just get in a crappy boat?
[laughs]
I guess the only way for people on foot to keep up with a boat is for the boat to go very slowly.
Yeah.
I was wondering if there is maybe a speed limit for boats in Venice.
Yeah, but why would you obey it in a chase?
Good point.
That didn't bother me as much. What really bothered me was the incoherent way they mapped out the space. You've got this place, one of the most interesting in the world when it comes to actually having to find your way around. It would be a perfect place to stage a good chase scene. And the chases were just very dull. What did you think? For someone who's never been to Venice, did you feel like the movie showed you anything that you haven't seen before?
Well I took note of the Hotel Danieli, where Depp and Jolie first stay when they arrive. That's a real hotel?
It's one of the top hotels in the world. It's beautiful. They just put it in the wrong place in Venice.
It's in the wrong spot?
That's not where the hotel actually is. Everything you see from their window is wrong.
I also took note of how poor the roofing was everywhere around it. Depp sneaks out of the window of their suite to escape some bad guys and winds up on a rooftop where he keeps cracking and moving all the shingles. Are Venetians known for their poor roofing skills?
Not that I know of. That did look like a really bad roofing job.
You audibly groaned a few times in the movie. The first time was when they arrive in Venice at the train station.
Yeah. They filmed Johnny Depp walking out of the train station, which is on the Grand Canal. Then Angelina Jolie pulls up in her boat. When we get the reverse shot of them taking off together in her the boat, they're in a completely different place.
So the boat pulls up to the dock at the Grand Canal. When it leaves it's magically transported to a different location?
Right in front of St. Mark's Square. That's what made me cringe. In a movie set in New York, it would be like having two characters standing in Brooklyn Heights, looking at all of downtown Manhattan. Then in the reverse shot, the characters are in Central Park. Both are highlights of the city but they're completely unrelated places.
You also made a noise when Angelina Jolie dropped Johnny Depp off at the airport later in the film.
Yeah, because she drops him off at the water taxi station at the airport. The airport is not on the main island of Venice. Then there's a reverse shot, she's pulling away in a boat already back on the main island. It doesn't make any sense.
When this film plays in Venice, how do you think people will react to these mismatched locations?
They'll laugh at it.
I'm sure this is not the first movie to do this sort of thing, though.
Well it's happened before but this is really a low point.
It's that bad?
This is terrible. Even "Indiana Jones and the Last Crusade" was better, and that had Harrison Ford in the sewer system in Venice — and of course there is no sewer system in Venice. This just really uses the city as a backdrop. A flat backdrop.
So you thought this represented a low-point for Venice onscreen?
Absolutely.
It didn't seem that bad to me. But I guess that's what they're counting on, people like me who don't know anything about Venice. What non-Italian movie best evokes what the city is really like?
"Don't Look Now" is good. "The Comfort of Strangers" is pretty good, although it has a dreamlike quality to it. Even the wacky Bond movies weren't bad. ["Casino Royale" and "From Russia With Love"]
And have you seen any worse than this?
No, this was the lowest point.
What? Have you seen "The League of Extraordinary Gentlemen?" There's a car chase in Venice!
I have not. But then again, that's a fantasy. This is meant to be in the real world. It's not like the city isn't represented well by some of the beautiful helicopter establishing shots. But if you're making a movie in Venice, why keep it in the background the whole time? When you make a spy movie in New York, you bring the city into the story because it has its own geography and character. Just compare "The Tourist" and its use of Venice to the "Bourne" films. This film could be something. But it isn't.