A Level A Day – "Red Faction: Guerrilla," Day 9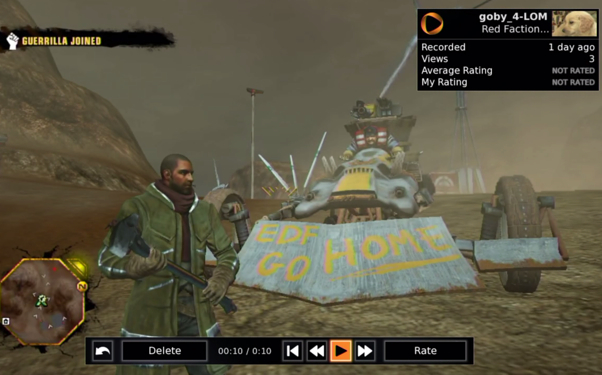 Posted by Evan Narcisse on
Here's the joy of "Red Faction: Guerilla": I started a demolition mission where I had to take down a building using only the sledgehammer. There's a time limit of two minutes to beat and my first try netted me a time of 1:04. I looked at the pro time of 55 seconds, and thought to myself, "I can do that." And for the next fifteen minutes, I tried over and over. One go-through clocked in at 56 seconds. I raged at it but there's no "close enough" in video games. On my one-last-try attempt, I finally took that freakin' building down in 46 seconds and stood in the wreckage afterward, savoring the power of my sledgehammer.
From there, I jumped into a mission called Collateral Damage, where the goal is to destroy 35 million dollars worth of EDF personnel, property and vehicles. Controlling the lead character Alex Mason, I rode on the back of an assault vehicle driven by a RF comrade named Jenkins. More verbose and rowdy than the other earnest revolutionaries, Jenkins opened his mouth and amazing things came out:
"I got big plans for Mars. We're gonna make a clean break. First we gotta get rid of all that Earth stuff. Even your favorite toothpaste. If it's not made on Mars, it's got to go. Hell, even language has got to go. English, French, German. Pig Latin, Spanish. Adios, baby! Yeah, we're gonna make a Mars language!" [Jenkins then utters some nonsense words, saying,] "Know what that means? 'I am clean and righteous!'"
Now I don't for a minute think that Jenkins' crackpot clean-slate philosophy speaks to a worldview held by the developers at Volition. But, it's a great example of how game-makers can slot in wacky characters that add depth and comic relief to what, again, is a virtualized underclass uprising. Still, for all the yuks, the black-and-white worldview that Jenkins throws out there makes you wonder for just a second if you're really on the right side of things. These are the people you're helping? What if there's more of them out there?
[A Level A Day will be my attempt to give my thumbs more exercise every 24 hours. ALAD will be part diary, part analysis and a smidgen of random observation on games that either slipped through the cracks or might deserve reconsideration. I won't promise to finish every game but I'll try to track what I think of as honestly as I can, so you'll at least know why I'm stopping a particular game.]