A Level A Day – "Red Faction: Guerrilla," Day 8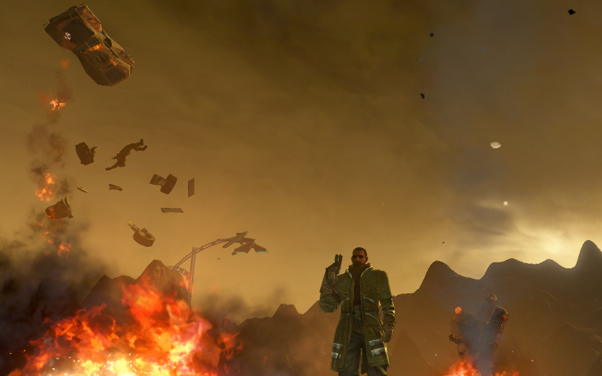 Posted by Evan Narcisse on
I think I've been approaching the Dust section of "Red Faction: Guerrilla" all wrong.
I'm prioritizing side missions when I should be doing story missions first and then coming back to the former.
There's a gameplay concept called grind, seen mostly in role-playing games and MMOs. It means having to perform a certain amount of drudgery to earn better abilities, weapons, gear, etc. While side missions are optional and can be done at any time, it became apparent that I'd have to grind my way up to getting the stuff that would help me succeed.
I asked a friend who finished the game when it came out if he ran around feeling underpowered a lot of the time. He responded by saying he never felt like a superman, which he liked. I further offered that I was trying to complete the convoy and demolition missions and getting my ass kicked. He confirmed the difficulty, especially convoy missions.
To give some context: yet another new mission type popped up for me to tackle and like a good little insurgent, I hopped right to it. Convoy missions involve destroying a group of Earth Defense Force vehicles en route to a location. Of course, they travel with armed escorts and the mission becomes as much about fighting them as it is about destroying the target vehicles. The brutal difficulty of it all got me thinking, "Am I supposed to actually be able to pull this off at this point of the experience?" He said that you have to set up some high-powered traps and then go in and kick ass on convoy missions. His acual quote was, "You really have to think like an Iraqi insurgent. What would they do to ambush a convoy?"
Wait, what?!
Then I thought about it some more, pushing aside the knee-jerk reaction I initially had, and realized that, dammit, he's right. It kinda helped that he's already finished the game but, that aside, my friend's remark highlighted the odd juxtaposition of methods and ideology that "RFG" mixes up in its package. In reality, the closest thing to the tactics being used by the Red Faction are being wielded by enemies of the West. You're not brewing up IEDs, but you do get proximity mines and explosive charges that you set ahead of time and lay in wait for the enemy. And that's not to single out one specific tactic. Overall, the kind of David-vs.-Goliath strategy that informs the game's missions hasn't been seen in first-world nations for decades now and maybe that's why "RFG" feels a little verboten, a little taboo. This observation's reinvigorated my interest in the game and I'm interested to see just much guerrilla the action gets.
[A Level A Day will be my attempt to give my thumbs more exercise every 24 hours. ALAD will be part diary, part analysis and a smidgen of random observation on games that either slipped through the cracks or might deserve reconsideration. I won't promise to finish every game but I'll try to track what I think of as honestly as I can, so you'll at least know why I'm stopping a particular game.]