A Level A Day – "Red Faction: Guerrilla," Day 7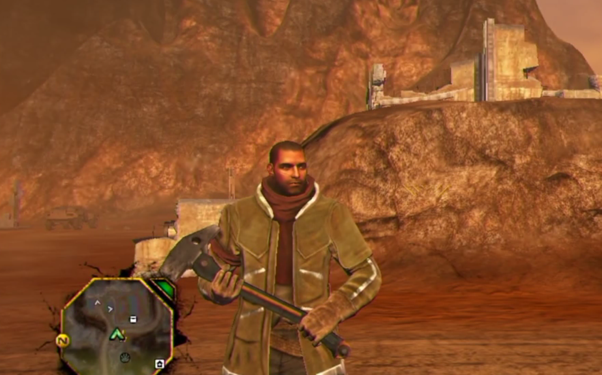 Posted by Evan Narcisse on
I'm still trying to figure out how to tackle Dust, the second big sector of "RFG." It's significantly bigger than Parker, both in terms of land mass and the number of available missions. This expansiveness sits me in front of a problem I often have with open-world games: what to do first?
I try to find a rhythm to games like this, one that lets me stack success onto success building into a crazy rush of power. But there's always a bit of option paralysis when you need to choose where to start. I doesn't help that I seem to have chosen a particularly difficult place to start.
It could be a case of overblown ego, but I strutted into the new level and tried to take down a fortified demolition target right away. I kept on getting my ass handed to me and kept on banging my head against that mission. All to no avail. These are the times when it's most difficult to be a game critic. You ask yourself, "Is it me? Is this a chokepoint in the game designed to make me go back and reach a certain level or acquire a certain weapon before I come back here? Or am I just sucking it really hard today?"
Part of the reason I'm having trouble finding my rhythm is because of one of the worst design clichés in open-world games. It's when you acquire a new mission at the designated stop on the map, talk to character X who tells you that you need to drive to another location to actually do the mission. If some game designer somewhere could explain the benefits of this wretched mechanic, I'd be grateful.
There's also a weird tension around designing a game around gleeful environmental destruction that also demands you be safe. A few times now, I've been in the midst of ramming a big rig into an EDF smokestack or spraying assault rifle fire into a phalanx of EDF footsoldiers, only to see the Colonist Killed text pop up on my screen. And, because killing a colonist drops morale in a region, these senseless deaths make the work of liberation harder. It's another control placed on the experience, but one that works in a mechanical and emotional way. Sometimes, it feels like I'm fighting more to save lives than to liberate a planet.
[A Level A Day will be my attempt to give my thumbs more exercise every 24 hours. ALAD will be part diary, part analysis and a smidgen of random observation on games that either slipped through the cracks or might deserve reconsideration. I won't promise to finish every game but I'll try to track what I think of as honestly as I can, so you'll at least know why I'm stopping a particular game.]