A Level A Day – "Red Faction: Guerrilla," Day 6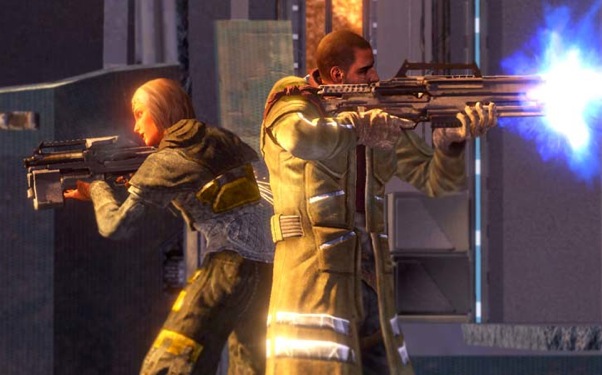 Posted by Evan Narcisse on
Two things strike me about the mechanics of "Red Faction: Guerrilla" so far. One: it might bear the gentlest wanted level of any open-world game I've played. Usually, in games of this stripe, you cause enough chaos and the unstoppable hand of God comes down to swat you back to your place in the form of tanks, flying vehicles and swarms and swarms of cops. Now, maybe I haven't done enough wanton killing or destruction, but I've been able to scoot away from the coppers pretty easily when the alert level's been blinking red. Two: From an economics standpoint, the game feels pretty stingy so far. The salvage that I buy weapons and upgrades with seems to be in short supply. I went and experimented with earning salvage by tearing down a regular ol' building. The downed structure spit out bupkis in terms of salvage. Turns out you only really get salvage for taking out EDF property. Plain-jane vanilla architecture nets you nada. It's a built-in method of stopping the player from grinding and prematurely acquiring the most unstoppable weapons too early in the game.
All of this is making my entry in the Dust sector of the game rather frustrating. The game's still introducing new mission types, including Courier missions. They're dynamically generated (it seems) and require you to chase down a vehicle with an EDF courier who got orders to do something… bad. You run him down, whack him and then must drive away from his pissed-off buddies to transmit the data. I tried this one a few times before I successfully pulled one off. The other new mission type are Guerrilla Raid, when you march into a EDF base with some comrades and kill every done in the place. These missions end with a series of detonating charges blowing up the EDF structures, meaning that my compatriots are essentially farming salvage for me. Guerrilla Raid, I could get to like you.
I'm noticing that the righteous rage I felt at the beginning of the game has cooled a bit. Maybe it's because I haven't had any melodramatic cutscenes thrown at me depicting the up-close-and-personal evils of the EDF occupying force. Or maybe the non-stop revolutionary chatter from Faction comrade and citizen alike has normalized and become part of the game's white noise, like gunfire or the cacophony of a building coming down. Maybe I'm jaded and care more about collecting enough salvage to score the rocket launcher than I do about "a free Mars." It's beginning to matter a bit less just what cause I'm using the rocket launcher to achieve. Still, I'm sure that there's another development waiting to make my blood boil. I just need to get there.
[A Level A Day will be my attempt to give my thumbs more exercise every 24 hours. ALAD will be part diary, part analysis and a smidgen of random observation on games that either slipped through the cracks or might deserve reconsideration. I won't promise to finish every game but I'll try to track what I think of as honestly as I can, so you'll at least know why I'm stopping a particular game.]