A Level A Day – "Red Faction: Guerrilla," Day 4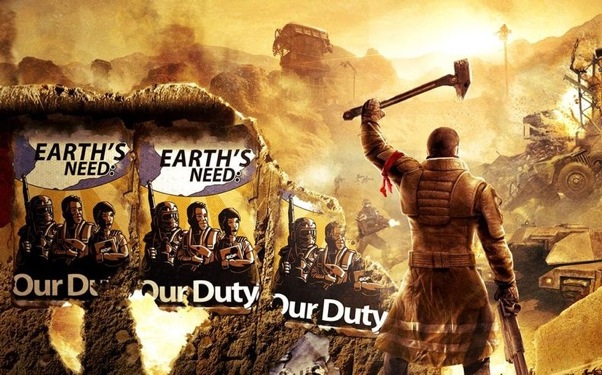 Posted by Evan Narcisse on
Thursday, December 9, 2010: "Red Faction: Guerrilla," Day 4
"RFG" suffers a bit from the jack-of-all-trades, master-of-none ailment that a lot of open-world games contract on their way to release. The driving feels a little too loosey-goosey and the aiming's, um, challenging. But, what separates it from other similar titles is the fact that it's got a single, compelling core mechanic that works really, really well. The freedom that the Geo-Mod 2.0 engine gives you to destroy massive buildings never gets old. It makes me wonder if Volition looked at their tech and then decided to put it in a game where one of the persistent objectives would be constant infrastructure degradation. You're blowing up every EDF smokestack and building on the planet and it feels damn good. Doubly so, because it's not only fun to watch but you're also constantly being told that it's in support of justified revolt.
Still, the thoroughness of this destruction is a little OCD in nature. War may be dirtier than civilians ever know but I'm pretty sure every single bridge in an enemy territory doesn't get blown up. Like I said yesterday, it's a single-mindedness that's a little disturbing when you place it in a real-world context. I don't want to break the fiction of "Red Faction" but what about collateral damage? Or the disruption that these events cause to the social fabric? Even the most evil organization's got one good (if meek) guy in its folds? What about him?
With all the WikiLeaks fallout over the last two weeks, I'm having two weird reactions to "Red Faction: Guerilla." On one hand, I almost feel like the game's brainwashing me to embrace its simple ideological dichotomy. "Abandon your critical lens, Brother Narcisse," it whispers. "Make the world tumble down and bend to your righteousness." And, on the other hand, "RFG" makes me wish diplomacy was part of action video games, so we could see the dirty tricks and elliptical negotiations lead to breaches of trust that engender armed conflict. Show me all that and then send me to shoot somebody and I'd be cool with it.
[A Level A Day will be my attempt to give my thumbs more exercise every 24 hours. ALAD will be part diary, part analysis and a smidgen of random observation on games that either slipped through the cracks or might deserve reconsideration. I won't promise to finish every game but I'll try to track what I think of as honestly as I can, so you'll at least know why I'm stopping a particular game.]