A Level A Day – "Red Faction: Guerrilla," Day 5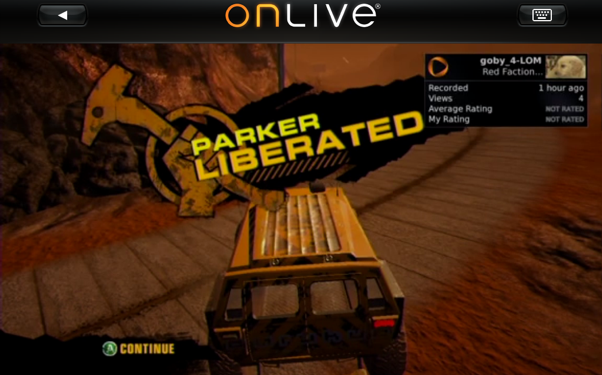 Posted by Evan Narcisse on
Monday, December 13, 2010: "Red Faction: Guerrilla," Day 5
I made a final push this weekend to finish all the critical missions in the Parker, the first of the game's big sectors. One of my final tasks was a mission to destroy an EDF command post. It was a standard Demolition objective but the site was heavily guarded by drones, the derogatory term for EDF occupying forces. Even though I picked up a few citizen rebels along the way, I died a lot.
What's worse, they died a lot. While it's an awesome feeling to have a random, ordinary person pick up a gun and stay blasting away by your side, it feels absolutely awful to have them die on your watch. "Red Faction" doesn't have any squad-based strategic controls like other games with this mechanic, so it's not like I can tell them to take cover while I do all the shooting. It's a kind of a sideways method of generating collateral damage and has a stinging emotional effect. The effect multiplies exponentially when it's a hostage you save who buys the farm. Here you are, liberating someone who was no doubt only minutes away from a bullet in the back of his or her head and their life gets cruelly snatched away from them on the way to freedom.
Still, I discovered one thing about "Red Faction: Guerilla" when playing this mission over and over, which is that the damage you do is persistent. That means that even when I died and when back to the site of the mission, all the wrecking I had done remained. I finally took down the offending architecture in dramatic fashion, having set some charges which I detonated right before I died. The shot of e dying just as the outpost sustained enough damage to crumble to dust felt like a nice accidental martyr symbol. I went back to that location to check on my handiwork, only to find, guards wandering around the ruin of their former stronghold. I know it was just the game programming at work but it still felt eerie, like they were haunting the place.
From there, I moved onto a rescue mission where I had to rescue Samanya, the female rebel that's obviously being set up as a love interest for lead character Alex Mason. The whole deal winds up being surprisingly easy. Along the way, I notice that "RFG" plays home to the most cheerful revolution ever. The random chatter from bystanders treats the proceedings like a football game. You can overhear them saying stuff like "I don't think hose drones are ever gonna forget the name 'Red Faction,'" and "Red Faction is bringing change to Mars." Well, if they aren't bothered, then I guess I shouldn't be?
The last big mission to liberate Parker comes as a surprise, as it's the first explicit driving-only mission the game's tossed at me so far. As the rebe movement pushes into the next sector of Mars, I need to distract the EDF by ramming into and taking out 12 communication towers. It basically amounts to a very fun destruction derby, despite the game's iffy driving controls. At one point, my ride gets severely damaged and I have to hoof it to a cluster of towers. The stretch of terrain where this mission happens is chock full of little bumps and changes in elevation and cars get to flying and jumping all over me. The whole thing felt a little like "Mad Max." I'm good with that.
[A Level A Day will be my attempt to give my thumbs more exercise every 24 hours. ALAD will be part diary, part analysis and a smidgen of random observation on games that either slipped through the cracks or might deserve reconsideration. I won't promise to finish every game but I'll try to track what I think of as honestly as I can, so you'll at least know why I'm stopping a particular game.]