A Level A Day – "Red Faction: Guerrilla," Day 3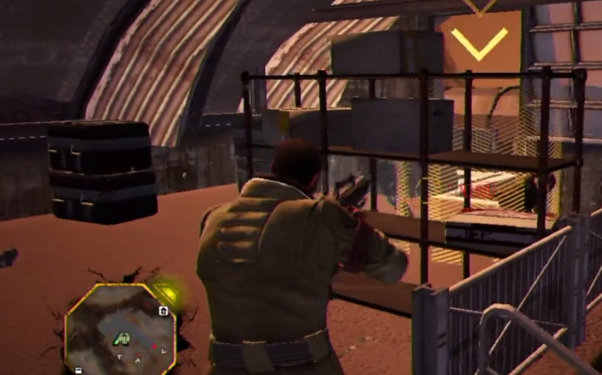 Posted by Evan Narcisse on
Wednesday, December 8, 2010: "Red Faction: Guerrilla," Day 3
Time crunch prevented me from dedicating as much time to "Red Faction: Guerrilla" as I did yesterday, but I did mess about in a few random missions and just driving around getting to know the world.
The game's got a few different mission types and each kind betrays a certain mode of thinking about insurgency. Guerrilla Actions basically have you destroying infrastructure and destabilizing the rule of law. So, missions might be doing things like "liberating" weapons and supplies, defending locales against EDF assault-which amounts to killing every jackbooted oppressor in sight-or destroying property belonging to the paramilitary organization. The curious thing about doing these missions is that the ambient chatter almost always eggs you on or rationalizes your actions.
Hence, after slaughtering a bunch of EDF, I walked away from the carnage only to hear, "The EDF bought them on themselves!" Whoa. What's more, you'll dynamically get civilians to pick up a gun and join the Red Faction cause when you start firing at the EDF. Negotiation never enters the picture. There's never any question that your cause is just. I'd never trust a philosophy this single-minded in real life. It makes for clear gameplay directives but murky politics. I know "RFG" isn't meant to be a civics class, but sometimes a questioning voice would add a little bit of texture to the proceedings.
Maybe that unilateralism is why the most fulfilling thing I did was rescue a hostage. The mission was simple enough. I drove to a location and engaged a few EDFers in combat. At one point, I used my sledgehammer to open a hole in a wall and blast some guy who was coming down the stairs. I then went up those same stairs and killed one more soldier. In front of his dead body was my objective, a man kneeling down with wrists bound. Something in the simple act of freeing him felt more righteous than any of the property damage I'd wrought. I could imagine that he'd've soon been executed for things he didn't do and that I was his sole salvation. He just disappeared when I took him to the Red Faction safehouse but I knew he was alive somewhere, more alive than any other objective I'd accomplished so far.
[A Level A Day will be my attempt to give my thumbs more exercise every 24 hours. ALAD will be part diary, part analysis and a smidgen of random observation on games that either slipped through the cracks or might deserve reconsideration. I won't promise to finish every game but I'll try to track what I think of as honestly as I can, so you'll at least know why I'm stopping a particular game.]