A Level A Day – "Red Faction: Guerrilla," Level 1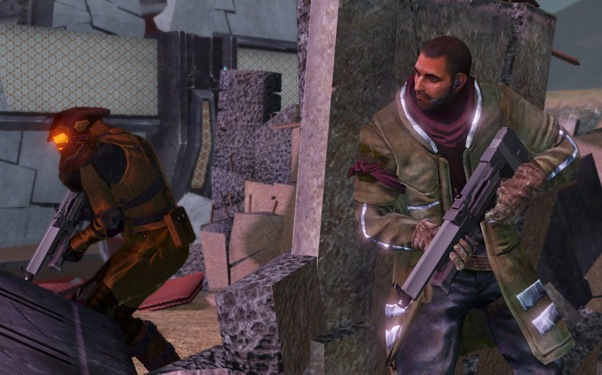 Posted by Evan Narcisse on
Truth in title, dear readers: A Level A Day will be my attempt to give my thumbs more exercise every 24 hours. ALAD will be part diary, part analysis and a smidgen of random observation on games that either slipped through the cracks or might deserve reconsideration. I won't promise to finish every game but I'll try to track what I think of as honestly as I can, so you'll at least know why I'm stopping a particular game.
Tuesday, December 5, 2010: "Red Faction: Guerrilla," Level 1
At the end of the tutorial level, Dan–the brother of lead character Alec Mason–dies and I get arrested by the Mars Gestapo. The cutscene that opens the level shows Dan's house seized and a confrontation with the EDF. The thugs have Alec's mining license revoked, which leads to a physical altercation. Alec gets knocked onto the ground and it looks like he's going to get shot in cold blood. Suddenly, shots ring out and EDF soldiers start dropping. The girl, whose name is Samanya, and older man who visited Dan come out of cover and bring Dan to the Red Faction safehouse. Once there, the following exchange happens:
Alec: "But, I'm not Red Faction."
Samanya: "Like it or not, Mason, you are now."
Going through the Guerrilla Handbook I get handed by Samanya, it's pretty clear that "RFG" is a proletariat simulator. It's early yet, so I don't know whether the game's trope appropriation is inspired or appalling. This is where the game starts in earnest.
This is where you get your gun.
The upgrade systems, world navigation and mission organization all get explained at the safehouse. "Red Faction: Guerrilla" follows the same open-world template as games like "Grand Theft Auto," meaning that I can wander around and pick which missions I want to do on my own. The ambient chatter from all the characters voices either ferocity or despair about the current situation with the EDF occupying Mars. Once I've soaked up enough ambiance, I decide to pick a mission and go destroy some buildings.
"Better Red than Dead"
The mission starts with a briefing from a commander tasking Mason to destroy the Red Faction's old base so the EF can't pick up any info to use against them. As I start to drive the location, he tells the grim tale of slaughter and exploitation that happen in the EDF's land grabs. Of course, the EDF show up once I'm at the base and a shootout ensues. I don't love the aiming and shooting at this point and the controls really feel like Voliton was trying to accommodate two different kinds of gameplay ideas: shooting and demolition.
I die a bunch trying to figure out a rhythm of engagement. Each action game has its own different style and getting acclimated to their mechanics is like learning to speak a new language. There's no cover system in "Red Faction: Guerrilla" which means gunplay will involve lots of bobbing and weaving. I finally take out the squad sent to kill me and complete the destruction of the former RF base.
"Red Faction: Guerrilla" reminds me of "Angry Birds." It's a weird comparison, I know, with mega-lucrative casual game and modestly successful hardcore title at either end. And I'm playing them in reverse chronological order. But, both titles ask you to apply force to structures to topple them. The best part of each is when the toppling continues after you expect it to stop and debris continues to rain down. And each game tells you that you're breaking stuff for the right reasons, to take down paramilitary oppression and/or rampant greed. "Better Red than Dead" ends with some banter and it already feels like the righteous impetus of Dan's death is fading. It also feels like the game's going to be huge at this stretch and I'll have to try to gobble up missions as quickly as I can.